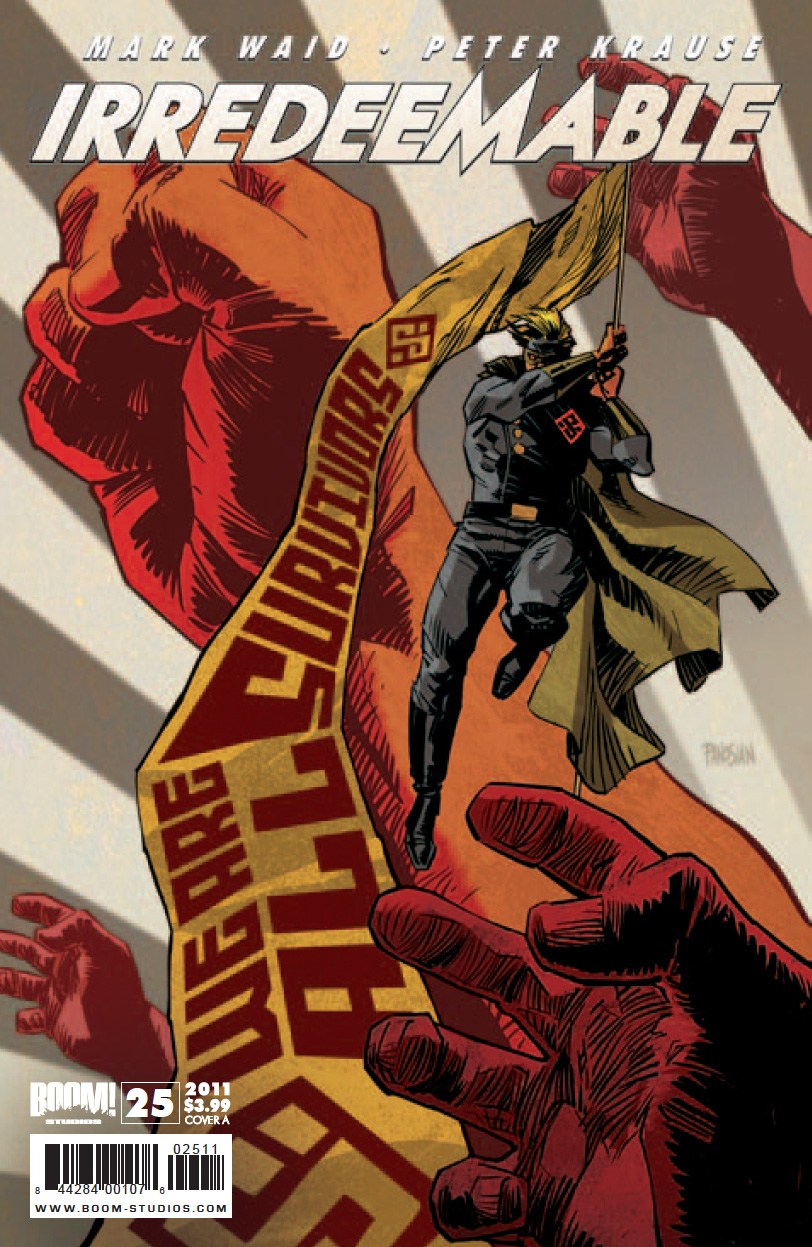 Issue: Irredeemable #25
Release Date: May 4, 2011
Writer/Creator: Mark Waid
Artist(s): Peter Krause (1-8, 20-22), Diego Barreto (9-19)
Colorist: Andrew Dalhouse
Cover(s): Dan Panosian, Dimitri Armand and Darrin Moore
Letterer: Ed Dukeshire
Publisher: BOOM! Studios
Plutonian and Auroran continue to make their way through various levels of the insane asylum in search of an escape, while Qubit has allied himself with Modeus after learning Survivor's dark secret. Kaiden is missing and the new Paradigm might have some problems being led by Survivor.

So the issue starts off with Modeus explaining to Qubit how Plutonian's powers work, which Qubit has figured out a number of times on his own only to have Modeus erase his memories. Because Modeus is still a creepy Plutonian stalker of sorts. Anyway, according to Modeus, Tony's powers are all psionics. I'm not even kidding you when I say that I heard this same thing said about Superman from someone this week. I guess that's not really surprising since they're basically the same character, except one's a goody two shoes boy scout and the other is a nutjob that has flipped his lid. This part of the issue is pretty much just Modeus and Qubit walking around on a gigantic science model set while spouting a bunch of technical jargon at each other with a few panels here and there of Tony fighting these manta ray/Wampa looking monsters. No big surprise that Modeus still has a massively unhealthy attraction to Tony, but we still don't know exactly why Qubit is hanging with him (other than the fact that Survivor is a colossal sized dick).
Speaking of, Burrows and Thermo are out for a drink, trying to hit on ladies, and to drunkenly divulge secrets to each other. Okay, maybe that was just Burrows on the last one, but he is so close to telling Burrows how messed up Survivor is when, wouldn't you know it, Survivor shows up and pretty much threatens Burrows into silence. Before that, we find out that Burrows would rather be with Survivor than against him and that Kaiden is missing and no one knows where she is. He also claims that, while looking for Kaiden and Qubit, Survivor proclaimed that anyone not with him is against him, thus solidifying his Froot Loops status. He's going the way of Plutonian in a big ole hurry.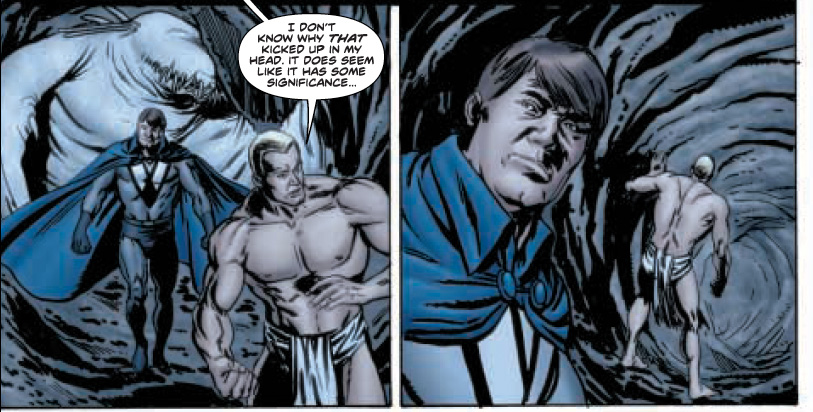 Finally, we have Tony's story. Currently, he's in the "The Forest of Woe" level of his escape. Which is kinda like Fangorn Forest mixed with that crazy forest in Wizard of Oz. The manta ray/Wampa thing and Auroran are with him, but before they fight their way through the thicket of grumpy faced trees, one gets ahold of Tony and makes him remember his first time being Plutonian and saving people. He isn't sure why that memory was brought up, but, and I'm just going out on a limb here, I think it might have something to do with Auroran having the same face as the pilot he saved that day. I could be wrong there, though. You never know.
Rating: 3 / 5 Stars