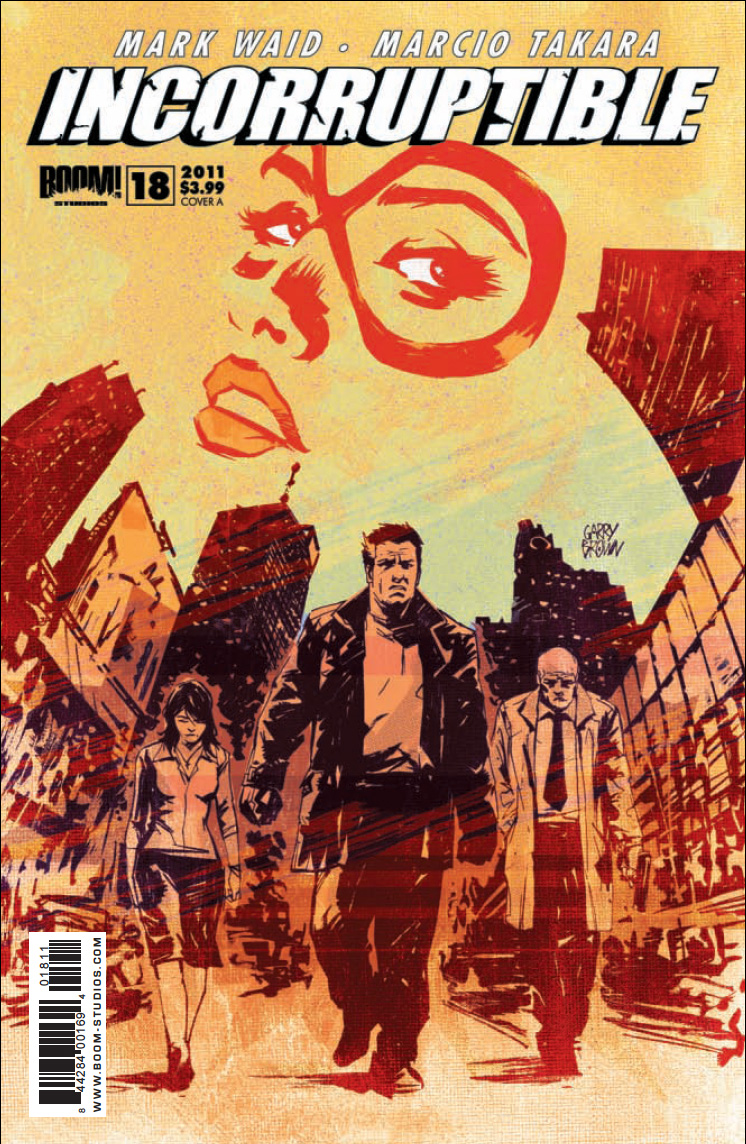 Issue: Incorruptible #18
Release Date: May 25, 2011
Writer/Creator: Mark Waid
Artist: Marcio Takara
Colorist: Nolan Woodard
Cover(s): Gary Brown, Matteo Scalera and Darrin Moore
Letterer: Ed Dukeshire
Publisher: BOOM! Studios
Good on his word to find an honest man for Bellamy to back, Max goes on the hunt for Mike Whelan, a federal prosecutor before The Plutonium Incident, but like with everything else Max has been trying to do lately it doesn't go so well. Meanwhile, Alana finally finds out some shady stuff on Bellamy and looks to pay for it.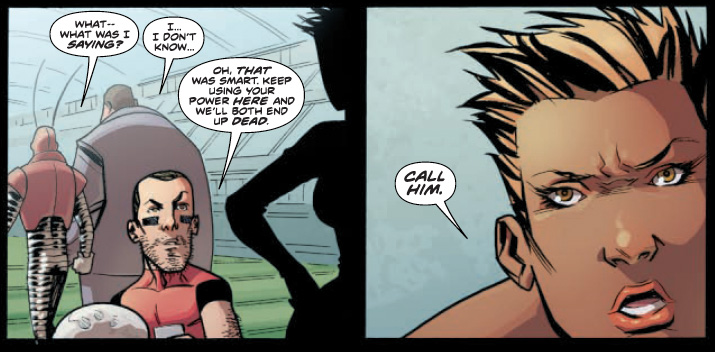 While Max is on the hunt for that one honest man in all of Coalville, we find out that the local string of baddies is gathering up seemingly under the directive of Bellamy. However, it doesn't seem like all the baddies he's got working for him are 100% backing his plan. Safeword does not think getting all of the old gang together again is such a great idea and tries to get Charlie Hustle to tell him that. I find it interesting that at least one of the villains of Coalville might not be so villainous as she's thought to be or was in the past. I like the idea of the characters changing because it's the right or natural thing to do instead of being forced to change (à la The Paradigm under the control of Survivor). It should be interesting to see what's going on with Safeword and Charlie and which way both will go in regards to Bellamy's plan.

It's about this time, you know, when it's really past the appropriate time to do so, that Alana decides to do some background checking on Bellamy. She does not find anything that she likes. Too bad for her, Bellamy is watching through surveillance. She gets gassed, and he calls in Charlie Hustle to take care of her. And the Worst Journalist Ever Award goes to … Alana Patel! I mean, seriously. What kind of journalist gets in bed, so to speak, with a shady dude and THEN decides to look into his background. Dumbest move ever. Hopefully, she doesn't turn into the stereotypical damsel in distress again and can actually take care of herself in this situation.
Unfortunately, Max isn't doing any better trying to get Mike Whelan on his side. He recruits Armadale to help him out in convincing Mike to join up. Turns out Max and Mike have a past, and he kind of fills Armadale in on it but not too detailedly. Which is something he really should have done since when they do find Mike and Armadale tries to talk him into everything, we find out that Max killed Mike's young son. A little fact like that might have been useful information to hear on the ride over. I probably shouldn't have found that revelation as surprising as I did because Max was a bad man prior to Plutonium cracking, but I guess that seems too low and unforgivable even for the kind of character Max is/was. It is a nice bump in the road to getting the only decent man in all of Coalville to help Max put the city back together. I liked the flashback because, and I can't even believe I'm admitting this, it reminded us that Max had a sidekick that just disappeared (well, two, but Headcase wasn't in the flashback). I've been wondering what happened to both those characters after their unceremonious exits and I'm curious to see if they'll ever come back.
Rating: 3.5 / 5 Stars