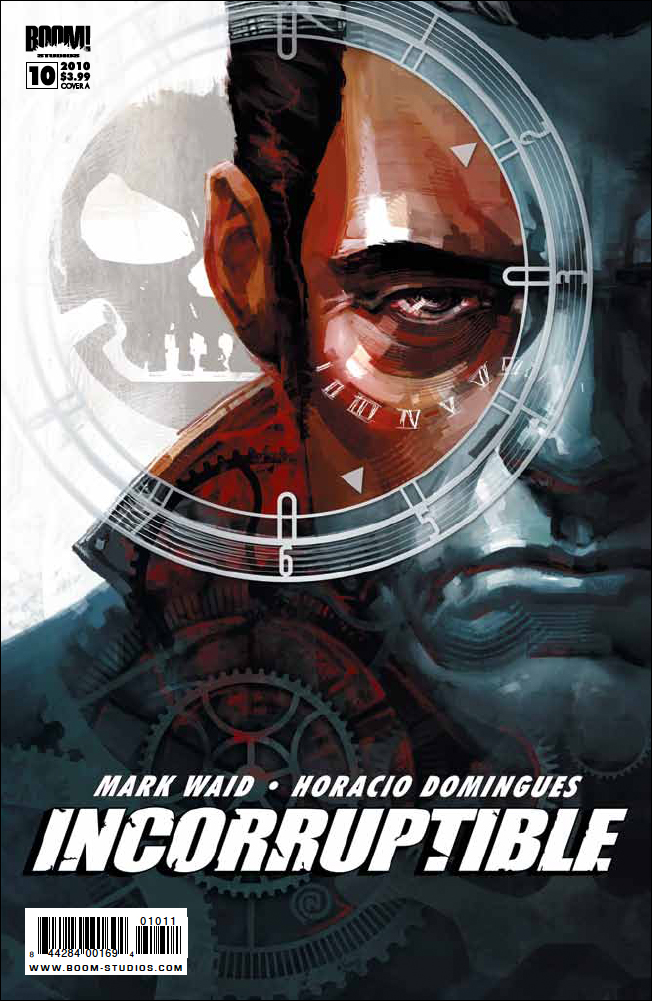 Issue: Incorruptible #10
Release Date: October 13, 2010
Creator and Writer: Mark Waid
Artist: Horacio Domingues
Inkers: Juan Castro (pg. 1-11, 15-19, 21-22) and Michael Babinski (pg. 12-14, 20)
Colorist: Nolan Woodard
Cover(s): Christian Nauck, Peter Nguyen, Jeffrey Spokes
Letterer: Ed Dukeshire
Publisher: BOOM! Studios
It's the continuing saga of Max Damage trying to turn over a new leaf and help the citizens he once terrorized in the wake of Plutonian's epic freak out. With his new "sidekick" in tow, Max seemingly gains a new ally that could potentially help in taking down Plutonian before the planet officially implodes and he flies off into deep space in search of an exoplanet he can call home.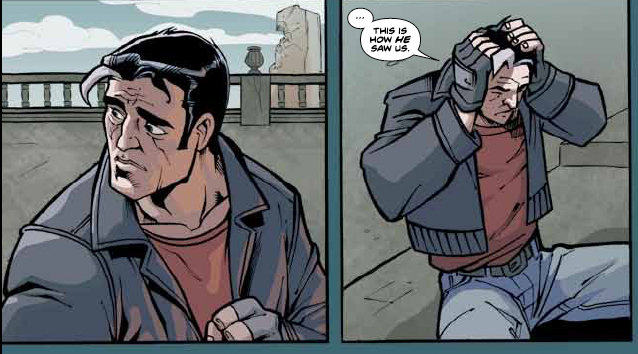 This title is a perfect example of why I personally have a hard time reviewing floppies: it's like reviewing a 15-minute chunk of a one-hour TV show each month. It's hard to judge the entire story on just this one bit, or even judge this one bit by itself since it belongs with the nine previous issues and the however many issues that will follow it to finish this storyline. So, with that in mind, I'm a little stalled out on this story. Intellectually, I know that I can't get my questions answered all at once (i.e., why is Max having a change of heart in everything he used to do, where did Jailbait 1.0 run off to, is this title ever going to crossover with Irredeemable since Max was named in the Irredeemable special as one of the few who would basically stop Tony from rampaging like The Hulk after stubbing his toe). The other part of me that bears an eerie resemblance to Veruca Salt is pushing Oompa Loompas around because she's been following this title for almost a year now and she still has no clue what is going on in it or how it connects with what's going on in Irredeemable.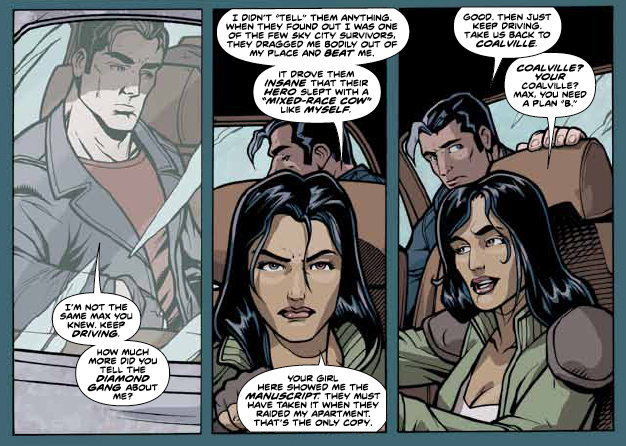 We do get a bit of a crossover from Irredeemable in the form of Alana Patel. I thought a crossover might help me reconcile my questions about the timelines of each of these titles, but this really didn't. When we first meet Alana, she's pretty well out of it and pretty well useless. Here, she's throwing down some Jet Li moves, is snarky and bold, and completely opposite of the character we met earlier. I'm not sure if I buy being kidnapped by a bunch of racists as a catalyst to get her out of the "screw trying anything to save ourselves" mode she was in after surviving Tony's first wave of wraith, but I'm willing to go with it to get an adult woman wearing a believable outfit to kick butt in on the team here. Hopefully, she'll turn out to be more helpful than everyone else in this title has been so far.
Which brings me to the other thing that's kind of got my goat: The racists. Yes, I buy that in the wake of some really horrendous events some really horrendous people will suddenly pop up like that mysterious turd you didn't know your dog left for you in the hallway until you stepped in it. We saw that with the villains taking advantage of a chaotic situation in both titles. What bothers me is that Tony hasn't shown up to give them a meltdown with his death ray eyes (I'm not sure if he has those, but am going out on a limb since Tony is pretty much just like Superman in every other way). Why would Tony take out people indiscriminately, hunt down both hero and villain alike, and yet let these disgusting jerks kill in his name? It makes no sense to me right now, but I'm sure it'll tie together or at least make more sense later on in the title.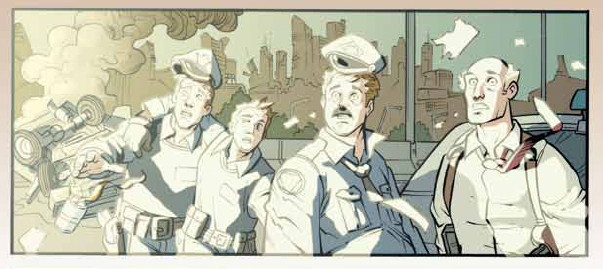 What I did really enjoy was Max vocalizing the flaws in his character, and how he was hoping that Jailbait 2.0/Headcase would have gotten the clue she needed to get as far away from him as she could (but of course she didn't pick up on that). I like that but, again, I'm still confused on where the change of heart really came from or how it happened. Max seems to have taken such a 180 from what he was before Tony snapped that I wish his change would be dealt with a little more than it has been so far. It might happen in a future issue — who knows. I'm also wondering what happened to Jailbait 1.0. Not because I think she was an interesting character (obviously from my previous reviews, I so didn't think that about her, and so far she and v2.0 are completely interchangeable for me at this point), but because I hate to see a character just disappear or get shafted in the story development department even if I don't like them. Here's hoping that with the explosive ending to this issue, some of these questions get either resolved or brought back into the story.
Rating: 3.5 / 5 Stars