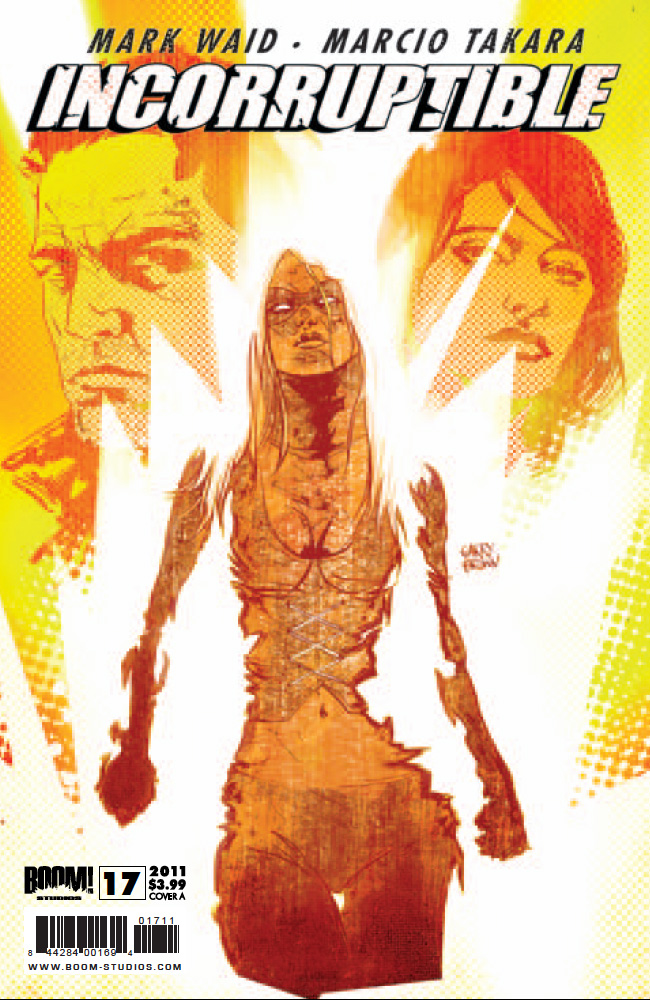 Issue: Incorruptible #17
Release Date: April 27, 2011
Writer/Creator: Mark Waid
Artist: Marcio Takara
Colorist: Nolan Woodard
Covers: Garry Brown, Matteo Scalera and Darrin Moore
Letterer: Ed Dukeshire
Publisher: BOOM! Studios
In the aftermath of having The Paradigm help him clean the water of Coalville, things still aren't going to smoothly for Max. Headcase has actually become a certifiable headcase, Max had to turn The Paradigm away, and Alana is going behind his back to make deals with a shady billionaire.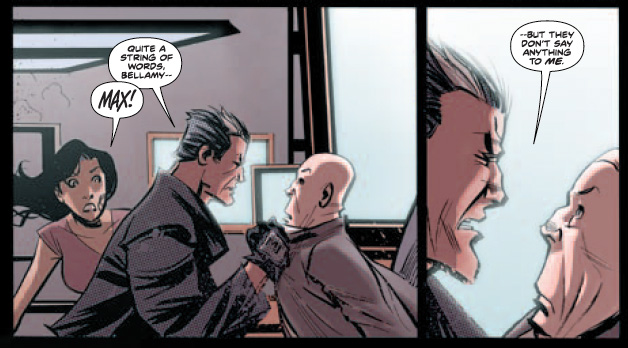 After their place gets hit by some looters/angry villagers with jagged teeth and pitchforks, Alana ends up taking Max to meet Bellamy. You know, the guy who was funding the Diamond gang's plans and to whom Alana has been feeding info on Max. Small wonder he wants nothing to do with the guy, but Alana talks him into it since they really have nowhere else to go after the citizens of Coalville decided to reenact the mob scene from Frankenstein on them.
The meeting doesn't go well, which we all knew it wouldn't. There's no way, even after all the failures he's been through recently, Max would be dumb enough to fall for the line of crap Bellamy was feeding him. I'm glad Waid is keeping him smart and savvy to shady dealings. I am surprised that Alana has seemingly fallen hook, line, and sinker for the pitch Bellamy's giving. It is tempting for their cause — all the "legitimate" funding, resources, and shelter — but she has to pick up on the fact that he's not on the up and up and has ulterior motives in involving himself with Max.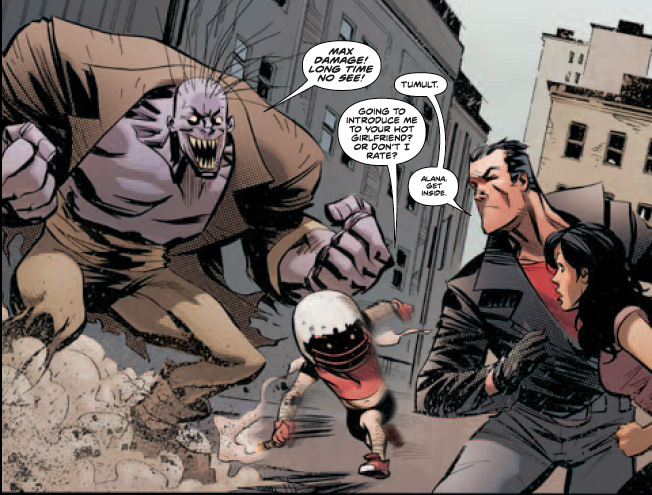 After turning down Bellamy's offer, Max and Alana run into Tumult, Charlie Hustle, and Safeword. Some tussling goes down before Safeword does her thing and they take off. Bellamy says this is a good example of why Coalville needs Max to be a hero (with his help, of course), and this time Max agrees. Alana is gobsmacked, but Bellamy says he'll agree to Max's demands and back a leader if Max can find one good man in all of Coalville. Afterwards, Max is wondering aloud why the three villains just left when they had him beat and could have finished him. He has an idea and I bet finding out what's going on had to do with that little deal with the devil he made a few panels back.
Rating: 3 / 5 Stars