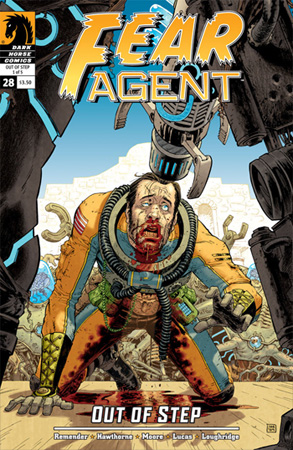 Issue: Fear Agent #28: "Out of Step, Part 1"
Release Date: July 21, 2010
Writer: Rick Remender
Artist: Mike Hawthorne with Tony Moore
Colors: Lee Loughridge
Letterer: Rus Wooten
Cover: Tony Moore
Back Cover: Xurxo G. Penalta
Publisher: Dark Horse Comics
Fear Agent Heath Huston committed genocide on the Dressite race in order to protect Earth. When he returned home, his wife Charlotte cast him out and Heath took to the space ways, finding solace in the bottom of a bottle. Ten years later, he is reunited with Charlotte on the planet Westx and sobers up in order to take on a mission to save Eden, the daughter he's never met.
In the process, Heath negotiates peace with the remaining Dressite Empire after the two races realize that they were manipulated into war by the cruel robotic Tetaldians. Now, all of humanity has been consumed and amalgamated by the Tetaldians, and that's not even the worst of Heath Huston's problems. Heath is dying, fatally wounded by the human-robot cross that used to be his daughter, and his companions — Andi and Nicholas — must find a way off the planet before the last of the human race is wiped out for good.
The latest installment of the Fear Agent saga, Fear Agent #28, is 32 pages of action-packed science fiction craziness complete with evil doppelgangers, mind-switching technology, amalgamations of Tyrannosaurus-Rex and robotic technology, intrigue, betrayal, and one hell of an unexpected twist ending. Fear Agent #28 is the first issue in the three-part conclusion of Rick Remender's Fear Agent series, bringing together Remender, Mike Hawthorne, Tony Moore, and John Lucas one final time before the series ends.
Although I wouldn't recommend starting the Fear Agent series with issue #28, I will say that the story presented by writer Rick Remender is a very compelling one that is certainly worth your time if you're willing to do a little bit of research first. For those who have been reading the series on an ongoing basis, Fear Agent #28: Out of Step #1 will certainly be entertaining — and surprising. One thing that that can be said for Remender's writing is that it is highly intriguing; after reading a single issue of the series I am more than a little tempted to go back and read all of the previous issues of Fear Agent. Of course, the fact that I really enjoy the illustration style and bright colors provided by Mike Hawthorne and Tony Moore, each of whom has an extensive background in sci-fi pulp like Fear Agent, doesn't hurt, either.
Also included in Fear Agent #28 is the special Tales of the Fear Agent: Hundred Proof Killer by writer Hilary Barta. In Barta's 8-page story, a very drunken Heath Huston decides to investigate a distress call from a handful of scientists. It appears that the scientists are being hunted down and killed, although no one knows for sure what is attacking them as they traverse through the jungle. Readers are given a first-hand glimpse into Heath's drunken past as he tries to rescue the remaining scientists and fight off whatever manner of beast is consuming them one by one.
Rating: 4 / 5 Stars