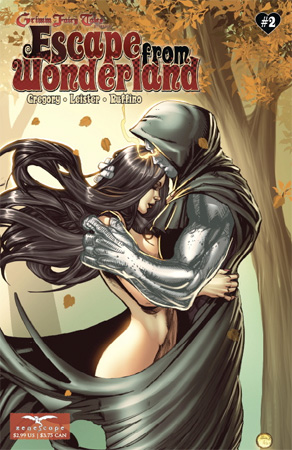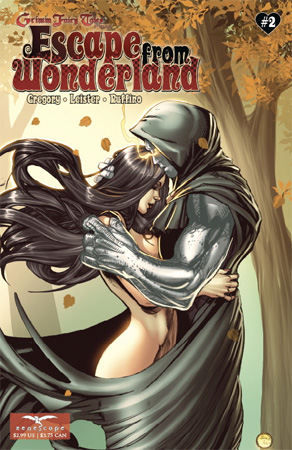 Issue: Escape from Wonderland #2
Release Date: September 30, 2009
Writer(s): Raven Gregory
Artist(s): Daniel Leister
Cover(s): Adriana Melo, Rich Bonk
Colors: Nei Ruffino
Letterer: Crank!
Publisher: Zenescope Entertainment
Calie Liddel is searching for her daughter in the perilous and dauntingly beautiful Wonderland. Violet has gone missing and, as her mother, Calie won't let anything stop her from trying to find her — nothing. In her search, she meets a mysterious creature who is willing to help her in her quest, although his reasons are as yet unknown. When the straightforward approach to finding her daughter doesn't seem to be the best route (after being informed that she isn't dreaming but is in fact dead), she seeks out to confront the Jabberwocky.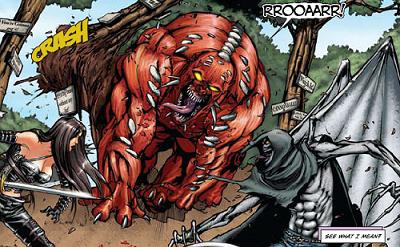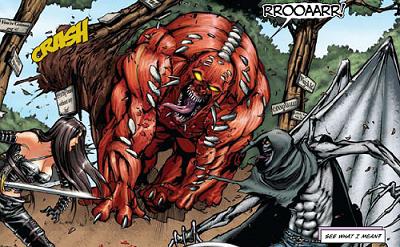 I find I have somewhat mixed feelings about this comic. I feel this way a lot when huge boobs are thrust in my face, I guess. I could care more about Calie if she looked a little less pin-up and a little more protective mother. I'm not saying I want her to look the frumpy soccer mom, but I also don't want to wonder why her boobs are knocking her out as she's fighting to get her baby back. This is my biggest but not my only complaint (I will address that in a minute). I am also not entirely sure how she plans to fight in the outfit she has apparently chosen for herself, but what do I know? I find ridiculously large breasts alienating as a female reader of comic books.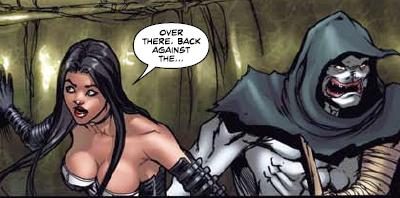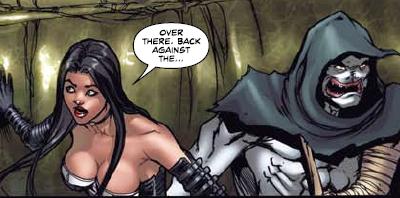 The art, on the other hand, when you get past the boobs, is very dark and beautiful. I must say my favorite illustration was that of the menacing Cheshire Cat. I would absolutely love a print of that on my wall — it was just amazing. Throughout, the art is dark and forboding, reminding you constantly this isn't the Wonderland you remember from Disney; of course, even that had its dark moments. As Calie and her mysterious guide head in the direction of the Jabberwocky, we are treated to scenes which seem directly out of Lovecraft's mind. I'm not sure about you, but when I see tentacles comes down from the sky, I would want to head in the opposite direction, but Calie is determined.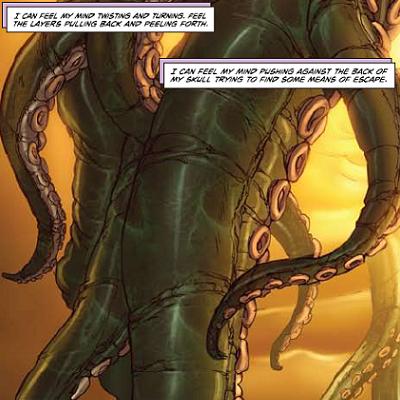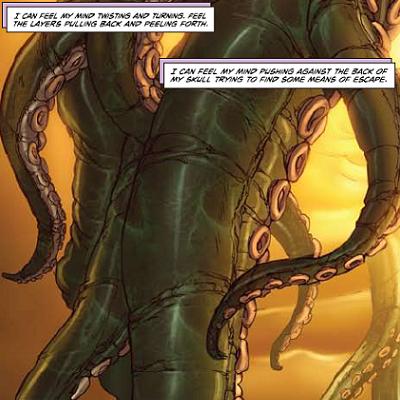 Admittedly with this issue, I am drawn in more by the mysterious surroundings and the question of what next more so than I am drawn to Calie or her plight. I wanted to know who her mysterious friend was, what the tentacles in the sky were all about, what was the Cheshire Cat and the evil looking woman he was with up to? The question of whether Calie is going to find Violet didn't register much, but I can see myself becoming interested depending on how the events of the next issue unfold. I spent quite a lot of time marveling at the backgrounds and scenery, but had a hard time concentrating on Calie; as a lead female, she just isn't doing anything for me.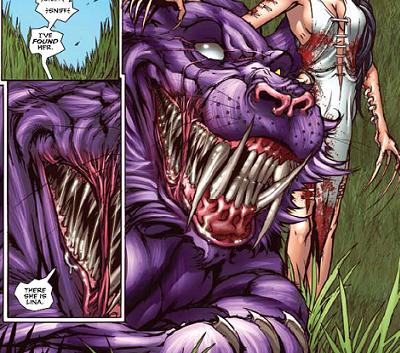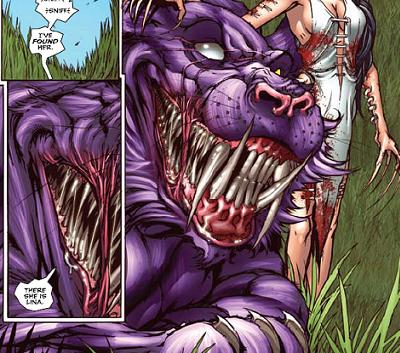 I do want to note that I am reading this issue a bit out of context, having not read the first issue, so had I read that I might have been more interested in Calie. However, having read any of the story or none of it, I would find it hard to imagine that it really advanced her as a character at all. All of that said, I am interested to see where thing go from here, and I am very intrigued to see their treatment of the Jabberwocky.
Rating: 3 / 5 Stars