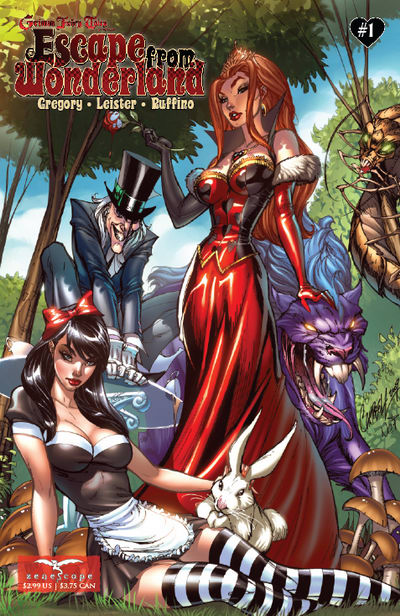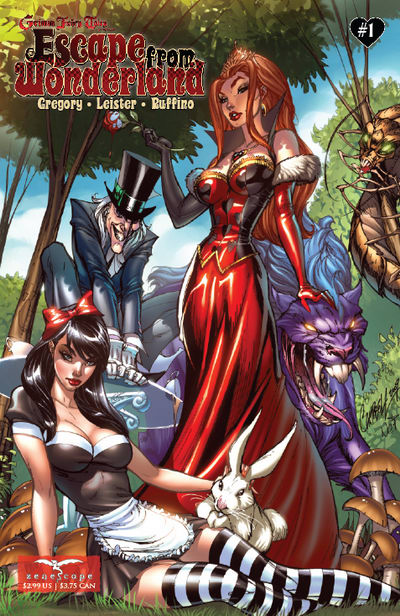 We all know the story of Alice in Wonderland… what we weren't told is that Wonderland wasn't just a dream, and Alice didn't escape as easily as Disney wants us to believe. Years later, Alice (now known as Calie Liddle) finds herself with reason to return to Wonderland, but this time she's going in prepared…
Much like the Zenescope Entertainment series that spawned it, Grimm Fairy Tales, the Escape from Wonderland spinoff series depicts a very different Wonderland than that in either Lewis Carroll's original novel, Alice's Adventures in Wonderland, or the popular animated Disney movie from 1951, Alice in Wonderland. In this world, created by writer Raven Gregory (Grimm Fairy Tales, The Gift, Se7en) and illustrators Daniel Leister (Beyond Wonderland, Return to Wonderland) and David Seidman (Sins of the Fallen, Coheed Cambria, Salem's Daughter), the Queen of Hearts is a sultry, seductive brunette accompanied by a childlike King with a bloody straight razor and an assortment of lethal-looking henchmen, the Mad Hatter is a prematurely gray man who kidnaps infants, and giant insect-like creatures seemingly run the show.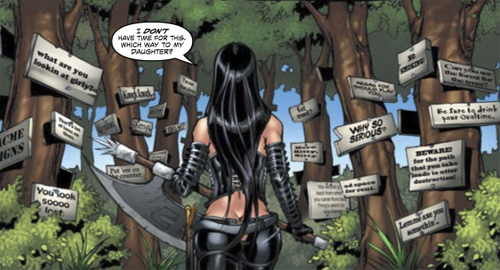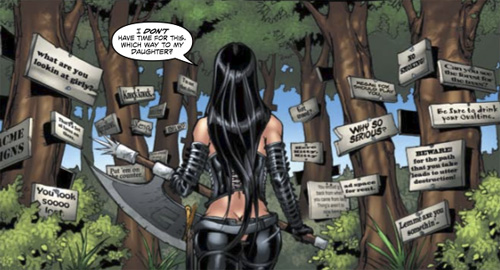 The Escape from Wonderland series is the final piece in Zenescope's Wonderland trilogy, which started in 2006 with the initial Grimm Fairy Tales spin off, Return to Wonderland. Fans of the Return to Wonderland and Beyond Wonderland series will recognize a number of familiar faces in Escape from Wonderland #1, including that of an extremely pissed off Calie Liddel (previously known as Alice Liddle, the original Alice in Wonderland), the Queen and King of Hearts, and the Mad Hatter, to name a few. Now that we've been introduced to the struggles that Calie's daughter, Carroll Ann, endures in the otherworldly realm (Return to Wonderland) and become more familiar with some of the major players there (Tales from Wonderland), it's time to find out how Calie handles Wonderland's many strange obstacles and vicious creatures now that she's all grown up with a family of her own.
There is no doubt that Alice's Adventures in Wonderland and its various adaptations spawned a devoted cult following, and Escape from Wonderland #1 is the beginning of a series that is perfect for Alice in Wonderland fans who are all grown up themselves. Even readers who might not normally be inclined to read such comics — those of the male persuasion, shall we say — will probably be interested in this series. Similarly to Zenescope's Grimm Fairy Tales series, all of the women featured in Escape from Wonderland #1 are busty and scantily clad. The perfect update for more adult fans.
For more information on the Escape from Wonderland series, or any of the other comic books and TPBs published by Zenescope Entertainment, visit Zenescope's official web site. Like the visual style of Escape from Wonderland #1? Check out more art from illustrators Daniel Leister and David Seidman, head over to their personal web sites where you can see more of their artwork.