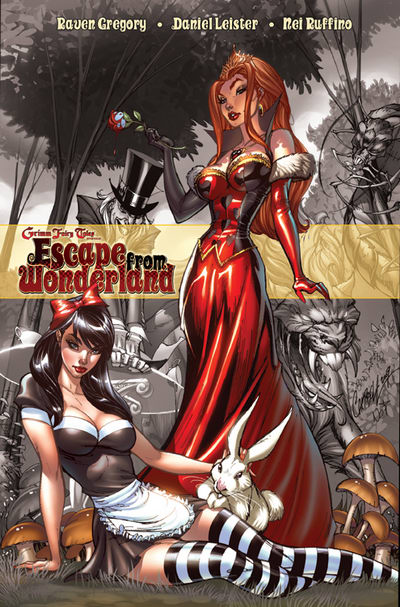 Issue: Escape from Wonderland (Hardcover)
Release Date: August 3, 2010
Writer: Raven Gregory
Artist: Daniel Leister
Colors: Nei Ruffino
Letterer: Crank!
Cover: J. Scott Campbell
Publisher: Zenescope Entertainment
Escape from Wonderland is the final chapter in Zenescope's Wonderland trilogy. Alice's daughter, Carroll "Calie" Liddle, returns to where it all began. She must slip through the looking glass in an attempt to save her infant daughter from the madness that is Wonderland. But it's not only her daughter's sanity she must look out for. Calie must face her own demons and tricksters set to throw her off the right path. Along the way, she will make unlikely allies and face off against numerous foes, including the biggest and baddest of them all, her own brother.
Now, up until this volume, I had not read much of the series. I was vaguely aware of it thanks to my friendly neighborhood comic book store. Raven Gregory has done a wonderful job of throwing in enough back story into this volume of the trilogy. New readers will find themselves quickly brought up to speed. Loyal readers need not worry about too much repetition. The flashback panels are effortlessly woven into the rest of the story.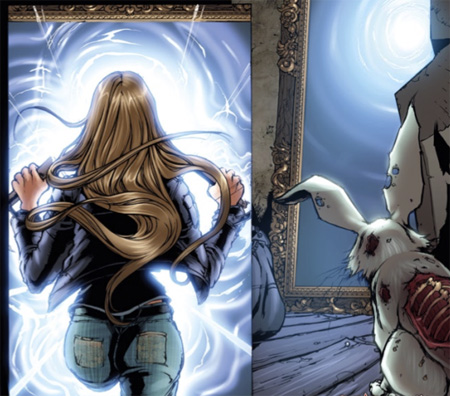 The classic Zenescope sexy style shines through in this volume. The women continue to be perpetually in their mid-twenties, be they daughters or mothers. The men are all at their peak of strength and manliness.
However, the level of sexiness in this series is pretty farfetched, even by Zenescope standards. It's at a level that drew away attention from the excellent story Gregory has written. I found myself laughing at points in the story arc, not because they were written to be humorous, but due to how the story was drawn. I wonder if Daniel Leister was drawing a social satire of the stereotypes in the comic book industry? In order to save my own sanity I will assume yes, until Mr. Leister informs me otherwise.
I won't go into too much detail about this final piece in the trilogy, out of fear of giving too much away and ruining a haunting and exciting read. I will say that Callie must fight, both physical and mental demons. The monsters are epic. Mr. Leister does a bang-up job creating Wonderland natives that will haunt your nightmares. Callie must fight for her child, and her sanity. The insanity of Lewis Carroll's original story shines through this adaptation. Up is down, left is right, allies are foes, and nobody knows the truth. The outfits and the eternal youth might be a little too farfetched for my liking, but it's the story that really kept me turning page after page. In the long run, that is what matters most.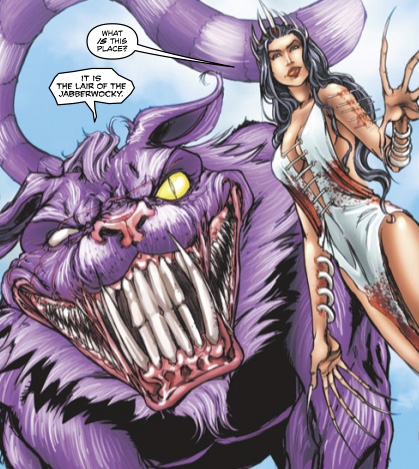 Raven Gregory has set the bar high for comic book trilogies. Gregory is first and foremost a storyteller, aiming to enthrall and terrify his audience until they are staggering away from the comic covered in goosebumps and jumping at the slightest noise behind them.
There are goodies included in this final volume. Read past the "credits" page and you will find a letter from Raven to the reader, along with a short epilogue piece to the story. You know, just in case you weren't already terrified. In addition is the script, with storyboards for issue number one of Escape to Wonderland — a fantastic bonus for the aspiring comic book writer, and comic book nerd.
If you are a fan of twisted interpretations of beloved children's literature, Escape from Wonderland is the comic for you.
Rating: 4 / 5 Stars