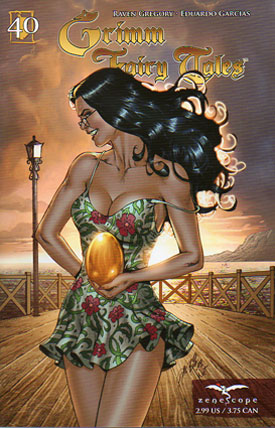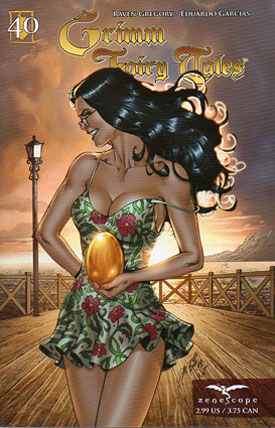 Have you ever wondered what it might be like if your favorite childhood fairy tales were reenacted by women who could easily pass for porn stars? Wonder no more…
Independent publisher Zenescope Entertainment recently released the latest installment in the company's increasingly popular Grimm Fairy Tales series, written by Raven Gregory (The Gift, Se7en) and penciled by Eduardo Garcias and Dave Hoover. Grimm Fairy Tales is an interesting series, given the way that it depicts the original versions of the fairy tales many of us are familiar with from childhood and frames them within the ongoing stories of a number of characters. Although the Grimm Fairy Tales may convey the same morals that are taught by the children's versions, they are definitively more gruesome and address these lessons much more candidly than might be appropriate for young kids.
In issue #40, the Grimm Fairy Tales recurring character Sela teaches the daughter of an exorbitantly wealthy widower a lesson about greed. Disguised as the family's maid, the shapely, raven-haired beauty warns the girl — a buxom blonde named Jillian who is fond of top shelf booze and her father's Platinum American Express card — about the inevitable downfall of those who allow greed and materialism to rule their lives. After ending up in the hospital due to a drunk driving accident, Sela tells Jillian the age-old story of a happy elderly couple who happen upon a goose that lays solid gold eggs and the havoc that was wreaked on the couple's lives as a result.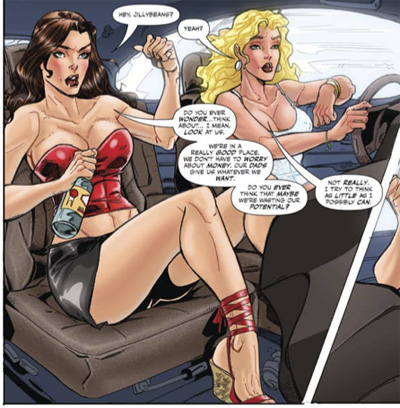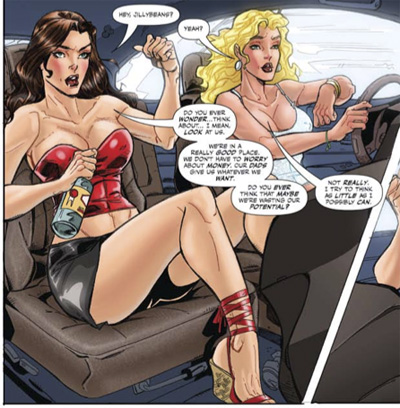 Unfortunately, trial and error seems to be the only way that Jillian will ever learn about responsibility. When her warning goes unheeded, Sela intervenes one last time on Jillian's behalf, convincing the girl's father to cancel her credit cards. Jillian retaliates in an effort to teach her father a lesson about depriving her of unlimited spending money, pawning her late mother's jewelry and hopping a flight to Australia. Little does Jillian know, however, what it is that the Great Barrier Reef has in store for her when she arrives.
Grimm Fairy Tales #40 is an excellent addition to the Grimm Fairy Tales series. It will be a real treat for readers who are familiar with the tale of the golden goose from childhood but have not been exposed to the more shocking aspects of the original version. Mark Roberts' colors really compliment Garcias and Hoover's illustrations, perfectly highlighting every sultry curve and peeking nipple that appears on each of the voluptuous ladies featured in this issue. I highly recommend that you pick up a copy today, and keep your eye out for issue #41, which I will have an advanced review of in the next week or so!
For more information on the Grimm Fairy Tales series, Zenescope Entertainment, or to purchase issue #40, visit Zenescope's official web site.