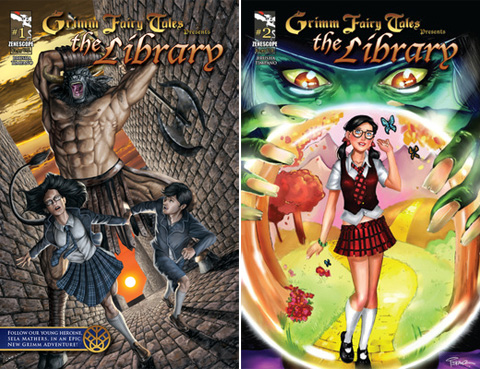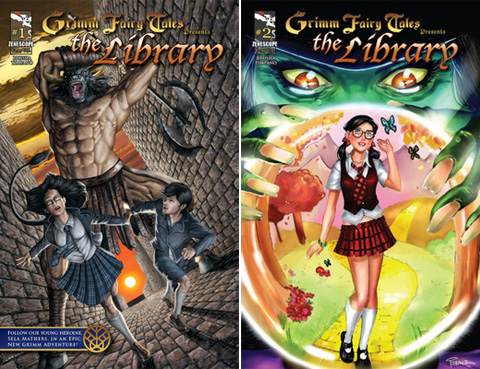 Issues: Grimm Fairy Tales Presents the Library #1 and #2
Writer: Joe Brusha
Pencils: Giovanni Timpano
Colors: Liezl Buenaventura
Lettering: Jim Campbell (and Jim Yates for #2)
Publisher: Zenescope Entertainment
Zenescope continues to expand its Grimm Fairy Tales series with The Library. The first two installments show some promise, with richy-rich student Sela Mathers and her younger brother Thomas, her cutthroat rich businessman father, and sexy librarian Ms. Sullivan.
When Sela's father stops by the library that he's buying (the building, that is. He doesn't care about the books), Sela and her little brother accidentally release a magic book that brings all manner of fictional monsters and bad guys out of the books and into real life. This is a solid premise for a comic series.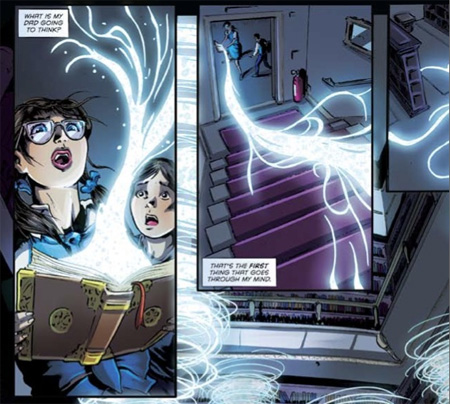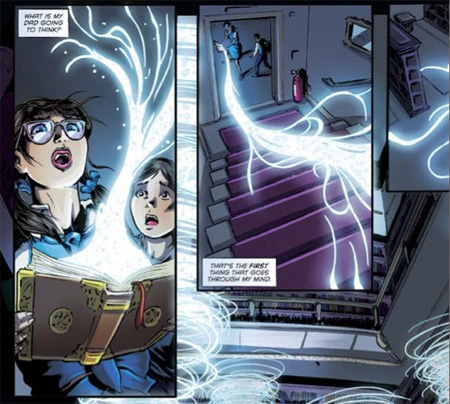 In the first two installments, we already have Minotaur, Hercules, cowboys, and a T-Rex. We've even got a sexy librarian. Actually, she's not very sexy compared to most Zenescope women. But I have faith. Besides, even without the busty reason Grimm originally got its fame, this comic still has a lot.
The most interesting part is the conflict they have set up for our heroine, both internally and with her family. It's a good start.
Rating: 3.5 / 5 Stars