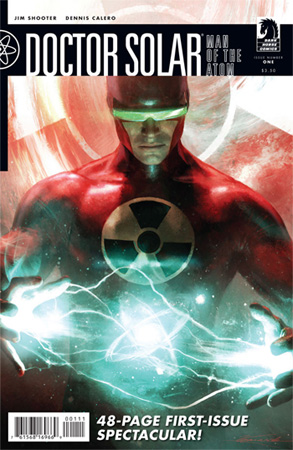 Issue: Doctor Solar, Man of the Atom #1
Release Date: July 14, 2010
Writer: Jim Shooter
Artist: Dennis Calero
Colors: Dennis Calero
Letterer: Blambot!
Cover A: Michael Komarck
Cover B: Dennis Calero
Publisher: Dark Horse Comics
On July 14th, Dark Horse Comics released the first issue in a new series by Jim Shooter titled Doctor Solar, Man of the Atom. The series, illustrated by Dennis Calero, is a reboot of a comic series created by Paul S. Newman and Matt Murphy that was first published by Gold Key Comics in 1962. The original Doctor Solar series detailed the exploits of physicist Philip Solar, who developed the ability to convert his human form into energy after being exposed to a massive amount of radiation. Comic writer Jim Shooter's new take on the original Doctor Solar series begins after the "accident" that gave Solar his powers, but for those not familiar with the original comic series, Doctor Solar, Man of the Atom #1 also includes the very first Doctor Solar story from 1962, which illustrates how Solar gained his superhuman ability to control energy.
Doctor Solar's new powers weren't the only result of the event that nearly took Solar's life. As readers will see in Doctor Solar, Man of the Atom #1, the ripples in spacetime caused by the cataclysmic event that created our hero also imbued a man named Whitmore Pickerel with a rather unique new talent: the ability to create life. When Pickerel inadvertently brings one of his comic book characters to life, Doctor Solar must face off with his invulnerable and immeasurably strong creation in order to protect innocent civilians and to avoid massive destruction.
The first installment of Shooter's Doctor Solar, Man of the Atom will be particularly interesting for those who do their own writing and drawing. After seeing his monstrous creation, the Leviathan, fighting Doctor Solar on the local news, Pickerel decides to test out his new gift by creating another character. This time he brings a dangerously sexy vixen named Glow to life only to discover that his lame attempt at writing her character (i.e., her "glow" and "musky scent") resulted in a very sexy, smelly drunk with the libido of a bull shark and the mouth of a sailor.
While the situation with Pickerel piqued my interest, by far the most intriguing aspect of Doctor Solar, Man of the Atom #1 is Doctor Solar himself. The similarity between the Man of the Atom and Dr. Jon Osterman, also known as Doctor Manhattan, of Alan Moore's popular 1980s comic book miniseries Watchmen is striking. That is not to say that Jim Shooter borrowed from Moore's Watchmen comics, or even that Moore borrowed from the original Doctor Solar series, but that the similarities that can be seen in the way that both Doctor Solar and Doctor Manhattan are characterized is somewhat telling about our society in general and the way that we think about quantum physics and nuclear energy in particular.
Although vastly different in physical appearance, both Doctor Solar and Doctor Manhattan were top scientific minds before they became the superhuman individuals we know today. Both owe their unique abilities to laboratory "accidents" (one more accidental than the other, of course) and both have power over the world around them — Doctor Solar with his ability to control energy and even change energy into matter, and Doctor Manhattan with his power over matter, space, and time. Another similarity between these two characters is the way that each views the world and those around them; the transformations that they underwent forever changed the way each relates to other people, making it seem as though they feel themselves to be above their human peers.
In addition to physical appearance, another major difference between Doctor Manhattan and Doctor Solar is the degree of humanity that each displays. While Moore's Doctor Manhattan would rather not be involved in the lives of humans, Shooter's Man of the Atom displays a strong feeling of obligation to protect others from the ramifications of his own actions. This results in some serious action sequences involving Doctor Solar and the Leviathan, neither of whom shies away from using his superhuman powers to beat the hell out of the other.
Rating: 3.5 / 5 Stars