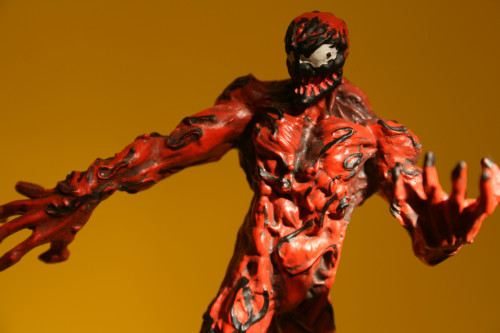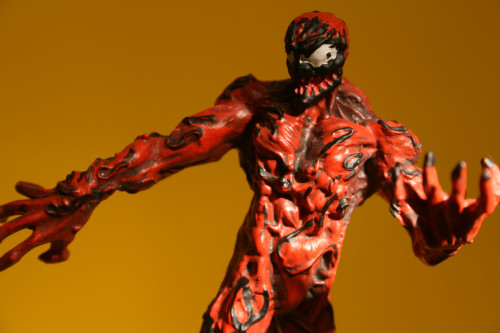 The newest Spider-Man villain to get the Classic Marvel Figurine treatment is Carnage. Here's my review, complete with photos.
Eaglemoss' increasingly prolific figurine series never seems to run out of steam, and the overall quality of the products seems to be increasing as the line ages. Carnage is a very nice piece, measuring in around 3″, in scale with the rest of the line. The sculpt chosen is a semi-dynamic one, showing Carnage in mid-turn, clawed hands extended, and wicked grin across his face. I'm very impressed by the level of detail in this one, considering the small scale and that it's cast from lead and not resin. The paints work well here, too. Smears, smudges, and drips are not uncommon in the Classic Marvel Figurine line, but if there's anything like that on Carnage, it just blends with the rest of the paint job and ends up looking savagely appropriate.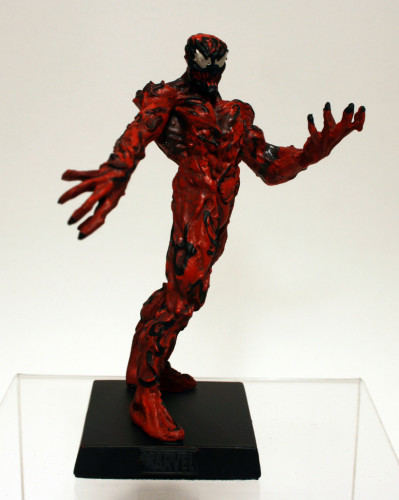 The base is the same square black one that is on all the standard sized Classic Marvel Figurine figures. He fits in well alongside the previously released Spider-Man and Venom figures and is a good addition to the CMF line.
( Classic Marvel Figurines Carnage Photos )