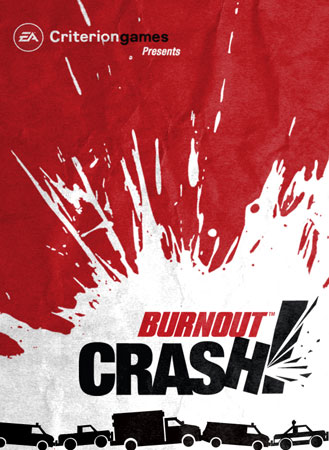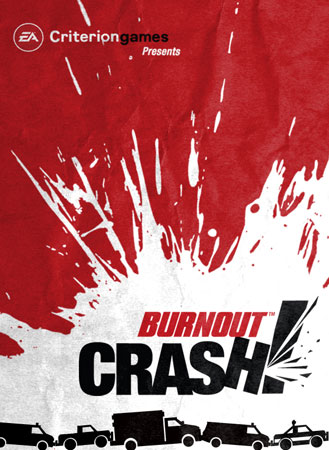 When it comes to car racing games, there are a few different and discrete subgenres, each with its own rabid fanbase. There's the auto enthusiast crowd, always eager to grab the newest and most realistic car sims as soon as they hit the market. Then there are the kart racer fans who love driving ridiculously adorned cars around a track where physics seems not to exist while they throw turtles and bombs at each other. There's the arcade racing market, which plays a little closer to the sim genre in that it allows players to race their cars semi-realistically, but it doesn't get bogged down in the finer real world details of the hobby. And then there's Burnout.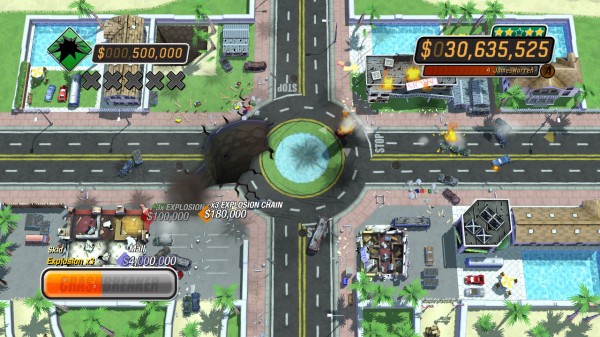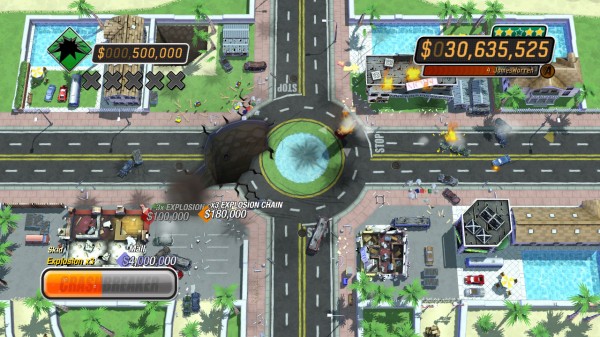 The first Burnout debuted on the PlayStation 2 in 2001 as an aggressive racing game that afforded an awesome sense of speed and flashiness. Among the standout features were the spectacular ways in which you could crash your car as you sped through your races. Criterion recognized the growing fandom for virtually demolishing cars and added a Crash Mode into Burnout 2, which arrived in 2002. As the series matured and time passed, the fandom for Burnout crashes grew, and the tried and true Crash mode reached its pinnacle of addictive mayhem with Burnout Revenge. Burnout Paradise released to rave reviews but made big changes to the franchise by setting the races in a sprawling open world environment and, strangely, removing the Crash Mode entirely. If you're like me, you enjoyed Burnout Paradise but couldn't help but miss those puzzle-like crash levels that made the previous games so much fun. Never fear, angry virtual driver! Criterion is back with a new downloadable game based entirely around everyone's favorite Burnout mode, and it is appropriately explosive and addictive.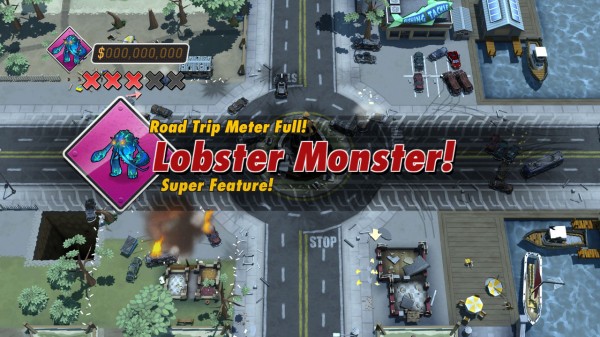 Burnout Crash! released on the Xbox Live Arcade and the PlayStation Network on September 20 with a return to some old gameplay mechanics spun in a zany new direction. In case you haven't had the pleasure of hurling a car into a previous Crash Mode, here's how it works: The game presents you with intersections surrounded by destructible objects and buildings, and it opens the gates to allow a steady stream of traffic through. Enter you, a nameless driver hell bent on causing as much mayhem as possible. You begin each level by driving into the intersection and barreling into one of the passing cars. From there, you try to nudge yourself in the proper directions to cause as big a chain reaction pileup as possible. As you go, your Crashbreaker meter fills over time and gets fill boosts with each collision. Once it's full, you can explode yourself to do some big destruction, as well as to jockey your burning heap of a car into the path of more oncoming traffic for even more crazy crashes.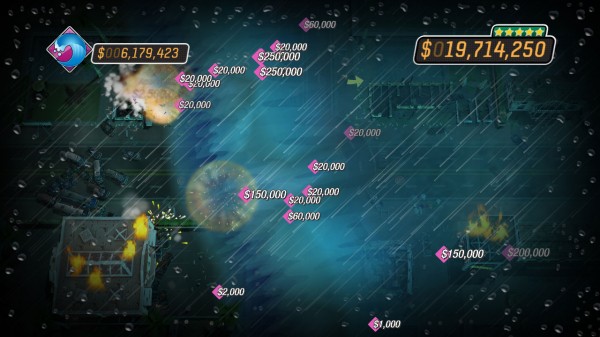 That's how Crash Mode worked in the previous Burnout games, and that's how the entirety of Burnout Crash! works. Unlike its predecessors, Burnout Crash! shows you the action from an overhead view. It sounds strange at first to fans of the series, but you'll soon come to appreciate the more strategic perspective that allows you to plan your maneuvers with more precision than the behind-the-car views previously allowed. By looking down on the scene from on high, you're able to instantly figure out where you need to be to rack up more points and to cause more damage. Seeing your targets is the easy part, but getting to them can be quite a challenge.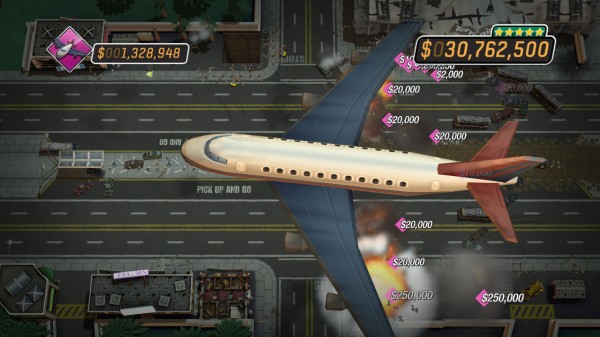 Burnout Crash! features three different game modes, all centered around the same basic mechanics of driving into an intersection and blowing stuff up. The first and most basic mode is called Road Trip. There's a limited amount of traffic going through the intersection, and the catch is that your game ends if you let five cars escape your wrath. An assortment of crazy events triggers as you reach milestones, and you'll see everything from meteor showers taking out cars to a giant lobster monster stomping through the town. It's all in the name of racking up massive amounts of destruction, and it's a ton of fun. The second mode, Rush Hour, gives you 90 seconds to cause as much damage as you can, and you don't have to be careful about letting cars escape. This gives you a lot more freedom to explore the map, blowing up buildings, planes, and anything else in your path. A pizza truck occasionally comes through this mode and gives you a spin at a wheel of chance if you blow it up. The wheel grants score multipliers, as well as instant events, depending on where the wheel lands. The third and final mode is called Pile Up. You once again have a limited number of cars coming through, and you start the round with a full Inferno meter. The more cars that get away, the more your Inferno meter drops. At the end of the round, you can unleash whatever power is left in your Inferno meter to blow yourself around the map, lighting things on fire, and generally causing even more havoc.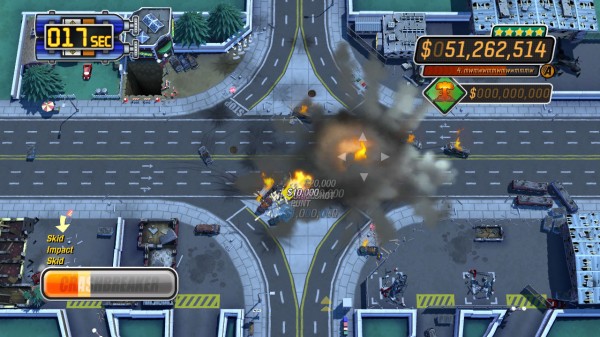 "Over the top" describes both the viewpoint of the new Burnout game and its overall attitude. A radio DJ calls out updates on what's happening in the town as you crash through traffic, and he alerts you to things like invading aliens and imminently crashing planes. The soundtrack is equally goofy, often spinning up cuts from retro tunes as perfect musical queues. "Push It" plays whenever a bulldozer comes through an intersection, the ambulance is accompanied by "Dr. Beat," and "It's Raining Men" begins anytime a thunderstorm rolls through. It's all crazy and random, and it makes an already fun game even better.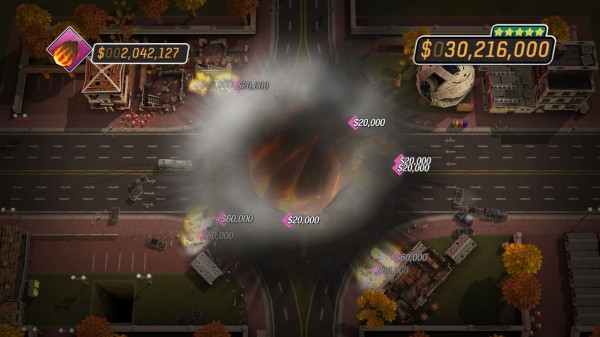 Burnout Crash! comes outfitted with Kinect controls in addition to standard ones. Playing with Kinect, you'll drive your car into the intersection by holding an invisible steering wheel in front of you. Once you've crashed, you guide your bouncing car by leaning in the direction in which you want to go. Crashbreaker explosions can be triggered by jumping up and down once the meter is full, but you'd better be ready to start leaning again to guide your exploding car once the blast goes off. Having the Kinect option is a neat novelty, but it's not at all the best way to play the game. This is a puzzle game at its core, and it requires the kind of thumbstick precision you just can't get by waving your upper torso around.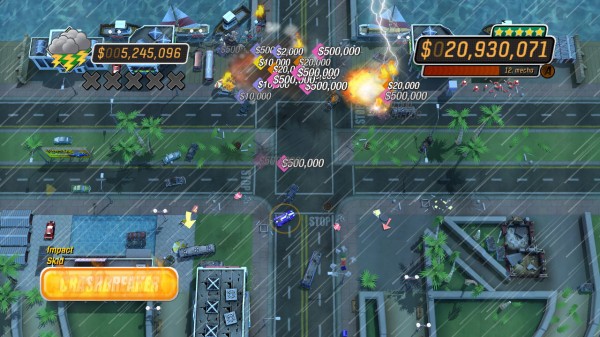 Featuring bunches of intersections, plenty of unlockable cars, and the familiar EA Autolog system that challenges you to outdo your friends, Burnout Crash! has a lot going on for a game with such a simple concept. I'm a longtime fan of the Crash Mode in the previous Burnout games, and this outing really scratches the itch I've had ever since Burnout Paradise dropped the mode entirely. Give Burnout Crash! a try on the Xbox Live Arcade or the PlayStation Network for $9.99 (800 Microsoft Points).