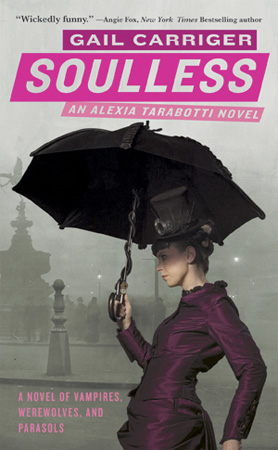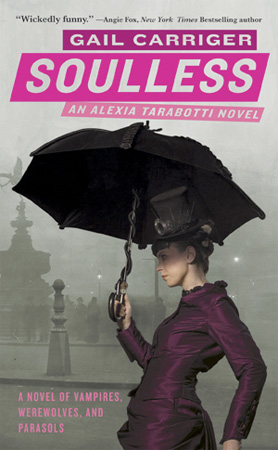 Title: Soulless (The Parasol Protectorate)
Author: Gail Carriger
Publisher: Orbit
Release Date: October 1, 2009
Vampires, werewolves, and ghosts, oh my! Actually, in Victorian England, as far as Ms. Carriger is concerned, they all live well within society and, being again that it is Victorian England, they play by society's rules. Alexia Tarabotti is human, and her two best friends consist of a vampire and a woman who has an unfortunate taste in hats. Her worst enemy was seemingly Lord Maccon, the dastardly handsome Alpha Werewolf, until a vampire tries biting her without permission during a dinner party. The nerve!
Soulless was an absolutely delightful read, I had trouble putting it down and was more often than not at least smiling as I was reading. I really don't want to go too deep into the plot so that it's fresh when you read it, but I will say it is a tad predictable. I am, however, not the type of person who believes that predictability is at all a bad thing. The characters are what really makes Soulless a fun read; the plot, in my mind, is secondary (although quite good too). What's more, with a bit of a steampunk influence (a word that is being used quite liberally here, I wouldn't personally classify it as steampunk), fight scenes and chases as well as witty banter and the potential for romance I think it would easily appeal to men and women alike.
I do want to touch on the characters, because here is where Ms. Carriger shines. Alexia, a spinster, is outspoken, intelligent, witty and  — an aspect I liked (even if I thought it was mentioned a little too often) — not conventionally pretty for her time. She is half-Italian and has a bigger nose than would be considered attractive, but that doesn't stop the gruff Lord Maccon from secretly finding her very attractive. Lord Maccon is at the same time standoffish and yet, in his own way, like a lost puppy. He is instinct-driven and firmly held aground by pack protocol. Lord Akeldama doesn't just speak in italics, he LIVES in italics. The word "flamboyant" doesn't even begin to describe him, but as the story progresses you find that he is much deeper than he seems at first.
The end of the story is where most of the "steampunk" ideals may come in, but scientific experimentation was booming in this era, so again I still find it a bit of a stretch. Ms. Carriger does something interesting with her supernaturals here, which I think is more worthy of note than whether or not it is truly steampunk. Supernaturals are nightwalkers with an excess in soul — yes, they have more soul than the average bloke and this is what aids in their transformation from human to supernatural. Those without enough soul will not survive the transformation. In a world where supernaturals exist among the living, this is a nice control to keep everyone from wanting to be immortal.
Another aspect I liked about Alexia: she doesn't have an excess of soul — she doesn't have a soul at all. This, in effect, cancels out the supernatural powers when those individuals come in physical contact with her. Having read quite a bit of books with a supernatural bent, this was a refreshing twist. In fact, I would say that "refreshing" is the perfect word to describe Soulless. It was absolutely enjoyable and the voice of the story is engaging and fun. I like to have fun when I read, and I can't wait for its sequel, Changeless, to come out. If you like fantasy and fun with a strong female protagonist and a splash of steampunk, then you will revel in Soulless.
Rating: 4.5 / 5 Stars