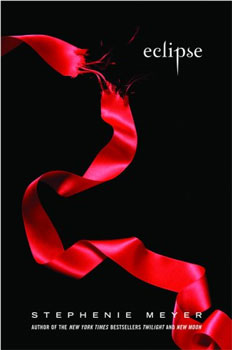 I'm feeling a little cheesy here, but let me use a parallel line to one I used in my previous review.  When is a teen angst love triangle not just any teen angst love triangle?  When it's between a human, a vampire, and a werewolf.  Sorry, I couldn't stop myself.  In Eclipse, Bella has to make some difficult decisions, like should she or shouldn't she accept a marriage proposal from a vampire; should she or shouldn't she sneak away from said vampire to visit her werewolf friend, should she or shouldn't she attempt to sacrifice her life to save the ones she cares about from a maniacal vampire out for HER blood?  Bella's life doesn't seem to get much easier, even if Edward is back and promising never to leave her again.  (Again Spoiler Warning)
With Edward back in the picture and with Bella's relationship with Jacob abruptly losing any chance of being more than friends, Bella finds herself in an uncomfortable position.  She wants to be with Edward, but she wants to visit Jacob, and there just happens to be an ingrained hatred between vampires and werewolves.  That, coupled with Edward's renewed and not exactly improved protectiveness, Bella is put into almost an emotionally abusive situation.  Like any other teenager who is being looked over too closely, even being "baby sat" by Alice, she rebels and runs off to spend time with Jacob when Edward isn't around to stop her.
Eventually Edward gives in and realizes that Bella will indeed be safe with the werewolves and allows her to go visit Jacob.  Jacob, on the other hand, essentially decides to make a fool out of himself. The end result (I'm not going to spoil what happens) is Bella leaving with a broken hand and very angry at him.  If teen drama wasn't enough for the world at large, there is something more sinister on the horizon, or rather Seattle.  News reports of violent deaths in the city have warned the Cullens of a possible new vampire wreaking havok on the city.  However, they didn't know the half of it.
The vampire Victoria's need for revenge against Bella, the Cullens, and the werewolves for killing her mate James reared its head in New Moon, but soon it is discovered that she will go to great lengths to get it.  She creates an army of young, strong vampires and has one purpose: destroyimg the Cullens, especially Bella-a mate for a mate.  Her numbers are so large that the vampires and the werewolves have to come together to fight the upcoming menace.  Just before the battle, Jacob tricks Bella into admitting that she does love him as well, if the love triangle wasn't already put under enough strain.
Overall this book started off a little shaky.  I wasn't impressed with the actions of either Edward or Jacob and really wanted to knock them upside the head, but I'm not going to say either one of them acted unrealistically.  Edward, who feels guilt for abandoning Bella and leaving her in harm's way, wants to make amends by being at her side at all times, while Jacob wants to make his case for Bella's affections.  The story picks up, though, in a major way with the oncoming vampire army.
There is quite a bit of character development, and we learn more about characters who had just been on the sidelines up until this story.  I think that Eclipse is a stronger sequel than New Moon and a thoroughly enjoyable read.  Like the previous two, I could barely put it down.  It is so easy to get caught up in the story and in Bella's thoughts and feelings.  4 1/2 out of 5.