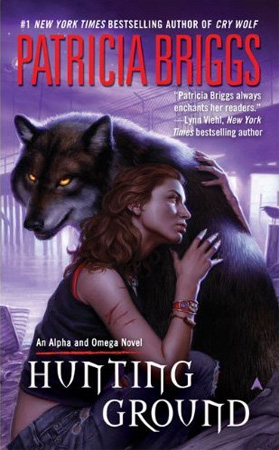 Title: Hunting Ground (Alpha & Omega #2)
Author: Patricia Briggs
Publisher: Ace
Release Date: August 25, 2009
In the span of just a few weeks, Anna Latham's life has changed enough to make her head spin. When a powerful werewolf named Charles Cornick discovers Anna while visiting Chicago, he recognizes her as a very special and rare type of werewolf — an Omega wolf — and rescues her from her pack, who physically and mentally abused Anna since they changed her into a werewolf against her will several years earlier.
Just days after meeting her, Charles whisks Anna back to his home in Montana to become a part of his father's pack and to learn what it means to be an Omega werewolf. Before Anna can settle in, however, she and Charles are forced to venture into the mountains to hunt down a rogue werewolf that is killing hikers in the area. When they discover that a centuries-old witch is behind the attacks, Anna and Charles must confront her in order to protect the members of Charles and his father's pack.
Hunting Ground begins just weeks after Anna and Charles' grueling battle with this witch, which takes place in the series's first book, Cry Wolf (Alpha & Omega #1). Once again Anna and Charles are called into the service of the pack. As the son and chief enforcer of The Marrock, the head of all North American werewolves, Charles must stand in for his father at a werewolf convention in Seattle in order to make sure that Bran Cornick isn't put in harm's way and remains able to lead the North American wolves. Any event that brings together a large number of dominant Alpha wolves bears the potential for violence, and as Charles and Anna soon discover the Seattle meeting is no exception. Before long, Charles and Anna are tangled in a web of intrigue, deception, and violence that threatens not only their fragile relationship, but their lives as well.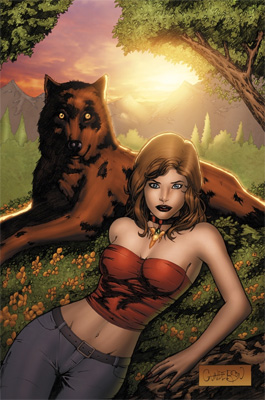 Patricia Briggs's Hunting Ground (Alpha & Omega #2) is an excellent example of a well-written, entertaining urban fantasy romance novel. The series's protagonists are even more mesmerizing than they were in Cry Wolf as readers get to know Anna and Charles better during the course of Hunting Ground. They are not the only interesting characters in the novel, however. In fact, Briggs stays true to form by presenting readers with a whole host of intriguing, three-dimensional supporting characters, many of whom easily could support other spin-off novels, if Briggs were so inclined.
In addition to providing readers with a varied cast of interesting characters, Hunting Ground also provides Briggs with an opportunity to flesh out and develop the tenuous relationship between Anna and Charles. After the events of Cry Wolf (Alpha & Omega #1), it is clear that the two care about one another, but whether they will be able to overcome their past experiences and make the relationship work has yet to be seen. Although the events of Hunting Ground place more stress on Anna and Charles than they have yet experienced while together and also leave the couple with very little alone time, readers can clearly see the growing affection and trust between these two individuals as the novel unfolds.
The assumption that the novel's plot revolves around the werewolf convention in Seattle has left some readers feeling as though Hunting Ground is composed of multiple subplots without an overarching plot or theme to pull it together into a coherent whole. In my opinion, what these readers fail to realize is that the werewolf convention is just one tool that Briggs uses to examine the relationship between Anna and Charles Cornick. The subplots that some readers complain about actually allow Briggs and the reader to probe this relationship, examining how Anna and Charles react to and interact with one another in various different situations designed both to test and to strengthen their affection for each other.
Hunting Ground (and Cry Wolf) is an excellent read for anyone who enjoys Patricia Briggs's Mercy Thompson series. Her characters are enticing, the story is fast-paced, and the sex is tasteful. Even more impressive is the fact that readers can pick up Hunting Ground and enjoy a satisfying, complete read without having to be familiar with the first of the Alpha & Omega series.
Rating: 4 / 5 Stars