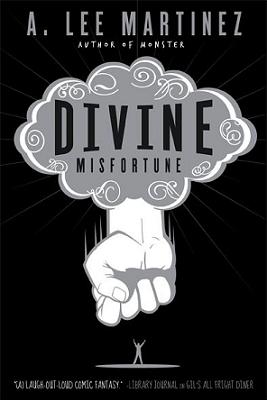 Title: Divine Misfortune
Author: A. Lee Martinez
Publisher: Orbit
Release Date: March 26, 2010
Teri and Phil knew that there would be consequences to following a god. They argued about the necessity and couldn't see eye to eye on what exactly they wanted, but when they found Luka, god of prosperity, they thought maybe they had found the god for them. He seemed relatively low-maintenance — no blood tribute, just invite him into your life and watch the good fortune pile up. Unfortunately for Phil and Teri, inviting him into their lives was actually what they literally had to do when the raccoon-headed god showed up on their doorstep.
What they didn't know, however, was that giving up their guest bedroom wasn't the end of it. No, they found themselves at the very center of an illegal holy war between Gorgaz, the god of chaos (who enjoys watching Leave it to Beaver, of all things) and their god. Not that they were informed of this from the beginning, but when attempts are made on their lives, they wonder if they have bitten off more than they can chew (please insert Teri saying she told Phil so).
With its hosts of gods, and the bureaucratic process by which people and gods interact, the book is really a breath of fresh air. With all of the urban fantasy going around these days with vampires and whatnot, this was an absolutely fun change of pace. Divine Misfortune is funny, smart, and a book I barely wanted to put down. It has been a long while since a book has had me laughing out loud, and this accomplished that several times (in public, I might add — yes, I got some strange looks… so what?!).
The gods aren't all fire and brimstone (or all "Release the Kraken," although that is pretty BA); sometimes they just want a tribute of strawberry chocolate soda and a slice of anchovy pizza. However, when you invite a god into your life, whether it's the god of prosperity or Zeus, expect the unexpected, because if gods are anything, they are taciturn and unpredictable. And in this case, couch-crashing and hilarious.
If you pick up one urban fantasy book this year, or EVER, let it be this one. It's a fast, engaging read that will not leave you disappointed. I have to admit I haven't read anything else by Mr. Martinez, but I have a strong hankering to put the rest of my reading list on hold to check out some of his other works. If you're anything like me, after you read Divine Misfortune, it won't just collect dust on your book shelf; you'll be handing it to your friends and telling them to read it too. Do yourself a favor, don't fight it.
Rating: 4.5 / 5 Stars