Underworld: Rise of the Lycans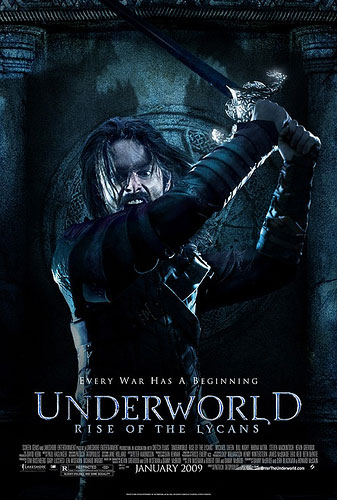 Directed by: Patric Tatopoulos
Screenplay by: Danny McBride, Dirk Blackman, & Howard McCain
Starring: Michael Sheen, Bill Nighy, Rhona Mitra, and Steven Mackintosh
Summary: A prequel to the 2003 hit Underworld, this story revolves around the circumstances which lead to the rise of the Lycans (i.e. werewolves) above their vampire oppressors.
Review (Contains Spoilers): I will just state openly that I am, in fact, a huge fan of the vampire vs. werewolf mythos, from Abbot and Costello Meets Frankenstein to Van Helsing to, yes… even Twilight. The concept of two mythical creatures having a seeded hatred towards each other has always fascinated me, especially for the various reasons that hate even exists.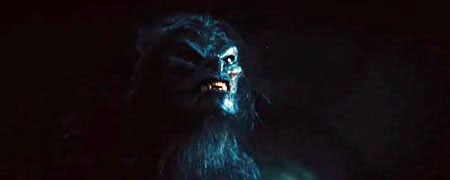 So comes in the Underworld franchise, which feeds itself on that hate between those two species. Where the previous two films showed the audience the battles after the war had already been raging, Underworld: Rise of the Lycans shows us where it all began, from the origins of the first vampires and werewolves to the abnormal birth of Lucian (with Michael Sheen returning to the role), to literally the rise of the Lycans as their own group.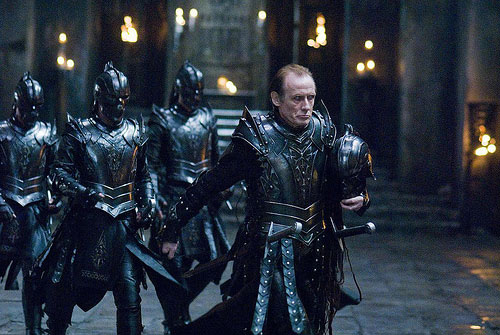 If you have already seen the first Underworld, there will be few surprises for you. Everything spewed out in a short monologue in the first film has been fleshed out into a feature length film here. This isn't such a bad thing, as that back story was quite interesting and did leave the viewer curious for more.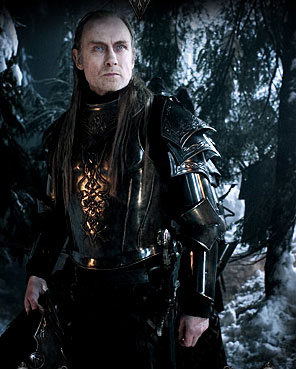 Let me also give a nod to Bill Nighy, whose portrayal of Viktor stood out just as it had through the previous films. This time, we get to see Viktor when he is meant to be in control, and it's a frightening thing. Where other vampires' eyes change from ice blue to browns and blacks… his remain glowing constantly. This gives you an uneasy feeling whenever Viktor is on screen, and it should! The moment he must execute Sonja (played now by  Rhona Mitra, who seemed to turn more and more into Kate Beckinsale as the film progressed), not for her aid in Lucian's escape (and consort), but for the child she's bearing is almost heart wrenching.
The cinematography, set design, and overall atmosphere of the film are excellent. They set the mood perfectly for a world where humans pay vampires to protect them against those things that go bump in the night (in this case, werewolves). The castle in which the vampires dwell reminded me greatly of Helm's Deep from The Two Towers. Costume designs also were outstanding and not so over the top to actually be unbelievable. You could even see foreshadowing of their clothing towards future designs (i.e. Sonja's chain mail dress and corset looked very much like Selene's later attire).
Back to the story, which was by all means a slave's tale of love and escape.  A person could watch this story on its own and be able to care about the characters and situations without knowledge of later storylines. A fan of the franchise could watch the film and point out everything that later shows up.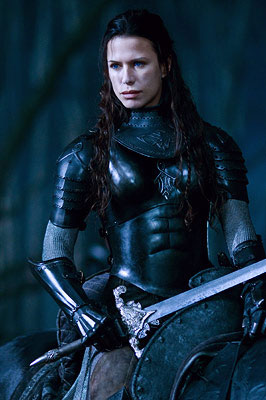 Overall the film is very enjoyable, looks great, and has an excellent cast. If you're a fan of fantasy films or would like a good romp in the vampire / werewolf realm (where vampires actually HAVE fangs), then sink your teeth into this.
Grade: B+