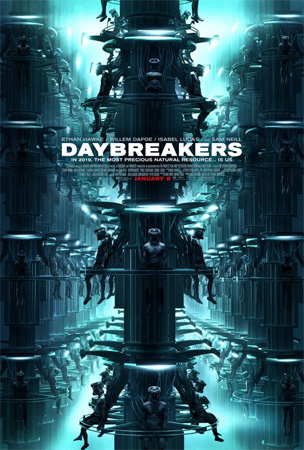 Directors: Michael & Peter Spierig
Screenplay: Michael & Peter Spierig
Cast: Ethan Hawke, Willem Dafoe, Sam Neill
Rating: R
Directors Michael and Peter Spierigs' (2003's Undead) science fiction thriller Daybreakers hit theaters this past weekend to the tune of about $15 million. Set in 2019, ten years after the vampire epidemic broke out, Daybreakers follows a vampire named Edward Dalton (Ethan Hawke), the Chief Hematologist at a company called Bromley Marks. Dalton's responsibility at Bromley Marks, which is run by businessman Charles Bromley (Sam Neill), is to create a viable blood substitute that will save vampires from extinction as the human blood supply runs out. As more and more blood-deprived vampires mutate into bat-like monsters and blood rations cause mass hysteria, Dalton accidentally meets a group of humans who may have discovered a cure for vampirism.
Daybreakers will be a delight for viewers who enjoy the dark, gritty visual style of films like Blade Runner (1982) and Underworld (2003). Much like Len Wiseman's 2003 sci-fi thriller Underworld, Daybreakers's visual style uses high contrast to create a world of extreme shadow and light that serves to highlight the important role that sunlight plays in the battle between humans and vampires. The vampires in Daybreakers are modeled after the "traditional vampire" that will burst into flames if exposed to sunlight, does not cast a reflection, and can be killed with a wooden stake through the heart. The Spierigs, who not only directed but also wrote Daybreakers, succeed in creating vampires that combine these more traditional characteristics while also incorporating new elements, thus creating complex, frightening creatures that audiences will have a difficult time identifying with and definitely will not want to become romantically involved with.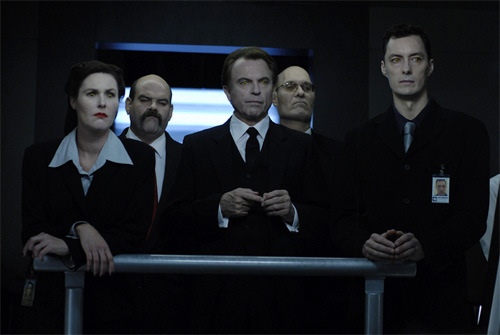 Daybreakers is decidedly dystopian, depicting a society in which the lifestyle of the ruling species — vampires — deteriorates rapidly as the human blood supply dwindles. Excluding those people who manage to avoid capture or death, the human race is the epitome of oppression — much like the people farmed for energy by machines in The Matrix, the humans depicted in Daybreakers are little more than cattle for vampires, farmed for their blood and disposed of when their bodies finally give out. Although free humans like Audrey (Claudia Karvan) and Lionel (Willem Dafoe) try to fight back against the vampires, it's clear that those who remain are constantly afraid — not only of death, but also terrified by the possibility of the extinction of the human race. Both Claudia Karvan (Love My Way, The Secret Life of Us), who bears a striking resemblance to Famke Janssen (Nip/Tuck, Taken, X-Men), and Willem Dafoe (Antichrist, Paris, je t'aime, Spider-Man) deliver strong performances that complement Ethan Hawke and stand up well against Sam Neill's (The Tudors, Jurassic Park) deliciously evil portrayal of Charles Bromley. In addition, both Isabel Lucas (Transformers: Revenge of the Fallen, Home and Away) and Michael Dorman (The Secret Life of Us, Acolytes), are excellent in their respective supporting roles as Charles Bromley's daughter, Alison Bromley, and Edward Dalton's younger brother, Frankie Dalton.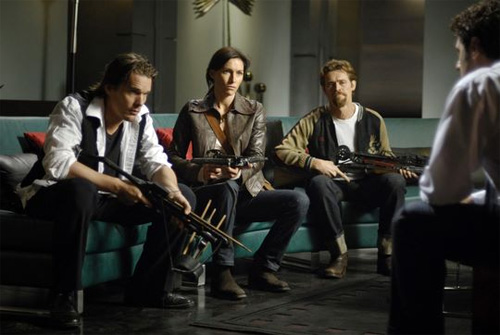 Likewise, credit must be given to the talented members of Daybreakers's special effects and visual effects teams and art department. Combined, these individuals have worked in special effects, makeup and set design, digital art, and in various other capacities on hundreds of films and television series, including 30 Days of Night, District 9, Avatar, Saw II, Where the Wild Things Are, 300, Superman Returns, The Spirit, and Terminator Salvation, among others. Of particular note with regard to special and visual effects are the scenes in which vampires are exposed to direct sunlight, as well as the way that dying vampires are consumed from the inside out in a brilliant fireball before exploding into little more than dust. In addition, the members of Daybreakers's makeup department also deserve a nod for their work creating the "monsters" that vampires become when deprived of human blood for an extended period of time.
Whether you're a fan of darker, grittier science fiction thrillers or simply want to watch a vampire movie with a lot of blood and gore rather than angst-ridden teenagers and high school drama, Daybreakers is well worth the trip to the cinema. While not Oscar-worthy, the film does have a strong visual style, well-written storyline, and great cast that will make its 138-minute runtime fly by. It is always a pleasure to watch actors like Ethan Hawke and Willem Dafoe, but it's even more enjoyable to do so while being thoroughly entertained.
Rating: 4 / 5 Stars