The Constellations are an amorphous funk rock group out of Atlanta, GA that describes their sound as "a psychedelic soul-rock explosion." The Constellations, named for the myriad of musicians from the regional scene who either contributed to or have played in the band's live performances, officially formed when vocalist Elijah Jones teamed up with Grammy-winning producer Ben H. Allen (Animal Collective, Gnarles Barkley) to create Southern Gothic, the band's first studio album.
Southern Gothic is currently set for release in Spring 2010 via Virgin Records. Reportedly, Jones and Allen spent over two years working on Southern Gothic before recording even began, and the result is described as "a meandering tour of the underbelly of Atlanta, lead by Jones's gruff delivery and parabolic lyrics. Lush production invokes the muscular rhythms of '70s Fela Kuti, the propelling pop sensibility of the Gorillaz and the vocals of a modern-day Tom Waits" (in fact, the album's centerpiece is a song titled "Step Right Up (A Tribute To Tom Waits)," the foundation of which comes from a cut on Waits's 1976 classic Small Change that The Constellations have customized with lyrics about the ATL).
Atlanta musicians Brand Hagen (Trances Arc), Julian Dorio (The Whigs), suburban rapper Asher Roth, and hip-hop artist Cee-Lo also contributed to Southern Gothic. "Atlanta is strange because we're all basically pushed together," Jones recently commented, referring to the city's diverse music scene that includes hip-hop heads, punk rockers, and indie kids. "The record was designed to sound lyrically and melodically very thought out, and sonically very disorganized," adds Allen.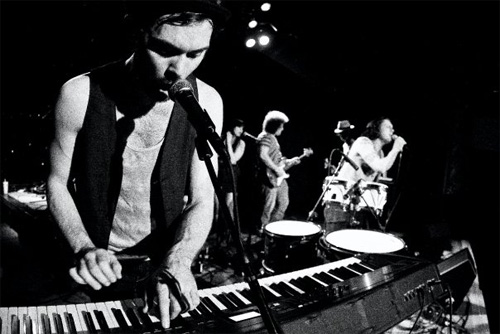 The Constellations have a vibrant sound that struck a chord with the Atlantic music scene, leading to sold-out shows in some of the city's most popular venues, including the Earl, Star Bar, Lenny's, the Drunken Unicorn, and Athens's the 40 Watt. Currently, the band — which is now comprised of Elijah Jones (vocals), Ryan Davis (guitar/keys), Wes Hoffman (bass), Jason Nackers (drums), Jamie Gordon (keys), Trevor Birdsong (guitar), Alaina Terry (backup vocals/percussion), and Shabam Bashiri (backup vocals/percussion) — kicked off their first national tour with a show at Club Downunder in Tallahassee, FL this past weekend. As the band's popularity and success grow it is interesting to note that Jones and the other members did not set out with the specific intention of recording an album together. "All of us wanted to do a record about Atlanta, but we never said it in words," recalls Jones. "But the deeper we got into it, the more we realized we were writing a concept album."
As a concept album and experimental studio album, Southern Gothic was created at the artists' own expense during their free time, and little thought was given to the live performance of the tracks. "We'd put in fifty billion handclaps and shakers, all kinds of crazy stuff," says Jones. "That's why we have eight band members." Recreating The Constellations' recorded sound proved a challenge, resulting in a live band that includes a five-piece combo and two female backup singers. The band's live performances are described as both explosive and fresh, a unique combination that fires up the sold-out crowds that pile into Atlanta's various hotspots for The Constellations' gigs.
In honor of the impending release of Southern Gothic and the band's national tour, The Constellations are offering a free download of the track "Setback" from the new album. In order to receive this free track, you can visit this link and sign up for The Constellations' free newsletter. You will then receive an e-mail containing the download link for "Set Back." For more information on The Constellations, including tour dates and locations, visit the band's official web site. You can also become a fan of the band on Facebook or follow them on Twitter. Special thanks to our friends at Cornerstone Promotions for sending us this information to share with our readers!