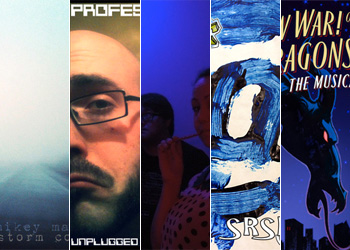 OK, the cobwebs have started to shake themselves off a bit, and I think the slump might possibly be subsiding. Let's see what we have this week, shall we?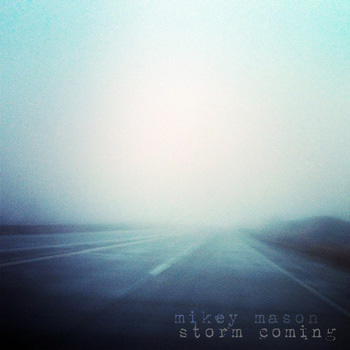 An EP of songs about Neil Gaiman's American Gods? Yes, please! As soon as Mikey Mason announced he was working on this, I immediately got excited. American Gods is one of my favorite books by my favorite author, and Mikey is one of my favorite geeky / funny musicians. Of course, these tracks aren't intended to be funny, but instead they serve as a fitting tribute to this most amazing book.
The EP begins, appropriately enough, with a song about Shadow called "Storm Coming." I really love the way Mason weaves lines and ideas from the book into the song. It sets the mood for the EP nicely, which makes sense given that the coming storm is important in the book as well. "Carousel" also feels quite appropriate to novel, using the carousel of the book not just for itself but also as a metaphor for how Shadow feels about getting involved with the gods. Musically, the addition of the organ and continuation of the storm motif also works well.
If you're a fan of the book, I think you'll like this album. If you've never read the book, but you're a Mikey Mason fan, it's still worth checking out to see what he's capable of when he's being serious instead of funny.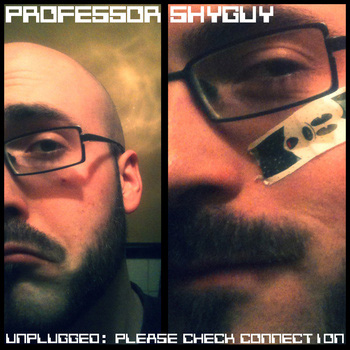 I'm already a sucker for anything Professor Shyguy releases (plus he's a hell of a nice guy), so of course I love that he's released unplugged versions of several of his songs. Despite the highly electronic nature of the originals, he's really captured the energy of them. He's clearly put a lot of effort into them, which pays off. The song "NPC," for example, feels more personal and fitting of a tabletop RPG rather than a video game. "My Simple Pop Song" also works nicely in an acoustic format, making it even simpler than the original. There's one new track on the album, "Han Shot First," so that alone makes the whole thing worth purchasing. If the title alone doesn't make you want to check it out, then you clearly aren't much of a true Star Wars fan.
As if Marc with a C couldn't get any cooler, he's joined forces with Leslie Rising for an EP of "sugary pop songs with boy/girl harmonies and an extra side of neurosis" as Claire and the Potatoes. There are only four tracks on the EP, but they're all quite good. All of them are covers, spanning the past few decades, but I'm particularly fond of Joe Jackson's "Different for Girls." The addition of the female vocals adds depth to the track, plus I already like the original song. I wasn't familiar with The Capstan Shafts' "Sleepcure Theory Advancer" (from which the EP takes its name), but I now feel the need to check out the original (and others by them, too). I'm also very much looking forward to more from this duo, although perhaps not their recent April Fool's joke.
I've long known of Sulfur as the other half of The ThoughtCriminals but hadn't checked out much of his solo work. These two free mixtapes showcase his vocal and lyrical talent quite well. Volume 1's highlights have to be the Teenage Mutant Ninja Turtle-based track, "Turtle Power," and "So Close" with Adam WarRock on guest vocals. The latter is, I believe, about Donkey Kong, although I'm not 100% certain on that. Also on Volume 1 is The ThoughtCriminals' Christmas track, "It's Christmas (AGAIN)," which is definitely one of my favorite Christmas songs.
I prefer Volume 2 slightly. I particularly like it when Sulfur seems to be attacking the lyrics, and he does that more on this EP than the first. It also features more guest artists, including Jesse Dangerously and Tribe One. Highlights on Volume 2 include "For Your Entertainment," with the aforementioned Jesse Dangerously as well as Shane Hall and Rift, and "16M," which outlines Sulfur's life and musical career.
Both mixtapes are available completely for free from Sulfur's bandcamp page, so go download them now!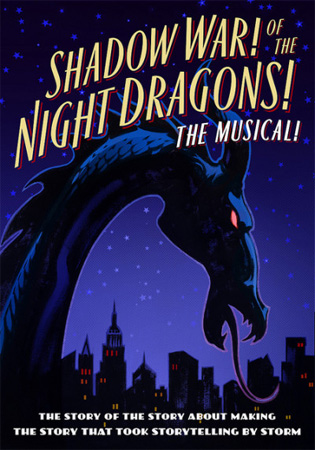 Last year for April Fool's Day, John Scalzi released an "excerpt" from his "upcoming novel," The Shadow War of the Night Dragons, Book One: The Dead City. Somehow I missed it, but this year the joke has gone one step further, with a proposed musical to be made of the book. The music is provided by Paul and Storm, and it doesn't actually tell the story of the actual book. Instead, it tells the story of how the musical came to be. Or didn't. Or something like that. Anyway, it's all very meta and silly and fun. Fortunately, Paul and Storm have released actual songs, with Mike Phirman providing vocals as Scalzi, and Jonathan Coulton dropping in for his own version of the main theme song.
If you haven't yet read the original story, I'd recommend you start there first. I love Scalzi's take on Bulwer-Lytton at the beginning. Then check out the post on Tor.com about the musical as well as Paul and Storm's version, both of which include an audio recording of the "Skype conversation" between Scalzi and Paul and Storm in which they discuss the particulars. Then, of course, check out the actual tracks themselves. And be sure to buy them before the end of April since they are donating proceeds to charity!