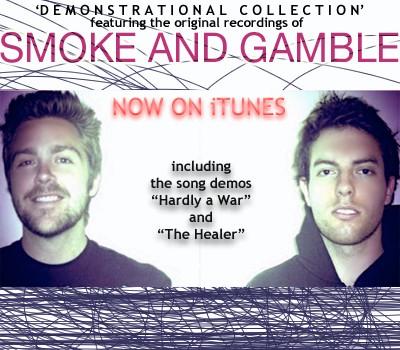 Band/Artist Name: Smoke and Gamble
Members: Josh Dobbs and Rob Cado
Type of Label: Unsigned
Genre: Rock/Indie/Pop
Influences: Frank Black, The Band, Sam Cooke, The Red Hot Chili Peppers
I came across Smoke and Gamble while browsing music recently on MySpace. I was very impressed with their sound, which reminds me of Oasis, The Red Hot Chili Peppers, The Beautiful Girls (Australia), and in the case of songs like "Temporary Solution," a hint of B.B. Mack. The band members include Josh Dobbs on guitar and vocals and Rob Cado on keys, percussion, and guitar. Based out of Los Angeles, CA, Smoke and Gamble is not currently touring due to the fact that they are wrapping up their sixteen-track debut album, which features studio renditions of some of the band's original demonstrational tracks.
As Rob recently explained to me, Smoke and Gamble developed after he and Josh uploaded two songs that they put together for kicks a couple years ago onto MySpace. The response the duo received when they made "Hardly a War" and "Temporary Solution" available was overwhelmingly positive and became the foundation of a strong and lasting fan base. Smoke and Gamble released these two tracks as part of The Demonstrational Collection, and you can listen to them on the band's MySpace page or download them from iTunes. It was important to Josh and Rob to make The Demonstrational Collection available to their fans because, as Rob said, "[S]ome of the new versions had such a different sound, we thought we should make the originals available."
Although no official announcement has yet been made about a release date for the band's debut album, we do know that they are wrapping up production and we will probably have some more information very soon. For the time being, you can hear all of the tracks from The Demonstrational Collection as well as several new tracks, including "Your History", "Go Home", "Pretty Little Knockoff", and "Words I Know", on MySpace. These new songs testify to Smoke and Gamble's evolution over the past two years, presenting a more mature and evolved sound while still remaining true to the band's original style and tone.
The Demonstrational Collection Track List:
1. "Hardly a War"           3:10
2. "The Healer"              3:21
3. "Temporary Solution"  4:38
4. "What We Wait For"   3:35
5. "There's an Author"    1:08
Be sure to check back for more information on Smoke and Gamble's upcoming debut album and an interview with Josh and Rob.