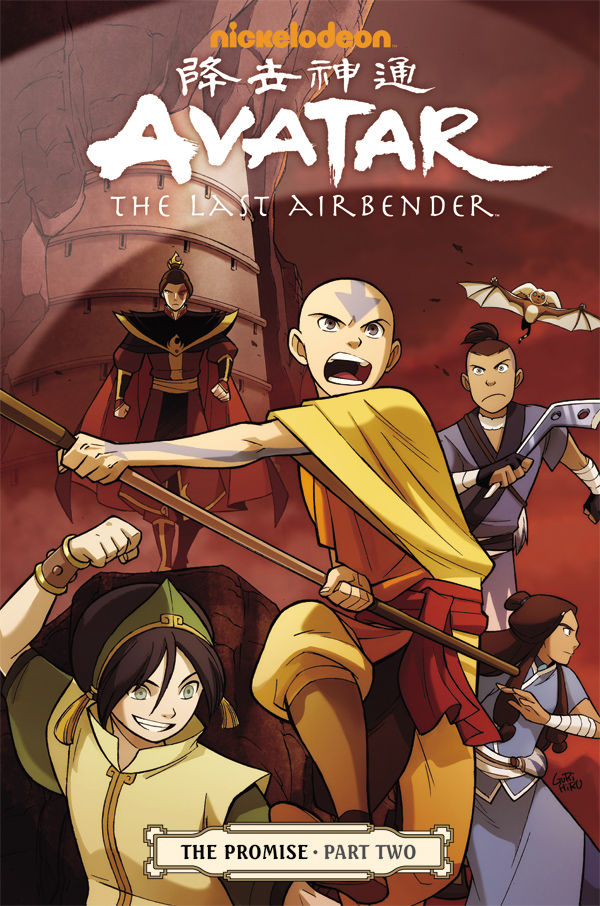 Issue: Avatar: The Last Airbender: The Promise, Part Two
Release Date: May 30, 2012
Writer: Gene Luen Yang
Artist: Gurihiru
Letters: Michael Heisler
Publisher: Dark Horse Comics
Picking up where The Promise, Part One left off, Aang, Katara, Sokka, and Toph are on their way to speak with Earth King Kuei to try to mediate a dispute between the Earth Kingdom and the Fire Nation. Meanwhile, Fire Lord Zuko, concerned over the fate of Fire Nation colonies within Earth Kingdom territory, has decided to seek advice from his father, Ozai. If the story started in the first volume failed to hold your attention, then this isn't going to help change your opinion. And even if you were mildly interested in the first part, this entry still feels a little incomplete.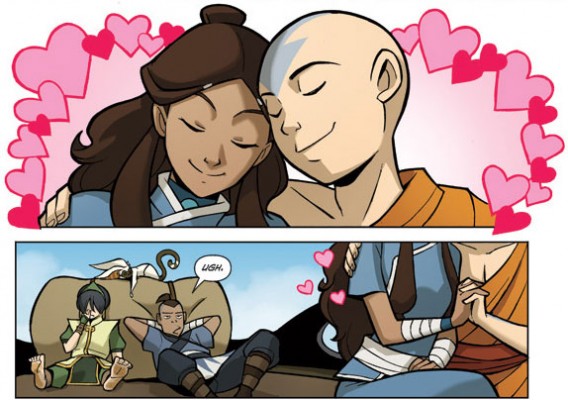 Not a whole lot is actually going on in this collection. The primary storyline — the growing conflict between the Fire Nation and the Earth Kingdom — still feels like it's in its "setup" phase, where all the pieces are being put into position in preparation for the epic smackdown that is (hopepfully) going to go down in Part Three. This actually wouldn't be so bad if the characters were actually doing something. Aang and Katara spend too much time with a bunch of annoying teenage girls who've formed a fanclub around the Avatar. Zuko asks for advice from his father, but being the hothead that he is, he doesn't seem to understand any of it (until it's too late, of course). And Toph and Sokka try and teach a bunch of earthbenders how to metalbend.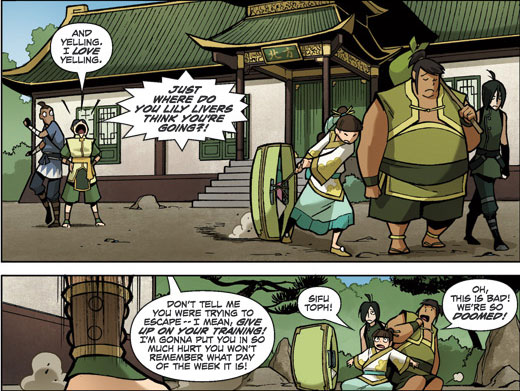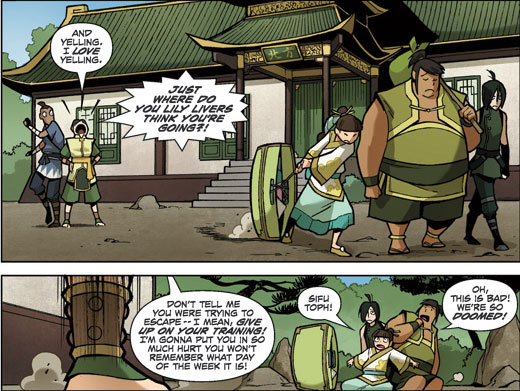 The Toph storyline annoyed me the most, because it doesn't seem to relate to anything. Toph returns to the earthbending school she founded, only to find the building had been overtaken (or retaken, depending on if you're pro-Fire Nation or Earth Kingdom) by some Fire Nation students. The fate of the school is then going to be decided by a match between the Fire Nation students and her own. And, of course, her students are the weakest, so they have to train extra hard to be able to compete. All of this would have been fine if, maybe, the earthbenders and firebenders had to team up for whatever reason; this would have been a nice contrast to the looming war between their respective nations. But, no, it feels more like a sidestory that, so far, doesn't have any bearing on the world as a whole. I'm sure Toph's story will play into the larger story at some point, but as of this collection, it doesn't.
I totally dig the geopolitical conflict brewing in the world of The Last Airbender, though. I enjoyed the first part enough to recommend it to Airbender fans, but I wish this volume had more going on. I hope Part Three tightens up the story a little more, and hopefully doesn't meander too much from the main storyline.