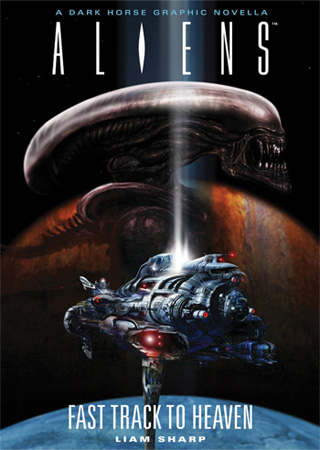 Issue: Aliens: Fast Track to Heaven HC
Release Date: November 23, 2011
Writer: Liam Sharp
Art: Liam Sharp
Publisher: Dark Horse Comics
The space station Heaven orbits an all-water planet with new and unique life forms. For the scientists on board the station, a space elevator permits them to reach the undersea world, but when one of the elevators mysteriously stops half-way, a team goes to investigate and finds horrors beyond their imagining.
Immediately, there are obvious differences between the scientists on the station and their security advisor, who constantly refers to the former group as "hippies." It's clear from the scars along the left side of his face that the advisor, Colonel O'Shea, is a battle-hardened veteran. The scientists laugh and joke about the breakdown of the elevator and O'Shea is the only one geared up for an epic threat.
He turns out to be right as they reach the other elevator and discover their fellows strapped up in xenomorph (the technical term for the Aliens) cocoons. A tell-tale chest burst wound immediately lets the audience know what's happened here. Then, a warning from a still-living scientist comes too late as the group gets their first casualty.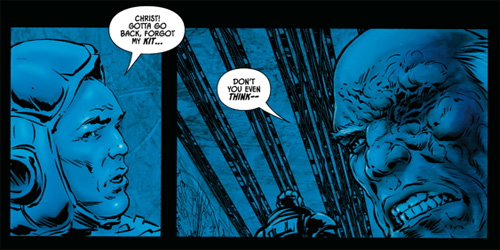 Rather than permit the xenomorph to reach everyone on the station, the crew escapes down to the sea floor station, losing O'Shea and another scientist in the process. Holding out until they can devise a better plan, the scientists start putting the pieces together to conclude that their benefactors, the saintly Weyland-Yutani, permitted one of their members to join the station crew with a chest-burster waiting to pop (Oh WY, won't you ever learn?). The three survivors must then figure out how to destroy the alien before it can get back up the space elevator and kill everyone on Heaven.
The story does a good job of tapping into the suspense established by the Aliens films, especially recalling the chilling moments of the first two incarnations. Writer/Artist Liam Sharp does this primarily through minimal use of colors, often only two or three, that give the book a very dark and foreboding feel. If you're an Aliens fan, this looks like a very worthy read.
Rating: 3.5 / 5 Stars