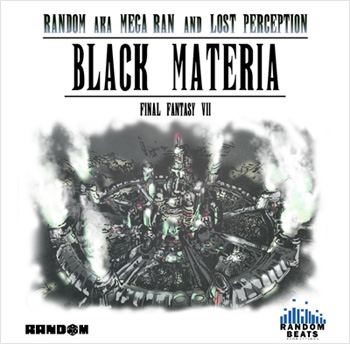 Artist: Random (Mega Ran) and Lost Perception
Album: Black Materia: Final Fantasy VII
Release Date: January 31, 2011
Random (aka Mega Ran) has a history of rapping about video games (mainly Mega Man, of course), and on Black Materia he has expanded to one that I know quite well: Final Fantasy VII. Perhaps for that reason, I have to say it's his best album to date.
The concept is simple: tell the story of Final Fantasy VII in rap form. The album begins with an introduction to the overall story of the game, reminding those of us who haven't played in a while of some crucial details. The first several tracks are written from the perspective of Cloud Strife, the main character of the game, beginning with Cloud's own story, "Cloud Strife," which, appropriately enough, includes samples from "Still Fighting" from the Final Fantasy VII soundtrack.
In fact, Random incorporates snippets from the Final Fantasy VII soundtrack, but doesn't let them completely dictate the entire song. Rather they underscore the lyrics and hearken back to the game itself. The song "Aerith," for example, uses both "Aerith's Theme" and "The Forested Temple" to tell the story of Cloud's first encounter with Aerith / Aeris in which he realizes she is something special and vows to protect her. Probably my favorite track on the album, "AVALANCHE," also features samples, this time from "Fighting" and "Barret's Theme." There's an appropriately military feel to the song which also include Random rapping as Barret Wallace, the always-armed (pun intended) former leader of AVALANCHE.
It's not just samples from the music that get included. There are also songs named after specific tracks on the original soundtrack. "On that Day Five Years Ago," for example, describes Cloud's sudden remembrance of what actually happened to him in his past that he couldn't previously remember. "Don of the Slums" is about Don Corneo and his control of the slums, though it's been long enough since I've played the game that remembering the full story is difficult for me. It's these two aspects of the album, the incorporation of the original soundtrack as well as names of the tracks, that really draw you in to the world of Gaia.
I do, however, have two minor quibbles with the album. First is the references to real world events and items in the voice of the characters in the game. For example, in "Don Corneo (Interlude)," Don Corneo (actually Brentalfloss) sings that his name should not be confused with Don Corleone. Of course, that's likely part of where his name came from in the game (that plus the meaning of "corneo" in Italian), but it's not something the character would actually know. This is most obvious on the track, "Cry of the Planet." With its references to bombs exploding in Afghani markets and to America, it's much more about our actual world and global warming than it is about the destruction of the lifestream by Shinra in Final Fantasy VII. Mind you, this doesn't detract from my enjoyment of the music, but it does somewhat throw me out of the world of Final Fantasy VII.
The other minor quibble I have it with the last track, "One Winged Angel." The first part of the track (a rap set to "One Winged Angel" about the end of the game describing the final showdown between Cloud and Sephiroth) fits with the album, as does the last part (a bonus track about Final Fantasy in general). Hearing Random tell his story about how he came to create Black Materia in the middle of the track, however, while interesting, doesn't really have much relistenability (yes, I am making up a word). If it had been broken into three tracks, I feel like it might have fit the album better. Again, nothing that really takes much away from the enjoyment of the music, but something worth noting.
Overall, I really enjoyed this album. Although it's been many years since I've played it, Final Fantasy VII still has a place in my heart as one of the best video games I've ever played. So when I first heard about the album, I immediately got excited and couldn't wait for it to come out. I was not disappointed. If you are a fan of the game and enjoy nerdcore hip-hop, this album is definitely for you. And, best of all, if you're not sure if you're going to like it, you can listen to it for free on Bandcamp. So check it out, and then buy the tracks for download on iTunes, Amazon, or straight from the Bandcamp site — I'm quite certain you'll find it worth your while.
Track Listing:
"Introduction" (3:48)
"Cloud Strife" (3:39)
"Tifa's Theme" (5:09)
"Avalanche" (4:49)
"Mako Reactor" (3:51)
"Aerith" (6:36)
"Cosmo Canyon" (1:39)
"Don of the Slums (interlude)" (1:53)
"Don of the Slums" (4:22)
"The Turks" (1:52)
"On That Day 5 Years Ago…" (4:25.)
"Birth of a God" (3:22)
"Cid's Theme" (1:50)
"Cry of the Planet" (4:04)
"Absolute" (3:26)
"One Winged Angel" (16:35)
Rating: 4 / 5 Stars

Chad (aka Darth Aqueous, Dark Lord of the Fish) is a geeky high school English teacher. He primarily writes about geek music, with a focus on the fandom-y (it's totally a word!) elements of the lyrics. He also produces a weekly podcast with interviews of geeky musicians. He currently lives in Gainesville, FL, with his wife and three cats, Parker (named after the character on Leverage), Anya (from Buffy), and Zoe (from Firefly).