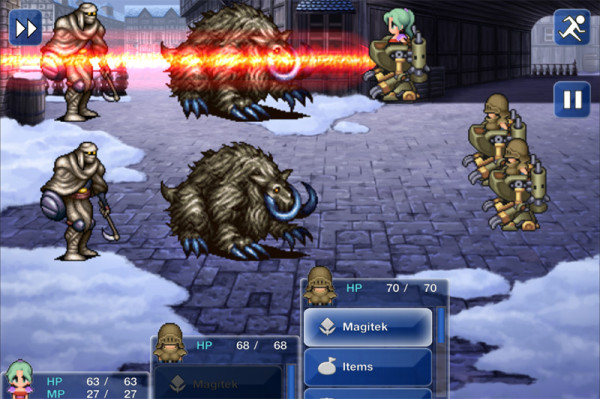 Final Fantasy VI is my second favorite of the series. The storyline was so vast and amazing and I loved most of the characters in it. I've held onto my copy of the Final Fantasy Anthology for years. Last week, before the Georgia snow disaster, I saw the new release of FFVI for the Android OS. I investigated it first, looking at screenshots and video, and decided it was worth the download onto my tablet. I am really happy I did.
I was a little wary since there wasn't much difference between the PS1 version of Final Fantasy VII and the Steam release. I kind of wanted my money back. I didn't get that same disappointment with FFVI on the Android. The 2D backgrounds were redone to look like really beautiful paintings. You can really see it during battle scenes. The graphics have a much clearer look than the SNES and PS1 versions. My eyes aren't as strained when I play it. The character sprites look a bit more like anime chibis. I think they are really cute though. They are more smoothly rendered than in the other game versions. The character portraits in the game have been redrawn as well.  I really enjoyed the look of the game.
The gameplay is fairly easy. All the battle commands pop up on the screen and you merely select your choice. If you are playing on a tablet, which is how I am playing, I recommend using a stylus. There are buttons on the screen to switch between characters, go back an action, and to run away. You can also pause during a battle. When you are not in battle, the menu button is situated in the corner of your screen. A simple tap brings it up. The navigation of the game took a while to get used to. You can select whether your character can move around the screen in four or eight directions. It took me a little while to get used to moving my characters around. The audio in the game sounds really great as well.
My only real gripe is the price. On Google Play, I paid $15.99 for it. I had some gift card balance to put towards it but I felt like it was a little much. I was pleased with the purchase, though. I can't attest to how it operates on the iOS system. My ASUS Memo runs Android. I didn't notice any game glitches or lag running it on my tablet. I had hours of smooth gameplay. This game definitely gets a high score from me.