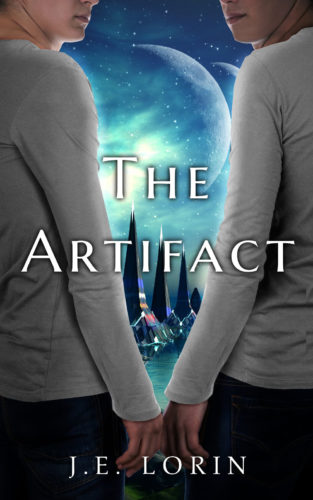 The Artifact by J.E. Lorin combines a futuristic space world with an Indiana Jones-esque time adventure. Throw in some romance, brains, and brawn and you have a great book.
Official Synopsis:
Dr. Bentley Blake, professor of Old Earth Cultures, has a life that seems set in stone: he'll teach his classes, write research papers, look out for his younger brother Jamie, and, hopefully, he'll find love somewhere along the way. It's not an exciting life, but it's solid and safe. All that changes the day he meets Harlow "Remy" Oakes, a mysterious and handsome man who invites Ben on a quest to find a deadly artifact. Ben declines the invitation, but after an attempted abduction, his life is thrown into chaos. Forced to join in with Oakes, a man he doesn't trust, Ben finds danger at every turn. Will he and Jamie make it out alive? And will Ben be able to stifle the growing attraction he feels for Harlow Oakes?
The Review:
One of the best aspects of this book is the world building. Earth is a defunct planet at this time. Most of humankind is spread out across space colonies across the galaxies. The old Earth is a series of college classes now. People can also choose to genetically modify their kids. However, the main character, Ben, is an oddity. His parents decided to let nature take its course. It is interesting to think of Earth as being an academic afterthought. I got caught in the world and I remained interested.
The characters were intriguing and I wasn't bored by anyone, except the villain. He was just a nasty man. I really enjoyed Astrid, the young engineer on the ship. Her sassiness added to the book's entertainment. Secondly, it's always great to read about women in STEM careers. Ben and Remy are fun contrasts to each other. Remy is the swashbuckler and Ben is the scholar. The two banter back and forth throughout the book. Now, if you don't like M/M romance, this book is not for you. The banter between Ben and Remy turns into romance. However, the romance of the book is secondary to the mission to save the Earth. You root for the couple but still remain in the story.
Overall, this book was a great read. I enjoyed most aspects of the book. I just wish more detail was given about the "Key" and what it contained. I would like more backstory on what happened to Earth, but I suppose that is part of the mystery. Ben's brother was a bit too needy for me, but I learned to like him a little better. He grew as a character and became less annoying. Check this book out if you want a new twist on space adventures.