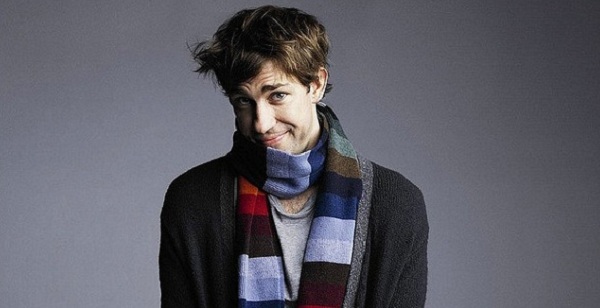 The problem with being a TV addict is that you start to forget that the people in the shows you watch are just characters. Hugh Laurie isn't really an arrogant doctor, Michael C. Hall wouldn't really slice you up, and John Krasinski isn't a paper salesman from Pennsylvania. Those are the facts of the matter, but Hugh is still as sassy as House, Michael's odd like Dexter (well, not as odd…) and John is as cute as a button as Jim Halpert. Okay, so while most of our John Krasinski love comes from his role on the The Office, that's not the only reason we love John, just the biggest. We also have a thing for his ways with romantic comedies, his sweetheart personality and, of course, his puppy dog eyes that cause instant giggles for whoever's on the receiving end.
Name: John Burke Krasinski
Birthday: October 20, 1979
Place of Birth: Newton, MA
Twitter: Really John? How can we stalk you if you don't offer up this information?
Best Known For
John Krasinski didn't shoot to fame overnight, but it seems like it since The Office has been a pop culture staple in America since we stole it from the UK in 2005. But no, John paid his dues doing minor roles in "hits" like Taxi… You know, that classic comedy starring Late Night's Jimmy Fallon and Queen Latifah, and on TV as "Process Server" in Ed. He even stepped off the small screen to hit the movies, the best being Away We Go since he's the star and ruggedly handsome with a beard. Some starred Oscar winners like Leatherheads, Dreamgirls, and his upcoming movie, Promise Land, and others… well, the others are romantic comedies that aren't always the best, but John's cute enough that when they're in Redbox or on TBS, you can't help but watch — License to Wed, It's Complicated and Something Borrowed.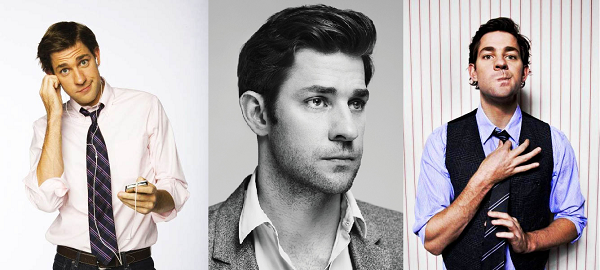 5 Quick John Krasinski Facts
John didn't just meet Office costar B.J. Novak on set, they've known one another a long time. The two went to high school together and also played Little League back in the day.
In 2000 he was a script intern for Late Night with Conan O'Brien. While things didn't work out for Conan and the network, it appears that NBC was meant to be John's destination in life.
John is one half of one of TV's most perfect couple (of course more on that below) on The Office with his Jim and Jenna Fischer's Pam, and when asked by Glamour if he'd want a real life Pam, he said, "Yes, please! It's not about celebrity or not. It's all about, do you have that 'girl in a cardigan' in you. You gotta have that."
How different would Captain America have been if John got the role instead of Chris Evans? Yup, Krasinski was considered…
John's a tall dude at 6' 3", but he stands low compared to his brothers who are 6' 6" and 6' 10".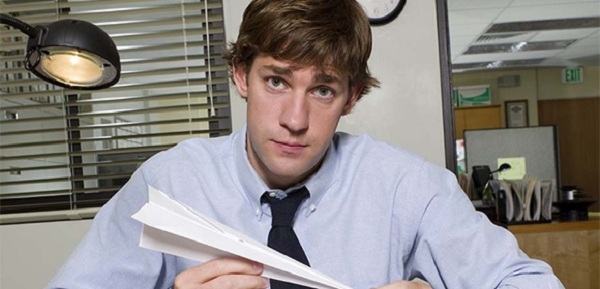 Reasons You Love John Krasinski
Is there a human on the planet that can deny John Krasinski? If so, let me convert them to the "Church of Hot Men Who You Could Take Home to Mom." John isn't the hot that instantly gets panties all in a twist; he's not Ian Somerhalder for goodness sakes. He's a different kind of attractive, an innocent kind. Other than having a pure likeability factor, John's Jim Halpert on The Office is definitely a top 10 TV character you wish existed in reality. Jim is the guy you wish was waiting for you at your job every day, maybe then you'd have a reason to smile at work; he's hilarious, hardworking (when he's not scheming), and an all-around good person who loves the average looking girl, ignoring he's married to Emily Blunt in real life. You are that girl who doesn't look like the next "Maxim Hot 100" and are sure that you could win over Jim… I mean John. On top of all that, he makes those romantic comedies bearable (he owns It's Complicated by the way). So John makes you dish out like $8 bucks for some cheesy movie, but you still love him for his boy next door charm, obvious good looks, and the way he makes you swoon at your imaginary reception desk.
Reasons I Love John Krasinski
A tall hunk of awkward with huge ears and a big nose, paired with an irresistible pair of eyes that I yearn to look my way… Oh John, you're a catch. I could probably write a novel the size of a young adult best seller about why John Krasinski is the personification of perfection when it comes to a significant other, but I'll sum it up with one Office scene… When John's Jim makes a speech about Pam: "…a lot of people told me I was crazy to wait this long for a date with a girl I work with but I think, even then I knew that I was waiting for my wife." I said out loud at that moment when I saw that episode in syndication, "Where the hell is that boy in my life, UGH! I'll never find a man like that, why me?!" After my breakdown I wiped my tears and decided I could just have a mental affair with Jim Halpert forever since The Office is set to repeat on TBS forever. I also must admit that I Redbox those RomComs and watch them alone on Friday nights with Wendy's chili. The things we do for love… John Krasinski, I love you because personally I am a sucker for Dumbo sized ears… That's not all though, it's all summed up in Jim Halpert, aka the world's most perfect husband. If only the guy I used to work with was smart enough to know I wanted to be his Pam…
Kendra lives somewhere in between reality and believing she'll marry Backstreet Boy Nick Carter. After two years of stress thanks to a job she grew to hate, she left and focused 90% of her attention on the one thing that had been her right hand man since she was 13: writing. Currently she writes often for Fandomania, Roni Reports, MTV Geek, and her own music blog, Golden Mixtape.