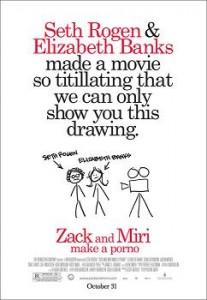 Kevin Smith's latest opus hit theaters this past weekend, and John was there to see it. Here's his review of Zack and Miri Make a Porno.
Zack and Miri Make a Porno
Starring: Seth Rogen, Elizabeth Banks, Craig Robinson, Jason Mewes, Traci Lords , Jeff Anderson, Ricky Mabe, Justin Long, and Brandon Routh
Written and Directed by: Kevin Smith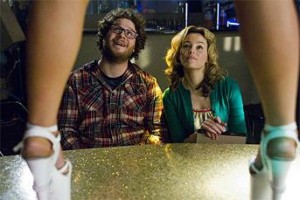 SYNOPSIS: Two longtime friends have been living with each other for years until the time comes when creditors exercise their authority. Now Zack (Rogen) and Miri (Banks) are without power, water, and heat. Things are desperate, so appropriate measures should be taken. Instead, the duo decide to go a bit farther and make a porno! Sounds easy enough, but what happens when two lifelong friends are forced into an intimate encounter? Can things ever be the same again?
ANALYSIS: Kevin Smith has been a continuing source of inspiration for me and many other people in my social circle. The funny thing is, Kevin Smith has never been famed for his visual technique or his intricate, multi-layered plotting. The thing that makes him a standout filmmaker is that he doesn't need them. The thing that resonates throughout his works (yes, even Jersey Girl, I'm sad to admit) is his understanding of regular blue collar people, the way they interact, and the way they react to unusual circumstances. Smith has a gift for writing characters who share our dissatisfactions, our desires, and even the silly and pointless stuff that we embrace because those are the things that make us interesting. That, most of all is the success of Zack and Miri Make a Porno.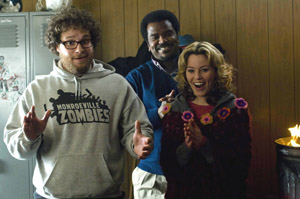 Smith uses his magic pen to tell us a story revolving around one simple word… inspiration. To this end, Kevin Smith and Seth Rogen are a match made in heaven. Rogen's body of work has always shared a sort of kindred spirit with Smith's work. Rogen's work on Superbad definitely stands out to this end. I remember watching Superbad and remembering how impressed I was that Rogen and his co-writer were able to tell a raunchy story and yet keep the heart. As Zack, Rogen brings that sensibility front and center. Rogen handles Smith's dialogue better than anyone in Smith's entourage, and that's saying something. Personally, I never would've thought anyone could top Jason Lee or even Jeff Anderson when it comes to making Smith's dialogue sing. I think the thing that makes Rogen rise above the rest is that he really does feel like the cinematic counterpart to Kevin Smith himself.
Of course, I'm sure that was Smith's intention upon casting Rogen, especially because of the way the story progresses. Many Smith enthusiasts will immediately pick out that this film is partially based on Smith's experiences making Clerks. It's all there: making the movie with all their friends and having the entire thing being made in the place where Zack (Smith) worked during the night. I think the only thing that was missing was that we never got to see how everyone reacted to the film. After seeing all the crazy things the characters go through for their dream, it's a shame that the movie gets sidetracked by the romance. Granted the romance is meant to be the primary focus, but Smith gave us more than Zack and Miri to love in this film. We really came to love all the other characters involved in the making of the porno. So it was shame that we never got to see their hard work justified. I mean come on, if I had to suffer what Deacon (Jeff Anderson, always welcome) suffers, I'd want to know if it was totally worth it. Instead, the film ends on the inevitable resolution between Zack and Miri, leaving us with a sense of dissatisfaction. Almost like you just devoured the best damn sundae in the world, but the server forgot to put the cherry on top. It just loses the impact of the entire package.
Nevertheless, that never distracts from the fact that the film still meets the Kevin Smith standard of being consistently funny throughout. Smith's script once again displays Smith's ability to be funny on an intelligent level, while being consistently ribald in nature. Though there may not be very many major twists in the plot department, Smith still shocks with the subject matter that he has his characters discuss and debate. The thing that makes it funny is that it feels like you're sitting in on a conversation with your buddies as they talk about stuff that usually you would never want someone to put on film. Smith has the perfect ear for that sort of dialogue, and he always picks the right actors to make the dialogue play.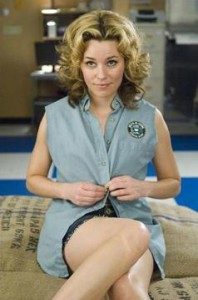 I will say I was sad that Rosario Dawson was unable to do this film, especially because she was so awesome in Clerks II, but I will say Elizabeth Banks was a worthwhile exchange for this film. She was able to show that she can handle sharing a scene with a half-man half-slug in Slither. So I can imagine being the object of affection for Seth Rogen is something she can be totally game for. Banks has just the right level of quirky charm to blend in with the rest of the risque cast. She clearly knew how important it was to be confident with herself to sell the love story. In all her scenes with Rogen she makes it feel like these two have been friends for years. Zack says, does, and buys some really wild things, and it takes a really good friend to love him for all those things. Even before the inevitable ball is dropped, you feel the love long before even Zack and Miri do. You just know deep down that these two have always loved each other. They just need the right spark to set them off. When they film their love scene, Smith perfectly captures the quintessential difference between making love and having sex. It's a beautiful scene, and it shows how far Smith has come as a filmmaker to be able to capture a moment like that, and have it never feel cheap or superficial.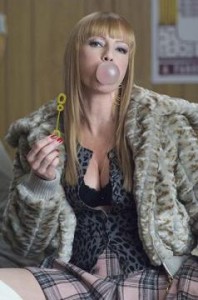 The cast as a whole is the usual Kevin Smith standard of excellence, but I will say the cast member who impressed me the most was controversial porn star/actress Traci Lords who plays veteran stripper Bubbles (Don't ask, you'll find out). Despite being the most experienced actress in the realm of adult film, she really had a sense of humor to match Smith's. She was never ditzy or idiotic. In fact she seemed very game to roll with Smith's pop culture fascinations. Of course without Jason Mewes this isn't a Kevin Smith movie. Mewes is still very much Mewes, but what makes him impressive here is that we're seeing his character Lester, instead of the in-your-face stoner that we've always known and loved him for. It was wild to see him play an extremely experienced sex fiend with a talent that would make Dirk Diggler feel inadequate. I was shocked that we didn't see a single Jay-ism. Not a single "Snootchie-Bootchies" in sight. Oh, by the way, unless you're interested in seeing more of Jason Mewes than you ever thought, then you might want to avert your eyes.
All this leads me to the conclusion that this is the movie that Jersey Girl attempted to be. It's a chance for Smith to grow beyond The Jersey Chronicles and retain the traits that make him a definitive voice in film.
ESSENTIALLY: Finally Smith is able to grow beyond the confines of his own mythos, and he makes a standalone film which is just as funny and as wicked as his prior films. However the sentimentality hogged the spotlight and left us with unfinished story threads, making the whole feel a bit incomplete.
FINAL GRADE: B-