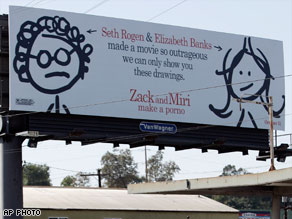 I have to show sympathy for Kevin Smith. It seems like the poor guy just can't make a movie without pissing somebody off.
Let's go down the line: Dogma gets him in trouble with the Catholics. Jay and Silent Bob Strike Back makes GLAAD flaming mad. Jersey Girl makes everybody mad. Clerks II makes Joel Siegel leave the theater early… Good riddance to you. It's not like Smith needed the opinion of a schmuck who liked the Matthew Broderick Godzilla.
Well now Kevin Smith and the Weinsteins have had to find alternative solutions to the TV ad campaign and the poster ad campaign for Smith's latest opus Zack and Miri Make A Porno.
For those who don't know, Seth Rogen (Knocked Up, Superbad), and Elizabeth Banks (Spider-Man 1,2,3, and Slither) play Zack and Miri, a couple who are down on their luck and are forced to resort to very desperate measures. So they decide to make a skin flick.
The original poster ads and commercials were met with limited enthusiasm by parents and businesses, mainly because of the title. Parents are getting all fire and brimstone over the use of the word "Porno" in the title, and transit companies refuse to plaster the ad on their buses because of the title. Even some movie theaters refuse to carry the ads because of it. The Weinsteins are going to bat saying that this title is done in a totally comedic context. I see the humor, and many moviegoers I tell the title to are laughing their butts off just from hearing the title.
Here we go again; the conservatives have no sense of humor and Kevin Smith has to suffer… again. The problem is caused by uptight parents don't want to explain the birds and the bees to their kids at an early age. I've got a solution: Don't have kids if you're too scared to teach them about sex. If a five year old asks "What's a porno?" simply say, "Something you won't be allowed to watch till you're 18."