Director Kevin Smith has done the impossible. He trumped the Motion Picture Association of America.
Lately, Smith and producer Harvey Weinstein have been going through the ringer thanks to the MPAA concerning the final rating of his newest comedy, Zack and Miri Make A Porno. The MPAA initially rated the film NC-17. Smith and Weinstein's attorney Alan Friedman put forth a strong argument, and in an entirely unprecedented gesture, the MPAA rescinded their NC-17 rating. Now Smith's latest opus is back to his standard issue, hard "R."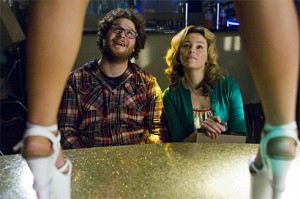 Seth Rogen and Elizabeth Banks are Zack and Miri, two lifelong friends who hit a financial wall. They decide that pornography is a worthwhile business venture. As these things go, their endeavors lead to more than financial gain, and they begin to notice their deeply rooted attraction to each other.
Zack and Miri Make A Porno will be hitting our theaters on Halloween 2008.
Cast also includes: Traci Lords, Jason Mewes (of course), Tom Savini, and Jeff Anderson