Press Release:
NEW NOVEL TELLS STORY OF FIRST MEETING
OF BATMAN AND SUPERMAN IN THE 1950s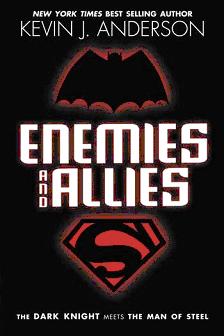 The Dark Knight meets the Man of Steel. International bestselling author Kevin J. Anderson tackles the tale of the first meeting of two of the greatest heroes in comic history: Batman and Superman. In his new novel Enemies & Allies (William Morrow, 9780061662553, $26.99, on-sale 5/5/09), Anderson follows up last year's bestseller, The Last Days of Krypton—the epic of the destruction of Superman's home planet—with an action-packed novel set in the 1950s, during the height of the Cold War and the flying saucer craze.
As America and the Soviet Union race to build their nuclear stockpiles, two extraordinary heroes are forced to form an uneasy alliance. These studies in opposites—shadow and light—must overcome their distrust of each other to battle evil and injustice. And the corrupt genius Lex Luthor plays both US and USSR against each other, bringing the world to the brink of a nuclear holocaust that only Batman and Superman can stop.
Kirkus Reviews recently gave a power-punched review of Enemies & Allies: "Anderson spins a rousing superhero epic that doesn't retread the heroes' origins, but instead cleverly uses its generational iconography, integrating Sputnik, Wernher Von Braun and Area 51 into the globetrotting plot, to say nothing of Luthor's death rays, chunks of Kryptonite and alien spacecraft. … Injects a welcome dose of retro exuberance into the capes-and-tights routine."