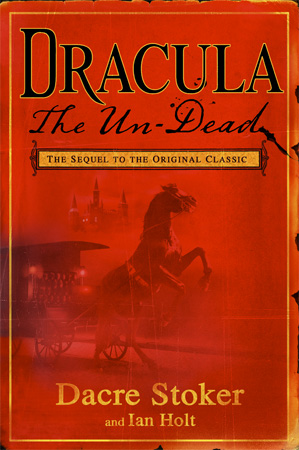 A sequel to Dracula?
The classic horror novel responsible for permanently elevating Bram Stoker's name into the annals of classic literature and spawning an inestimable number of authors to create vampire-related works will, indeed be continued by Bram Stoker's great-grand-nephew, Dacre Stoker (a blood relative) and award-winning Dracula documentarian and historian Ian Holt. The duo sold the North American-English publishing rights to Dracula The Un-Dead nearly a year ago to an alliance of Dutton U.S., Harper U.K., and Penguin-Canada nearly a year ago, after which very little was heard about the project. With its release date of October 13, 2009 fast approaching, however, bits and pieces of information are beginning to eke out about the sequel, and now a synopsis of the novel as well as a trailer can be viewed on the horror blog site ShockTillYouDrop.com.
Based on Bram Stoker's own hand-written notes from the original, Dracula The Un-Dead takes place in 1912 and follows a rash of mysterious attacks on the descendents and friends of those who defeated Dracula twenty-five years earlier. Dacre Stoker and Ian Holt were granted access to Bram's original notes by the Stoker family, which has communicated approval of the project since rumors of the sequel first began to circulate.
As with many highly-anticipated novels, several companies are already in negotiations for the movie rights to Dracula The Un-Dead; however, the names of the companies remain unknown and no official decisions have been made. One of the novel's publishers has already signed on for two additional sequels following publication of Dracula The Un-Dead, and undoubtedly there will be only increasing interest in the series over the coming months.
Official Synopsis:

Dracula The Un-Dead is a bone-chilling sequel based on Bram Stoker's own handwritten notes for characters and plot threads excised from the original edition. Written with the blessing and cooperation of Stoker family members, Dracula The Un-Dead begins in 1912, twenty-five years after Dracula "crumbled into dust." Van Helsing's protégé, Dr. Jack Seward, is now a disgraced morphine addict obsessed with stamping out evil across Europe. Meanwhile, an unknowing Quincey Harker, the grown son of Jonathan and Mina, leaves law school for the London stage, only to stumble upon the troubled production of "Dracula," directed and produced by Bram Stoker himself.

The play plunges Quincey into the world of his parents' terrible secrets, but before he can confront them he experiences evil in a way he had never imagined. One by one, the band of heroes that defeated Dracula a quarter-century ago is being hunted down. Could it be that Dracula somehow survived their attack and is seeking revenge? Or is their another force at work whose relentless purpose is to destroy anything and anyone associated with Dracula?
Dracula The Un-Dead will be available for purchase on October 13, 2009. However, copies may be pre-ordered from a number of vendors, including Amazon.com, Borders, and Barnes & Noble bookstores. For more information on Dracula The Un-Dead, check out the novel's official blog where you can read advance reviews of the sequel as well as catch up on the latest news surrounding the book and its authors. While much remains a mystery about Dracula The Un-Dead, there is one inevitable certainty about the Dracula sequel: vampires will be frightening and evil once more.