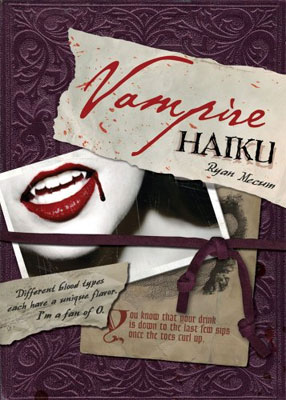 Vampire Haiku is author Ryan Mecum's response to the widespread vampire fetish that pervades pop culture these days. The second book in Mecum's Horror Haiku series, Vampire Haiku is a follow-up to Mecum's popular Zombie Haiku, which was released by How Books in July 2008. Upon reading the 135-page haiku story I was pleasantly surprised to discover that Vampire Haiku provides an unexpected commentary on various aspects of the current vampire obsession sweeping our nation, including references to Twilight, Buffy the Vampire Slayer, and even Bram Stoker's Dracula. I nearly died laughing when I came across the following passage:
"I just saw Twilight.
It's labeled a vampire film,
but I don't know why.

"Those were not vampires.
If sunlight makes you sparkle,
you're a unicorn.

"The underage girl
and century-old dead guy,
awkwardly in love."
Vampire Haiku is rife with witty anecdotes and social commentary like that above, all of which comes from the perspective of a young man who was changed into a vampire in the 1600s. William Butten, an Englishman headed for the colonies, had the misfortune of falling in love with a married vampire named Katherine (homage to L. J. Smith's The Vampire Diaries, perhaps?). Rather than killing him, Katherine turns William into a vampire, thus affording him the opportunity to continue indefinitely the journal he began just after embarking for the new world. Interestingly, William chose to catalogue his voyage and the many, many entries that follow, using haiku. Although the format can become a little monotonous, the subject matter of Vampire Haiku makes for a quick and enjoyable read. William's commentary on various historical events, other vampires that he meets, and the many misconceptions about what it means to really be a vampire are both witty and at times a bit disturbing (I must say the thought of a pregnant woman being turned into a vampire and what happens to the baby thereafter had never before occurred to me).
The official release date for Vampire Haiku was August 14, 2009, and it is available wherever books are sold. For more information on Vampire Haiku, Zombie Haiku, or to see some of Ryan Mecum's other work, check out his MySpace page or head over to his official web site. If you're on twitter, be sure to check out Mecum's tweets; they're all in haiku!