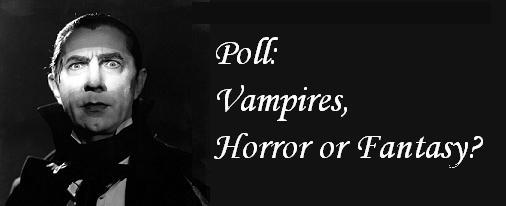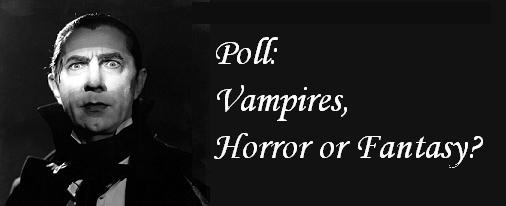 Kelly, who is currently hard at work writing up Defining the Genre for the Fantasy Genre, has been pondering vampires, both historic and modern and poses the question: Vampires: Fantasy or Horror?  HELP!
Please reply in a comment with your thoughts.  I have recently been trying to decide what makes a vampire horror and what makes a vampire fantasy, or whether there is such a thing as a fantasy vampire.  What started this argument?  Dracula has long been a favorite of mine. Bram Stoker knew how to terrify and intrigue at the same time.  I remember reading Dracula for the first time and literally wanting to stay up all night reading it because I knew that if I went to sleep I would have nightmares.  My perception of vampires has always been that of "horror".  They are the creepy monsters in the night, willing to prey on unsuspecting humans and suck them of their life.  Needless to say, I spent many a night with my covers wrapped around my neck and wondering if I should get some garlic just in case.
As with many, my fascination with vampires was also fostered by the show Buffy the Vampire Slayer and its spin-off Angel.  Characters such as Darla, The Master, Drusilla, and Angelus proved that vampires were horrific and capable of truly evil deeds, thus horror.  However, Angel, a vampire with a soul, shed a different light on vampires.  They could be soft around the edges, lovable even, hence the beginning of my horror vs. fantasy argument.  Once you bring in romance it doesn't seem like horror anymore; it smacks of fantasy.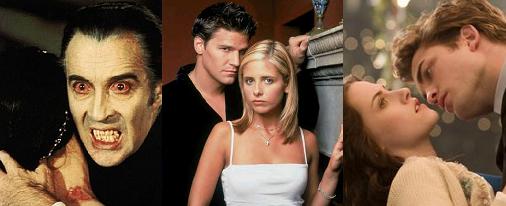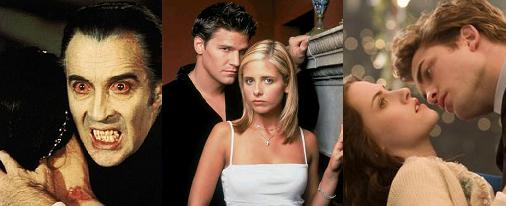 More recently I became another of the number obsessed with the story of Bella and Edward from Stephenie Meyer's hit Twilight Saga.  While James, Victoria, the Volturi, and the southern vampires are truly monstrous (even if some are more civilized than others) we're given a new look at vampires.  Similar to the Angel prototype, they clearly have a conscience, and they choose to abstain from drinking human blood.  Beyond that, however, the story revolves very much around the relationship between Bella and Edward.  While it certainly has blood sucking scary antagonists, the story is essentially a romance, pushing it more into the fantasy realm, in my mind.
When is a vampire horror, and when is it fantasy?  Is is always horror because of the very nature of a vampire? Even one with a soul or one who abstains may slip.  Or does the context make the difference?  Should I discuss vampires with Fantasy or Horror?  I want to open the floor to you to hear your thoughts and opinions, because I am stuck between a rock and some really sharp teeth.