Stephen King had no reservations about sharing his opinion of popular Twilight author Stephenie Meyer in an interview with USA Weekend. "Stephenie Meyer can't write worth a darn," King told interviewers. "She's not very good." If that wasn't bad enough, King also commented that Meyer's secret to success is nothing more than "writing to a whole generation of girls and opening up kind of a safe joining of love and sex in those books. It's exciting and it's thrilling and it's not particularly threatening because they're not overtly sexual". While I, personally, might take exception to the way one of my favorite authors chose to describe another of my favorite authors, the fact that an argument can be made for Stephen King being counted among the most prolific horror writers of our time (yes, even taking into consideration abominations like Cujo and Carrie) does lend a degree of authority to his statements. What surprises me most, however, is that Stephen King was the one who chose to comment on Stephenie Meyer and the Twilight series while Joss Whedon, creative mind behind Buffy the Vampire Slayer, has been much more close-lipped about the recent onslaught of human-on-vampire romance stories proliferating throughout popular culture.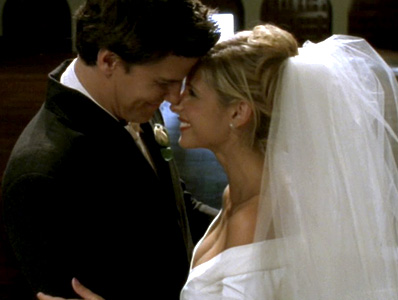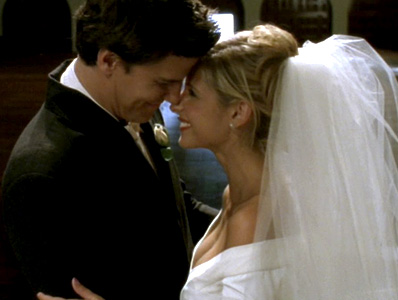 "If people want stories about girls who love vampires, they should have them," Whedon told MTV in an interview earlier this year. "It's not like I came up with it. It's always deeply romantic or deeply interesting or deeply scary, or all of the above, and that's going to be mined long after I'm gone." But what is it about the Twilight series that really speaks to teenage girls (and women)? Is it really as simple as loving a story about a girl who falls for a vampire? Throughout its seven seasons and various spinoffs, Joss Whedon's Buffy the Vampire Slayer was much more than a story about a girl in love with a vampire. In fact, Buffy and Angel's star-crossed romance is more closely aligned with Stephen King's description of the Twilight series than Whedon's own characterization of the genre. And Twilight's preoccupation with examining and defining the relationship between love and sex is where the series seems to most clearly emulate Buffy the Vampire Slayer's own preoccupation with physical and emotional expressions of love and the danger, or even damnation, that can accompany premarital sex.
In Meyers's Twilight, the relationship between high school student Bella Swan and her vampire beau Edward Cullen is constructed as the epitome of innocent, pure, true love. Due to his inhuman strength and a voracious appetite for his girlfriend's blood, Edward is unable to express his feelings for Bella in a physical, sexual way (having your pelvis crushed or being drained dry isn't the most romantic way to lose your virginity, after all). Physical danger is not the only barrier standing between Bella and Edward's expressions of physical and emotional love; in order for them to have sex, Bella must be changed into a vampire so that she matches Edward's inhuman strength, lighting-fast reflexes, and stone-like epidermis. Edward, however, knows Bella's desire is to be "changed" by none other than himself, and therefore attaches a rather interesting condition to the deal: Bella must agree to marry Edward before he will turn her into a soulless vampire like himself. The inclusion of such a condition is interesting for several reasons, perhaps the most intriguing of which is the coupling of physical danger and marriage that ultimately forces Twilight readers to accept, often subconsciously, the rather traditional notion of sex as a component of marriage.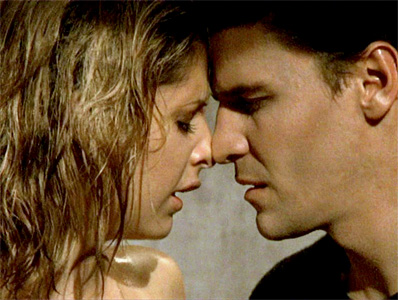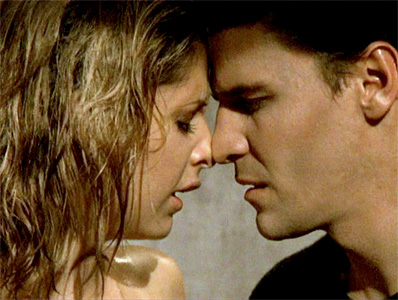 Buffy the Vampire Slayer is also preoccupied with the relationship between love and sex, and examines this relationship in a similarly veiled manner that may lead audiences to accept ideas subconsciously that they might otherwise question or reject. In discussing Buffy, Joss Whedon references the "rules" of the slasher genre, specifically mentioning "the blonde girl in the alley in the horror movie who keeps getting killed" (Udovitch 2001: 188). Whedon commented, "I felt bad for her, but she was always more interesting to me than the other girls. She was fun, she had sex, she was vivacious. But then she would get punished for it" (118). This theme runs heavily throughout the Buffy series, with Buffy and Angel's relationship serving as the best example. Although Buffy and Angel develop a romantic relationship, it is the physical expression of that relationship that ultimately is punished: when Buffy and Angel sleep together, the gypsy curse that returned to Angel his soul is broken and he becomes once more the sadistic, soulless vampire killer Angelus. Even those instances in the Buffy universe in which premarital sex is not punished in so overt or intense a fashion occur within a well-defined, although expertly concealed, framework — specifically, a long-term, committed, heterosexual relationship.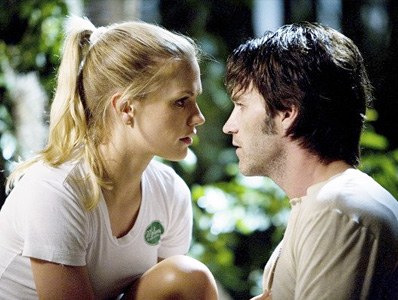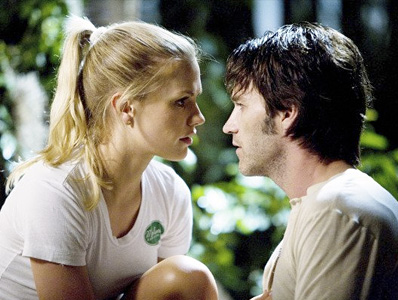 But what does all of this mean for female readers, both young and old alike, who have become entrenched in the stories of love and longing that take place in the Buffyverse or Twiworld? Are women really so shallow that they blindly fall in love with any story about a girl who falls in love with a vampire, or does the success of series like Buffy and Twilight, and even Charlaine Harris' The Southern Vampire Mysteries, require something more to truly touch the hearts of female audiences? Personally, I would argue that simply mashing together a story about a seemingly doomed romance and throwing in a handful of fantasy characteristics like vampires, magic, werewolves, demons, etc. isn't enough to boost anything — whether a series of novels, a television show, or a movie franchise — to the kind of popularity seen with Twilight and Buffy the Vampire Slayer. While an argument can certainly be made to the contrary (look at how many of those formulaic, rather trashy romance novels fly off of the shelves each year), much can be said for a writer's ability to create a world with fully developed characters and an interesting storyline while interweaving traditional beliefs about sex and marriage so intricately as to make the latter, rather than the former, the epitome of a romantic relationship for a generation of girls and women raised on the tenets of third wave feminism and self-empowered sexuality. A writer, whether it is a screenwriter or a novelist, who achieves this can, in my estimation, be called a truly talented individual, regardless of how simple the diction or syntax of the writing may be.