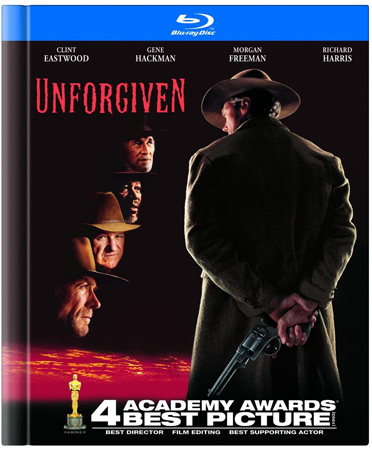 It's almost impossible to find a list of the greatest Wild West movies of all time without encountering Unforgiven somewhere near the top. Clint Eastwood's 1992 classic is celebrating two decades of genre domination this year, and it's celebrating with a new Blu-ray Book edition.
Capping a lifelong career starring in westerns, Clint Eastwood made Unforgiven as his summation and swan song from the genre. Eastwood directs the film with emotion and palpable fondness for the era and its inhabitants, despite Unforgiven's bleakly dark take on the Old West. Eastwood stars as Will Munny, a retired gunslinger and widower who is raising his two children on a failing farm in Kansas. When the Schofield Kid (Jaimz Woolvett), a nearsighted wannabe gunfighter, offers Munny a chance to earn some money by returning to his old life for one more bounty, the aging outlaw reluctantly agrees.
The fugitives are Quick Mike (David Mucci) and Davey-Boy Bunting (Rob Campbell), a pair of scoundrels who attacked and scarred Delilah (Anna Levine), a prostitute in Big Whiskey, Wyoming. Big Whiskey falls under the jurisdiction of Little Bill Daggett (Gene Hackman), a ruthless sheriff who used to be a gunslinger not unlike Munny. Daggett is determined to keep bounty hunters and outlaws out of his town and is none too pleased when he learns that the prostitutes of Big Whiskey have sent for mercenaries to exact justice on behalf of Delilah.
Another retired gunfighter, Ned Logan (Morgan Freeman), joins Munny and the Kid on their journey to Wyoming. Richard Harris also appears in a brief segment as English Bob, yet another bounty hunter coming to answer the call for Quick Mike's and Bunting's heads. The inevitable showdown between the bounties, the hunters, and local law enforcement creates one of the greatest western showdowns in movie history.
Unforgiven took home the Oscars for Best Picture, Best Director (Clint Eastwood), Best Supporting Actor (Gene Hackman), and Best Editing (Joel Cox). Eastwood also was nominated for Best Actor but lost to Al Pacino for Scent of a Woman. Additionally, the American Film Institute included Unforgiven in its 1998 list of the 100 best movies of the past 100 years. It is somewhat unusual to see this level of praise for a western film, but all the accolades make sense when you watch this masterpiece of blood, sweat, and dirt.
The new Blu-ray edition comes in a special Blu-ray book package that includes 54 pages of photos and insights from and about the movie and its production. Along with the bonus book, there are some great on-disc features included:
Audio Commentary by Richard Schickel (Clint Eastwood's biographer)
Four documentary featurettes: "All on Accounta Pullin' a Trigger," "Eastwood & Co: Making Unforgiven," "Eastwood… A Star," and "Eastwood on Eastwood"
"Duel at Sundown" – an entire classic episode of the TV show Maverick, co-starring Clint Eastwood as a gunfighting killer
Original Theatrical Trailer
The Unforgiven Blu-ray Book edition released on February 21, 2012, and is in stores now.