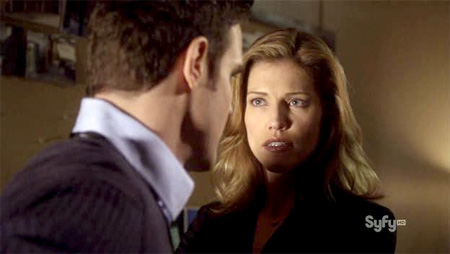 Review: Warehouse 13 1.02 – "Resonance"
Original Airdate: July 14th, 2009
Rating: TV-14 (Recommended for people 14 or older)
It looks like Pete, Myka, and Artie are back in action in the second episode of Warehouse 13. It starts out as every other sci-fi show does, with the "Previously on…" flashback montage. Cut to Chicago where a less-than-ordinary robbery takes place.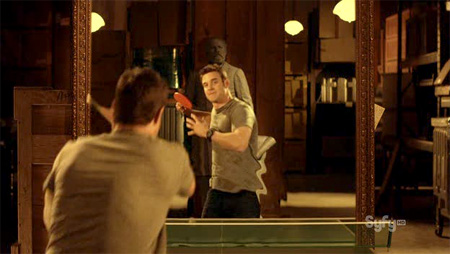 Meanwhile, back at the Warehouse, Myka is talking about a retirement party for her father on the phone, Pete is playing ping-pong with a magical mirror, and Artie and Leena witness a hacking of the Warehouse's databases.  Artie is majorly pissed and sends Myka and Pete to investigate the robberies.
In Chi-town, the two agents are roadblocked by sexy FBI agent Bonnie Belski (portrayed by Tricia Helfer), who dismisses them after a quick bout of tense banter.  Later on Myka and Pete discuss the situation over a meal, and their old boss helps them set up temporary shop in the FBI HQ of Chicago.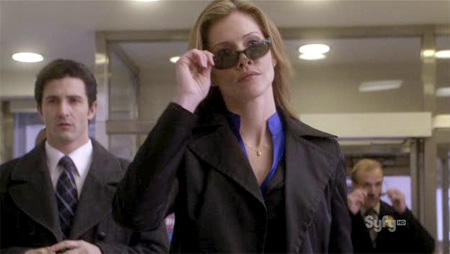 While Pete and Belski share another round of tension-filled banter, Myka checks out the security footage and sees that someone at the bank had his cell phone out. She decides (with Artie's assistance on the Farnsworth, of course) that whatever disturbed the security cameras was based on soundwaves and their effects on people's memories.
Artie gets the message from the phone and Belski brings in the teller from bank who, when they play the tape back, goes into an emotional trance-like state.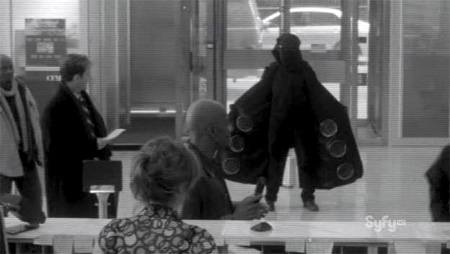 They later send the information to Artie, who makes the connection between the music on the tape with the emotional response centers of the brain.  Pete then recalls that the tune is fairly reminiscent of his father's favorite song, a song belonging to one Mr. Eric Marsden.  Artie sends Pete and Myka his address and sends them off to investigate his connection to the robberies.
After checking on Marsden, who is suffering from a severe case of depression, they follow the trail of Marsden's music to a Mr. Jeff Canning, the owner of Marsden's music and of Windy City Records.  Later we see Artie, who has traveled to D.C. to find the source of the security breach and tracks it down to the office of Pete and Myka's old boss, Mr. Dickinson.
When they check on Mr. Canning, they see that business is not doing so well, offices are empty, and the secretary only works half-days. He explains that it would be impossible for someone else to have Marsden's music since he keeps it all under lock and key in his facility.  He later blames Jed Fissel, Marsden's manager, for contributing to Marsden's current state and tells them that last time he heard of Fissel he was driving a cab.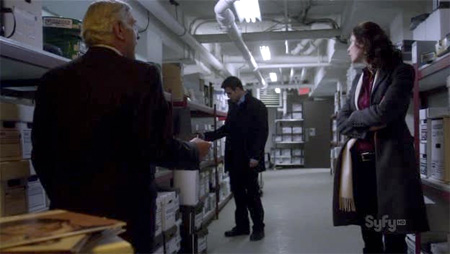 After the meeting with Mr. Canning, Belski calls with news of a stakeout that's gonna happen later, Pete decides to go to it while Myka goes to think of a logical solution to all this.  Meanwhile in D.C., Dickinson walks in on Artie's hacking and Artie takes out an old style camera that he uses to transform Dickinson into a life-size cut-out of himself while Artie continues his investigation.
Back in Chi-town, Myka makes the connection between the banks: she figures that all the hit banks have a decent amount of acoustic resonance with their walls. She proceeds to ask Artie which other banks in the area have the same general architecture, and when he tells her, she heads to the bank that Pete and Belski are staking out. When she gets there, with earplugs in, she confronts the bank robbers and manages to take down one of them while Pete, Belski, and the rest of her squad get mesmerized with the haunting song.  When they get a good look at the thief, they see that it is Fissel and they take him away.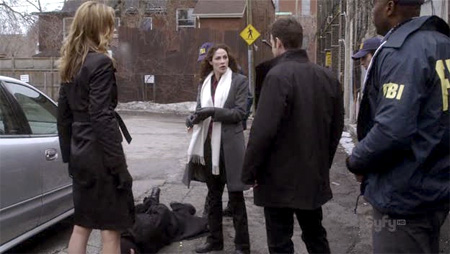 Back in Dickinson's office, Artie brings him back to life and accuses Dickinson of hacking into Warehouse 13.  Dickinson denies the accusations and tells Artie that maybe someone was using his office as the source of the hack to avoid detection.  Back in Chicago, Pete, Belski, and her team are still a bit loopy from the tune. When Pete smells some of the perfume that was rubbed on Myka from one of the thieves and recalls that Canning's secretary wears the same perfume.  They decide to go to a location found thanks to Myka planting her cell phone on one of the thieves with Artie tracking it, which turns out to be Marsden's house.  In there they find that Canning's secretary is actually Marsden's daughter and that Jed, Stephanie (the secretary), and Marsden's caregiver were just interested in giving Marsden music back to him so that father and daughter could spend time together.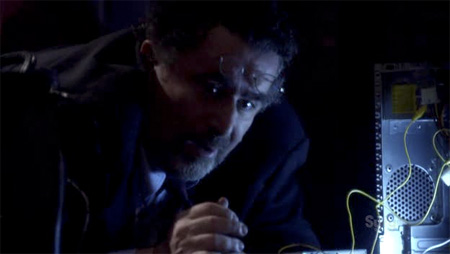 Myka and Pete only confiscate the record with the haunting song on it and head back to the Warehouse.  Meanwhile at Dickinson's office Artie tries to trace the hacker when he has a mysterious flash of memory of someone telling him to "make it stop" as Dickinson tries to make sense of what is happening.
Overall this episode has all the great landmarks of a great cop show like Law and Order or CSI.
I would give it 4.5 stars out a possible 5.