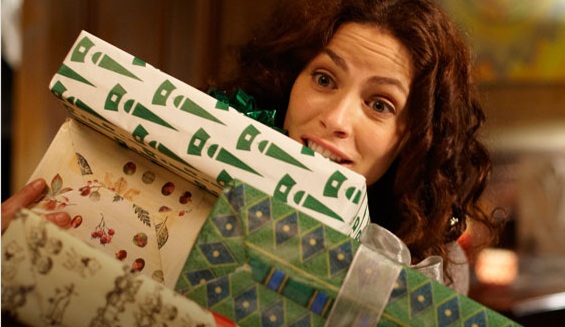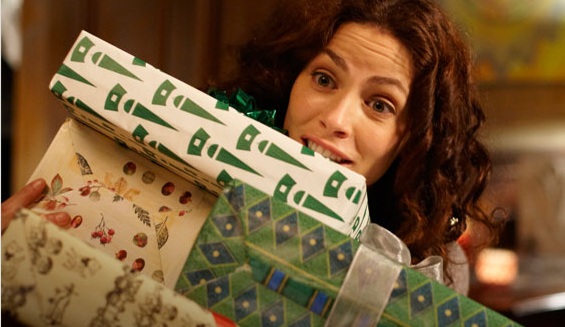 Tuesday, December 6, was a big night for the Syfy channel — that was the night that they premiered this year's Christmas specials for three of their top shows: Eureka, Warehouse 13, and Haven. In case you missed it, here is a brief recap of the evening's entertainment.
Eureka
We started the evening off with Eureka episode 4.21, "Do You See What I See." It's Christmas Eve in Eureka, and while Allison is busy putting the final touches on S.A.R.A.H.'s Christmas decorations and wrapping the last of the gifts, she realizes that she needs to go back to her lab to get a special battery for one of Jenna's presents. Meanwhile, Carter takes the opportunity to go check on the Christmas surprise he has been cooking up with Henry and others for the entire town: a white Christmas, powered by a superphoton generator. As high-tech gadgets in Eureka are known to do, the superphoton generator malfunctions and causes the entire town to become animated, literally.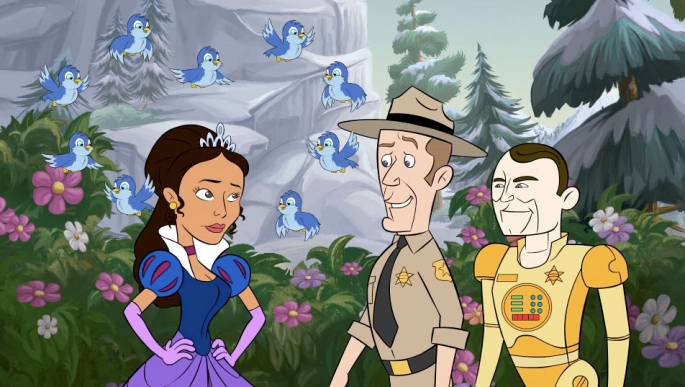 Will Carter, Andy, and Jo get to the superphoton generator in time? Will Fargo and Henry be able to figure out what is going wrong? Will the town of Eureka ever become real again? I think you know the answers to those questions — there are no surprises here, just cheesy, Christmassy, Eureka sillyness. I loved the homage to different animation styles, beginning with Pixar-esque, fairly realistic computer animation and then quickly changing again, this time to a traditional cartoon look and later to Claymation. In between, there are also brief nods to other familiar characters and shows, like Peanuts, the Simpsons, South Park, and Scooby-Doo. To top it all off, they end up as butt-kicking anime characters for the final battle against the Snowman-Ninjas ("Sninjas") before they finally become real again. Another nice touch was the manifestation of character traits and quirks in some of the animated personas — we have Carter in a Dudley Do-Right Mountie hat, Deputy Andy actually looks like a robot, animated Jo is dressed like a princess (which, in a meta-moment is explained as reminding her that it's OK not to be kick-ass all the time), and Fargo seems to have turned into the bobble-head of himself that usually sits on his desk.
You can find a more detailed episode summary (with spoilers) on Syfy's website, along with the full episode for your free viewing pleasure.
Warehouse 13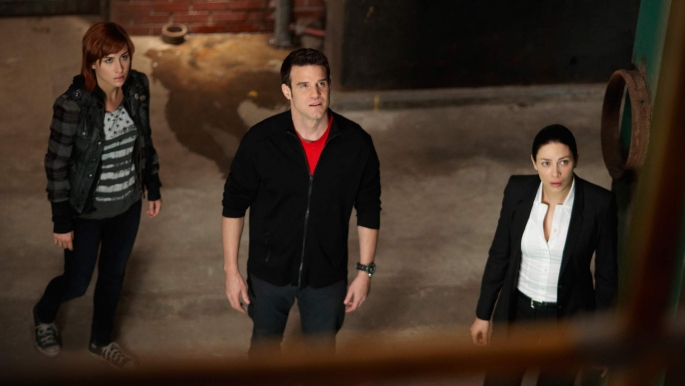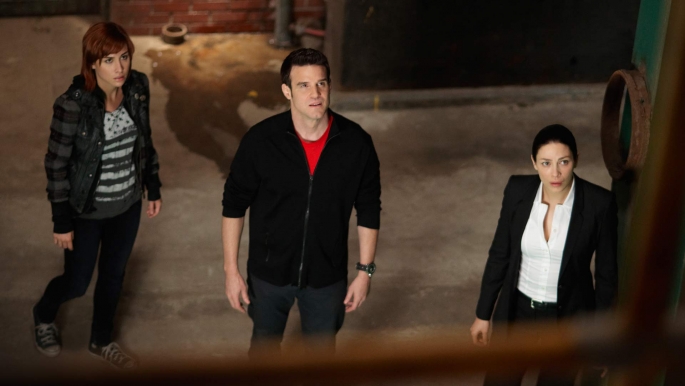 Warehouse 13's Christmas episode was called "The Greatest Gift." It begins with Pete and Myka retrieving an artifact that also happens to be the nose from a family's Rudolph yard decoration. Once they return to the Warehouse, Pete takes Rudolph's nose to its designated storage space in the "Aisle of Noel" that also contains, much to my great joy and happiness, a leg lamp à la A Christmas Story. (That by itself made the episode worth watching. Squee!) Anyway, in the process of putting away the artifact, Pete knocks down several others when he slips and falls in the artificial snow covering the ground in that section of the warehouse. When he gets up and returns to the office, Artie is nowhere to be found. Instead, MacPherson is in charge and two other Warehouse agent goons are taking his orders. No one seems to know who Pete is, Myka still works for the Secret Service, Claudia is in a mental institution, and Artie is in jail because Myka arrested him three years ago in a museum where he was trying to retrieve an artifact, all because Pete wasn't around to help out.
No one is suicidal and there is no angel figure, but the relationship to It's a Wonderful Life is still pretty clear as Pete discovers how life would be different without him. Actually, I liked this telling of that story much better than the original anyway because it was not sappy and sentimental, just a fun episode that played with the "what ifs" and involved a bit of action and suspense to boot.
Once again, Syfy has provided us with a detailed (i.e., spoilery) episode summary and the full episode on their website.
Haven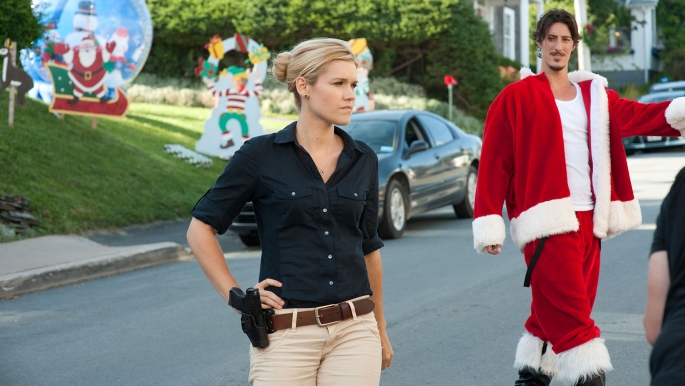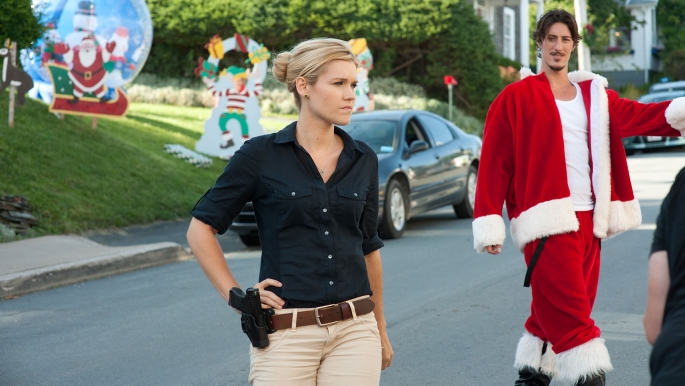 "Silent Night" begins with the suspenseful scene of a woman standing on a surfboard and using a paddle to propel herself out away from shore. There is no scary music, but you keep expecting something to happen to her, and it does — she is suddenly and without apparent cause sliced in half as the song "Silent Night" plays in the background, music box-style. Meanwhile in the town of Haven, it is a beautiful, warm summer day and the town is decked out with Christmas decorations. Everyone seems to think that it is Christmas Eve and that it is totally natural thing to be caroling in scarves, shorts, and sandals — everyone but Audrey, that is. She keeps noticing that people are randomly disappearing, but when she brings it to the attention of others, they seem to have no recollection that those people ever existed at all. They also think Audrey is just in denial about Christmas and being a Scrooge because she does not have fond memories of the holidays from her childhood spent in foster homes.
Something is wrong, though — 911 isn't working, there is a huge increase in the number of traffic accidents around town, and the police force has suddenly and alarmingly shrunk to just Audrey and Nathan. The guys that print the newspaper suspect that it has something to do with a town resident from years ago who made people disappear, never to return. And where is that music box that keeps playing "Silent Night," usually just before more people disappear?
As with the other two, visit the Syfy website for your episode summary (do I need to give another spoiler warning or have you figured that out already?) and full episode video.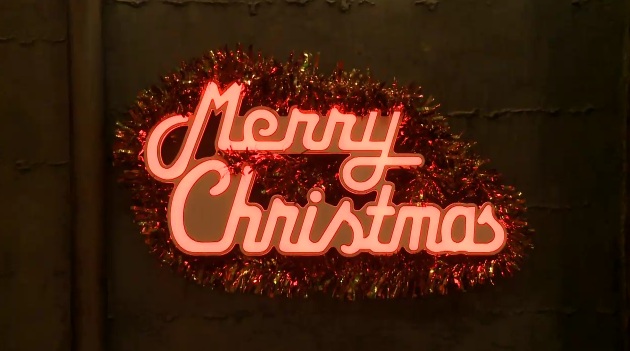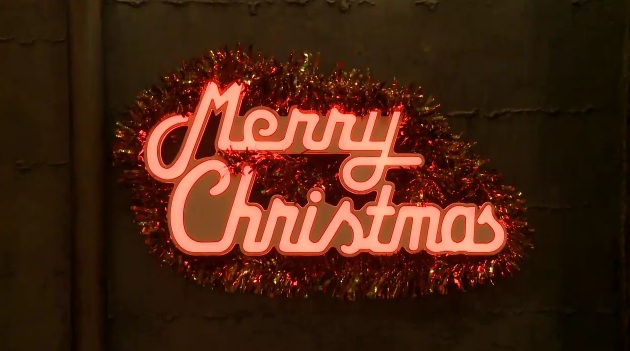 These are Christmas specials, folks, so don't get all uptight and upset about the lack of continuity with previous or future episodes. These aren't canon, so deal with it. Sit back and enjoy them for what they are, which is a set of three stand-alone Christmas shows to get us geeks into the Christmas spirit with a minimum of cloying sweetness and a maximum of fun, jokes, and lightheartedness. There is a message in each show, and it happens to be the same in all of them: Christmas is about being with your friends and family, even (or in some cases, especially) when that family is the group of people you work closely with and who you know will always support you and have your back (All together now…Awwwwww). If you are regular watcher of any of the shows, you will enjoy seeing the lighter side of your favorite characters. If you have never seen any of them you probably will still enjoy them because for the most part, backstory-specific elements are either non-existent or explained through the story (or introductory voiceover, in the case of Haven). I haven't been watching Warehouse 13 very long so I didn't know who MacPherson was or recognize some of the names mentioned in a few conversations , but I still completely understood the main storyline. I have only ever seen one or two episodes of Haven as well, and I had no problem following it. Eureka was my favorite, of course, but that's because it's my favorite show of the three and the one I've watched the most, so I get all the in-jokes and references that make these specials that much more enjoyable for fans of the shows.
If you missed these shows the first time around, never fear. See the individual episode blurbs for links to watch the full episodes for free on the Syfy website, or if you'd prefer, head on over to Syfy's schedule to see when they'll be repeated, which appears to be multiple times between now and Christmas day. Then, get your beverage and snack of choice, start up the computer, TV, or DVR, and get ready for a blast of geeky holiday cheer! Much better than Rudolph, Frosty, or George Bailey and Clarence, guaranteed.