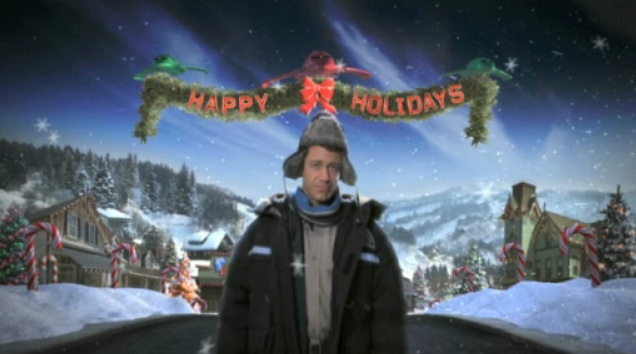 Episode: Eureka 4.10 – "O Little Town"
Original Air Date: December 7, 2010
It's Christmas in Eureka — what could go wrong? All the usual things, of course, leaving Sheriff Jack Carter to figure things out and save the day in his usual endearingly bumbling manner. Jack walks into Café Diem to find a group of kids who are totally bummed because the town is snowed in and they can't go on their planned Christmas vacation. "I remember when that happened to me one time," says Jack, "let me tell you the story…"
And thus begins the tale. Jack and Zoe are on their way to visit family for the holidays but can't leave because the electromagnetic shield that protects the town is malfunctioning. To make matters worse, it is eighty degrees and rising, and there's an incoming unidentified flying object. What is going on?
What isn't going on would be the better question. First of all, Vincent has created mini fruitcakes that everyone actually likes, including Jack, whose reaction borders on orgasmic when he first tries one. Then, while a Secret Santa is making his way around town, mysteriously leaving the perfect gift for everyone, Jo has become the Grinch as she deals with crowd control for the Global Dynamics Christmas party ("It's the time of year all you geeks fly your freak flags every year," she tells Fargo. "No, that's Comic-Con," he replies), a scientist who is attempting to take home his unstable crystallized hydrogen experiment even though it's against the rules, and leading the SWAT team to deal with the UFO, which turns out to be Taggart in a flying red sleigh complete with holographic reindeer. He's studying "Santology" and trying to come up with scientific devices to figure out how Santa works, including a suit for sliding down chimneys with ease and an incredible shrinking laser gun thingy (as Jack might put it) that shrinks the presents for transport then re-expands them when Santa reaches his destination. The biggest problem, however, comes when they discover that the crystallized hydrogen snowball that they think is expanding out of control isn't changing size at all — Eureka is shrinking, thanks to the effects of Taggart's device.
This episode contains all the conventional elements we've come to expect from Eureka. Something strange is happening, the lives of the townspeople are at risk, it turns out that some strange device made by one of the Global Dynamics scientists is causing the problem ("The device is always responsible!" says Jack to Taggart when the latter denies that the present shrinker could have anything to do with the situation), and in the end the world is saved when Jack walks in and makes some random, uninformed comment that ends up giving Henry and the rest of the scientist guys the idea they need to figure out the solution. Sometimes formulaic plots get old quickly, but with Eureka it works most of the time, so why mess with a good thing? Plus, this is a special Christmas episode, so the interest for the viewer comes not with the exciting plot twists but with the characters and how they react to the situation. We learn something about the history of the characters and why they celebrate the holidays the way they do. It's also a great stand-alone episode that anyone can watch and understand, whether they've seen another episode before or not.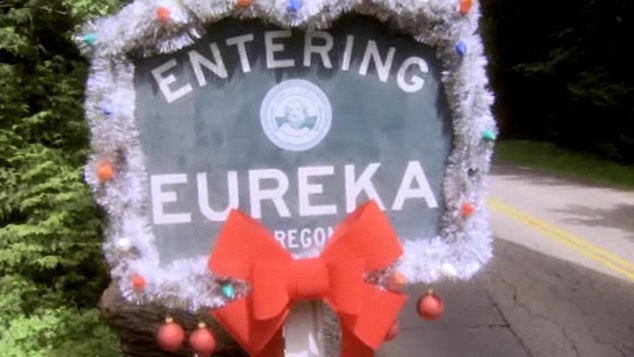 As always, there are plenty of novel and funny things to look out for. The opening is neat, with a new, Christmassy scene and voices singing the the theme tune on "Fa la la." The group of kids to which Carter is telling the story reminds me so much of Fred Savage in The Princess Bride with their reactions to the story, ranging from feigned boredom to extreme skepticism. At the GD Christmas party, Zane sits next to the tree in jeans and a black t-shirt that reads "Santa" with his two helpers — two leggy blonds labeled "Naughty" and "Nice." Taggart gives Carter a present: holographic carolers — Vincent, Zoe, and Fargo in Victorian costumes — that appear and start singing when Carter mentions the word "Christmas," which usually happens to be at a very inopportune time. Saturday Night Live alum Chris Parnell does a great job as the mysterious Dr. Drummer who seems to know an awful lot about the people of Eureka even though they can't figure out who he is. Finally, the most awesome TV scene I've seen in a while comes when some regular-sized bows and ornaments are blown into the shrunken town and Carter ends up madly running Indiana Jones style with a huge red Christmas ball rolling down the street behind him.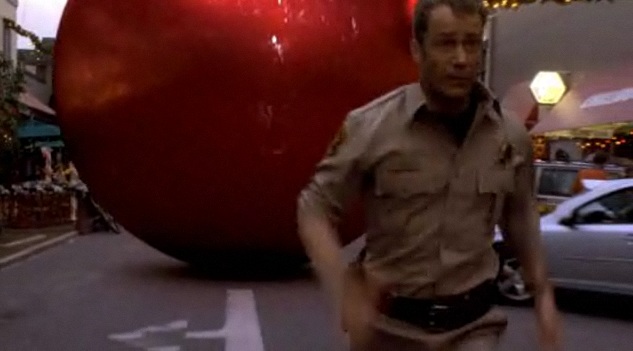 This episode doesn't contribute to any story arcs in any way and it follows a standard Eureka formula, but it was still a great episode. The character development was nice, there were plenty of funny quotations, situations, and visual details, and most of all, it had a point — Christmas is about family and home, and you are home with your family when you are with the people you love, be they related by blood or friendship. Yes, that's pretty cheesy, but ya know, it's Christmas, and if you can't be cheesy and sentimental now, when can you?
Rating: 5 / 5 Stars