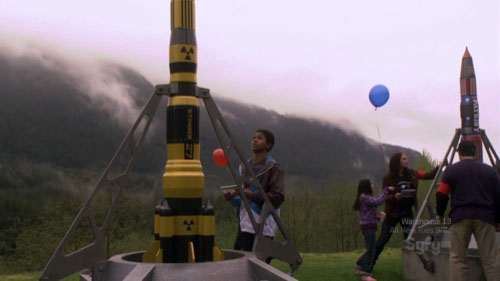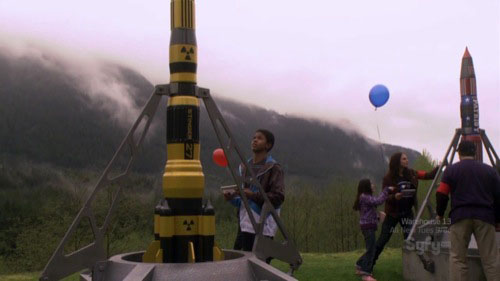 Episode: Eureka 4.04 – "The Story of O2"
Original Air Date: July 30, 2010
Screencaps by rawr_caps.
It's space week at Eureka — complete with a 24 hour remote control rocket race to the moon and back — and Carter is glad he's getting out of town (he's visiting Zoe). But with all the time travel, is she going to be the Zoe he remembers? Also, Dr. Blake's son Kevin is a typical teenager, which is to say a total jerk to anyone over the age of 17.
Carter is in a hurry to get to Harvard, but one of Zoe's old friends stops Carter and gives him a care package. It has all kinds of cool stuff from her friends at Eureka, including the latest in meta-material cloaking (a spray that turns things invisible).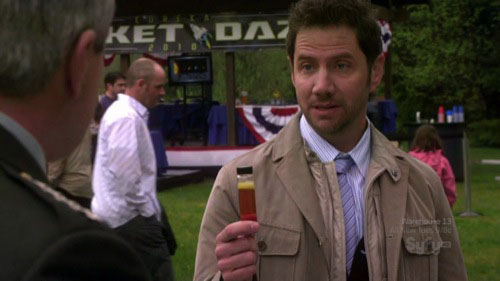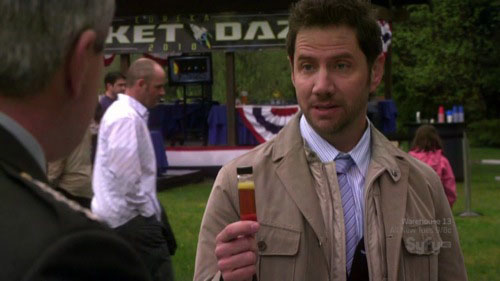 At the launch site, the genius of the week is Dr. Ramsey, with his solution for the lack of oxygen on the moon: Terraforming Atmospheric Peptide (TAP).
The General is in town to view the launch, which goes well until Zane crashes Global Dynamics's flying motorcycle into his car, barely avoiding a flock of birds. He appears to have been drinking and the General wants him back in Federal prison. But Jo wants to investigate further (seeing as how she believes in due process and stuff).
Meanwhile, Carter shows up at Zoe's dorm room and, like any father showing up unannounced, doesn't like what he sees: totally hot guy hanging out in his daughter's dorm room. Carter starts to talk about how he's a sheriff and knows how to use guns and stuff, but the kid turns out to just be a lab partner. Also, the cat gets into the care package and sprays itself with the meta-material cloaking spray.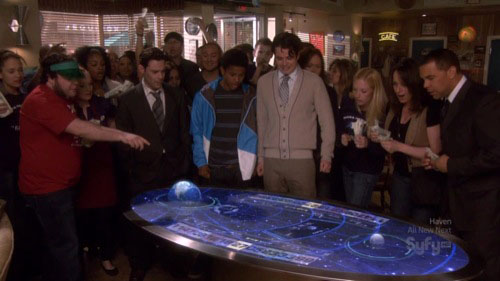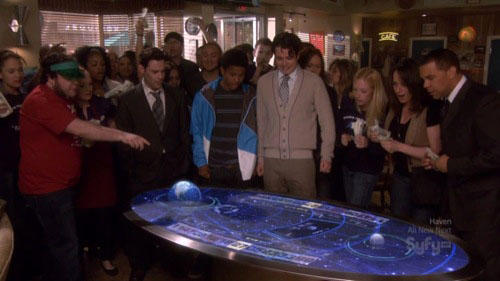 I'll just save time so I don't have to keep coming back to this subplot. In the end, they figure out that the spray washes off with water, so they trap the cat in the shower and soak it (much to the delight of non-cat people), and Carter is relieved to find out his daughter has not changed as a result of the time traveling alternate timeline thing.
In Global Dynamics's clinic, Dr. Blake has determined that Zane is not drunk. He's obviously on something, but the tests come out clean. Henry, on the other hand, figures out that Zane crashed because his gas tank was empty. The General is convinced Zane was just careless and orders him out of Eureka. Jo, of course, is not a jackass like the General, so she keeps investigating.
She calls Deputy Andy (who apparently was so badly crushed in his daring rescue from two episodes ago that he is now being played by a new actor) to ask him to search for any crows or birds acting drunk. Andy discovers a dead crow that apparently went blind in mid air before dying and falling to Earth (Andy has special autopsy vision eyes). Jo figures there must be an explanation tied up between the crows and Zane falling out of the sky.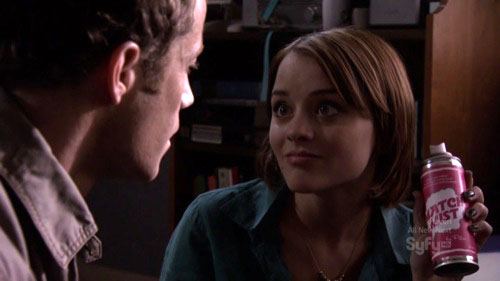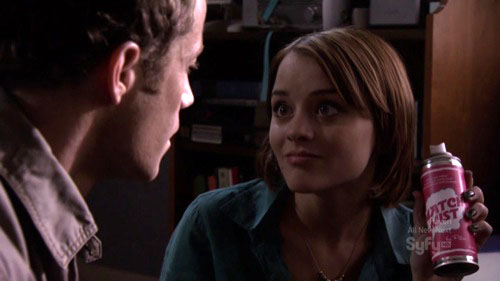 Meanwhile, over at Café Diem, Kevin is explaining to Dr. Grant the advanced fuel he used on his rocket to put it in the lead. Dr. Grant realizes that there is no way Kevin's mix of rocket fuels could perform as well as his rocket is performing, and suspects Kevin of cheating. He dutifully informs Dr. Blake, who is distressed to learn that her teenage son — in addition to having sub-standard social skills around anyone over the age of 17, is a cheater. At least, she's distressed about something.
Meanwhile Dr. Ramsey informs Jo that someone has been messing around in his lab. Jo fails to put two and two together, but you and I know this means something, don't we? A device that creates heightened levels of oxygen…. Zane getting dizzy at the launch area… a rocket that is performing much better than it's supposed to. If only we had one more clue. Just one more!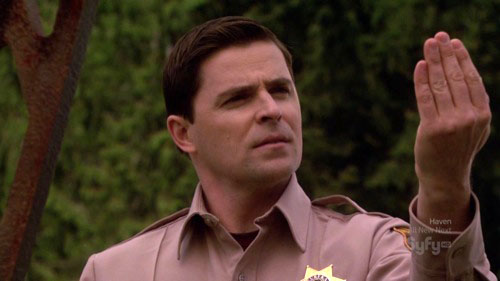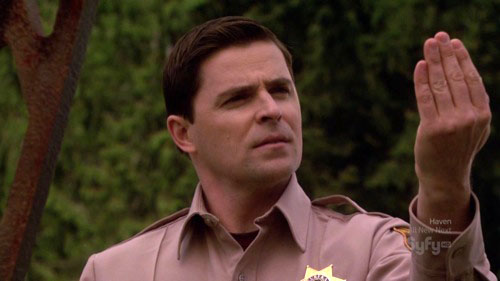 Cut to Andy, who finds rust on the rocket launch pads and concludes that is the type of "unusual" thing Jo wanted him to search for. He tries to call Jo, but a spark from his cell phone causes it to explode, and Andy catches on fire.
Meanwhile, Dr. Ramsey can't get over the fact that someone stole his TAB. Jo thinks Ramsey is acting like a little girl, obsessing about a lost TAP (because all it does is make air), which offends Ramsey because it creates oxygen — not air — thank you very much. It can make you high if you inhale it (and kill you if you have too much) because of the suddenly high concentration of oxygen that would go through your system when you breath it. He doesn't mention how such a device would enhance the power of standard rocket fuel, though. I figured that part out on my own.
A partially charred Andy shows up at Henry's lab (the one at Global Dynamics, not the one in his garage) and the gang figures that the rusty gantries at the launch site, plus the highly combustible air in that area, can only mean one thing: rapid oxidation because of too much oxygen in the air. I wonder what caused that…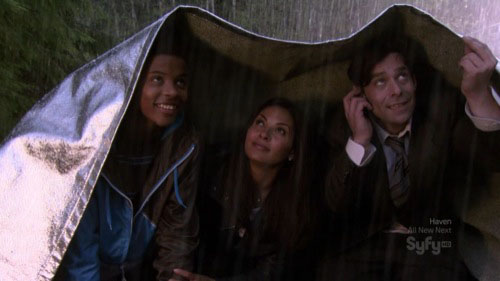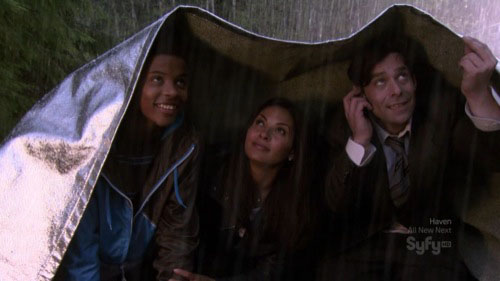 Henry theorizes that Kevin must have used the TAP to boost his rocket. But there's a twist: when the gang grills him to figure out what frequency he used to boost his rocket, Dr. Blake admits that she is the one who cheated, and used the TAP to boost Kevin's rocket without his knowledge, because she didn't want Kevin to be disappointed (which is really disappointing to Kevin who, despite his lack of social skills, isn't a cheater like his mother).
The real problem, though is that the oxygen from the TAP is rapidly multiplying. When the rockets return to the launch site, their engines will cause a catastrophic explosion that will destroy most of the Pacific Northwest. Nobody can figure out a solution.
Luckily, Kevin remembers that if you add hydrogen to oxygen it creates water. So, he initiates a chemical reaction, the oxygen turns into rain, and the day is saved (one of the few times when Carter didn't do the saving).
Rating: 2 / 5 Stars