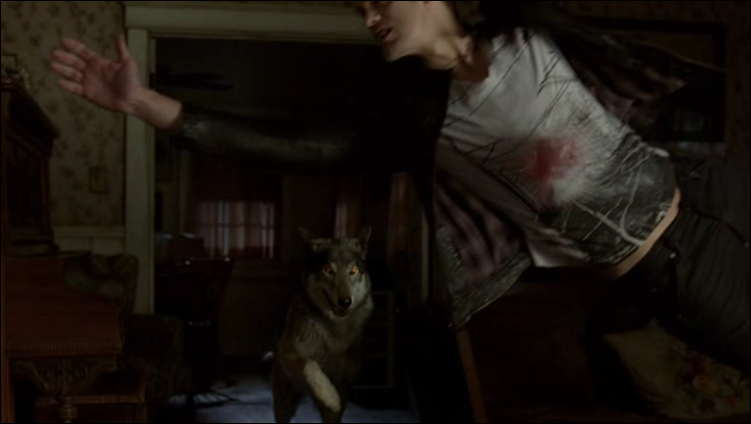 Episode: True Blood 3.03 – "It Hurts Me Too"
Original Air Date: June 27, 2010
Oh boy. So, I wasn't really that excited about this episode. I mean, there were a lot of funny moments (which the show does well), but all of the sudden the plots are kind of meh. Through the entire episode, I was pretty "blahblahblah, when's some real stuff going to happen already" and then that ending scene happened. Whiskey. Tango. Foxtrot. I think it goes without saying, but I'm gonna anyhow, this review might have some NSFW stuff in it.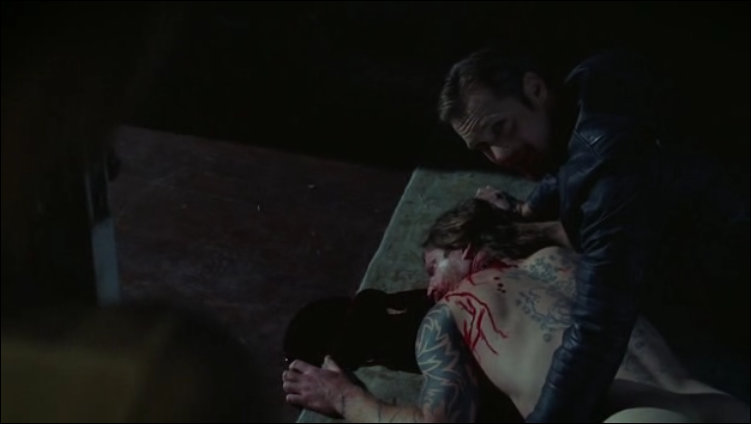 Bang, Bang! Sookie takes aim and shoots at the charging werewolf, but in a slow motion "NOOOOOOOOO!" leap Eric jumps in front of the wolf, catching the bullet square in the chest. Okay. Surely, those couldn't have been silver bullets. I mean, I know a lot of crazy stuff happens in Bon Temps, but who there has had the forethought to make silver bullets? I guess in the True Blood universe, there's more than one way to kill a werewolf? This would not sit well with The Monster Squad, that's all I'm saying. Anyway, the werewolf immediately shifts back to human because these weres must be V junkies. He rushes Eric and tries to feed off the bullet wound, only to have Eric hold him up at the throat demanding to know who he's working for. After all these years, Eric still falls for the ole Man-Eating Toaster gag, and the werewolf ends up feeding on him. The werewolf then tries to run off, but Sookie gets a round off in his leg, slowing him down just long enough for Eric to pin him down in the entryway to the house. More demanding goes on, Eric notices the runic brand, and that pretty much seals this dude's fate. Eric kills the werewolf right there in the doorway, ruining Sookie's rug (which totally pulled the whole room together, man).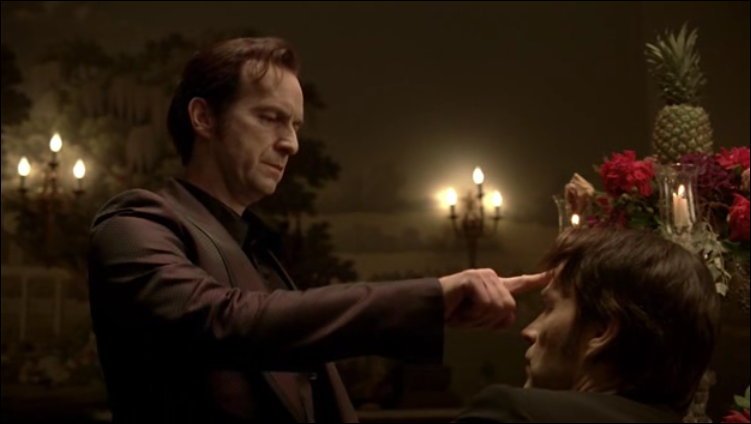 Damn, foiled again! Russell puts Lorena out with a super old tapestry that causes Talbot to have a mini-meltdown over (I'm with him, though — let Lorena stop, drop, and roll on her own). Once the flames are out, everyone separates so Russell and Bill can have a heart-to-heart. Turns out that Lorena was the one who suggested Russell use Bill (no surprise), and that she wants Russell to let her kill Sookie in front of Bill (no surprise). Russell asks Bill, vampire to vampire, if he really loves Sookie. If he does, why wouldn't he turn her so that they could be together for eternity? Bill says that can't happen (why, I don't know), and Russell counters with the argument that Sookie remaining human leaves her at the mercy of the effects of being human and forces such as himself. I think Bill just got an offer he can't refuse.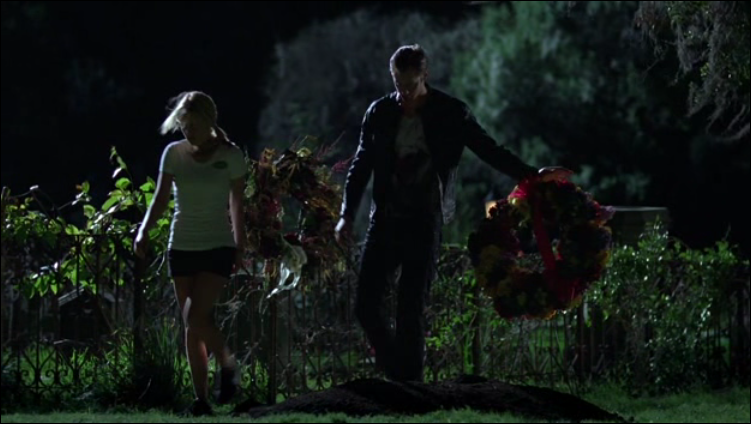 Back in Bon Temps, Eric gives Sookie a little lesson on hiding dead bodies in plain sight. This is a class Jessica needs to sit in on. Sookie accuses Eric of jumping the gun by killing the werewolf because of the brand before she gleaned anything significant off him. He says weres are a gazillion time stronger (because Eric would totally use the word "gazillion") with V in them. She thanks him for saving her and asks about the GSW because she's a Southern Lady with good manners. He says it'd be healing much better if she'd sucked it out, but you can't pull that one on Ms. Stackhouse twice. On the walk back to her house, she asks Eric if he knows someone named Jackson (since that's all she got off the werewolf), and he says it's not a person but a place. He also tells her she needs to think about what she's planning on doing because this isn't a situation she can handle by herself.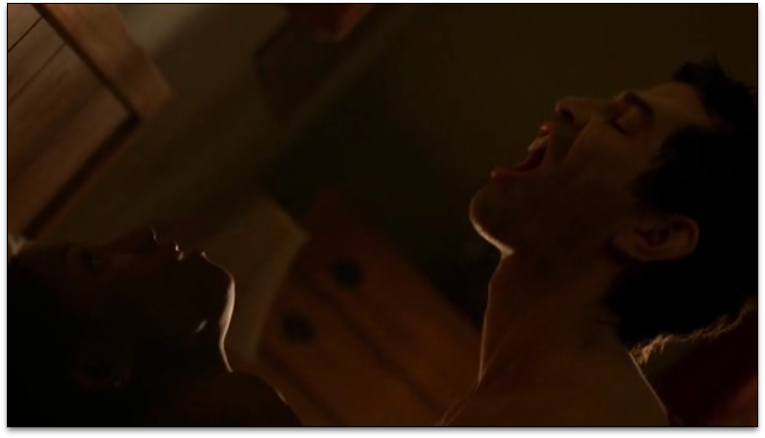 I have no idea what the foxtrot this was about. Moving on.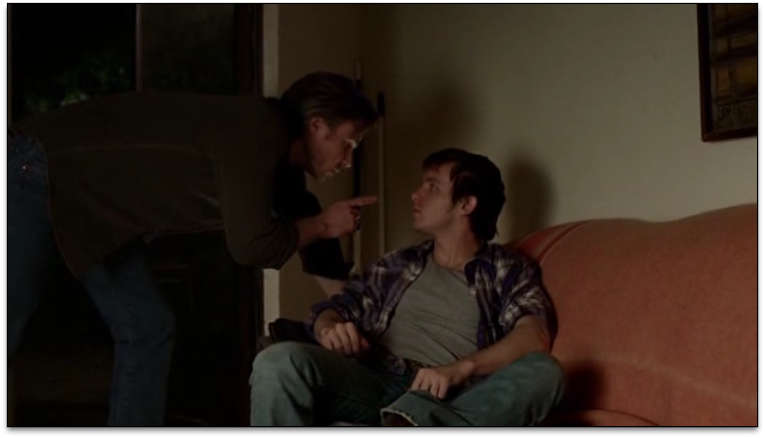 Sam shows back up at his bio-family's and Pa is still hanging out in his undies. So, Tommy doesn't like the idea of his long-lost older brother showing up after all these years (no surprise) and was definitely trying to get rid of him. Ma (also still in her nightgown) wants Sam to stay the night, and he's trying to tactfully run away screaming in horror. He tells them where he lives and that he's got to get back there (big mistake, they are so showing up unannounced), and promises to see them again. In another 30 years.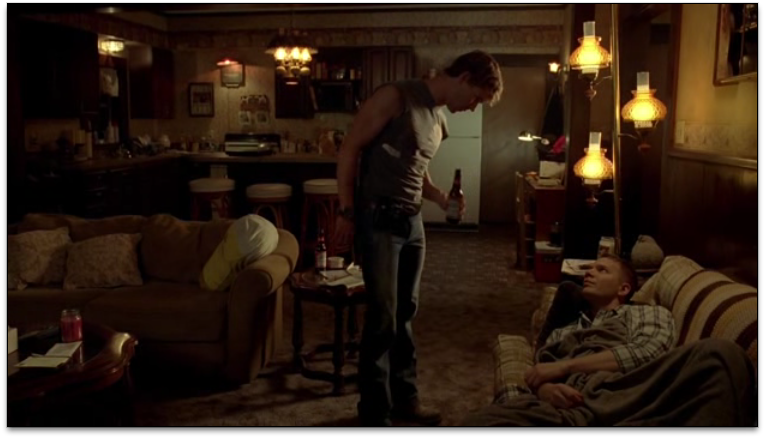 Jason wants to be a policeman officer. Hoyt is not entirely convinced that's ever going to happen, but he's not stupid and a couch is better than sleeping in a car. Yes, he will let Jason think that smile means he would totally be a better officer of the law than Andy.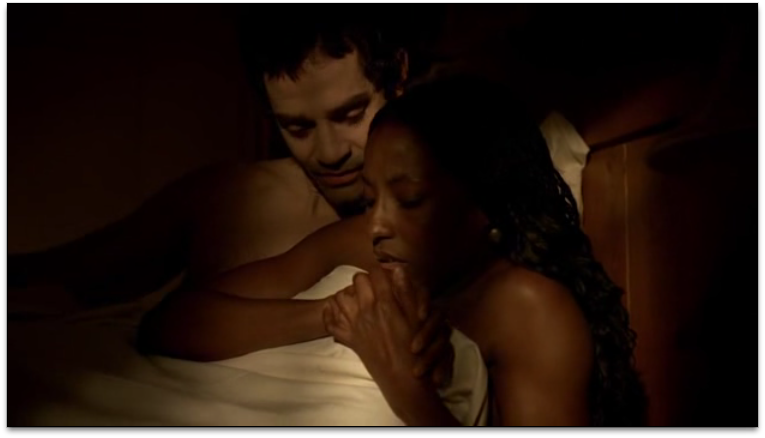 Turns out Tara had no idea what the crap happened in that previous scene of hers either! But, to be fair, the writers have completely robbed her of a single functioning brain cell. Turns out that she lost herself to "The Void" (said in a deep, faraway British accent) that all vamps have. Looks like it leaves you feeling great. Then, Franklin ruins a perfectly good hit and run by asking personal questions. I thought maybe he was just trying to get info out of her for whatever he's working on, but he actually looked a little hurt when she ran out the door. He didn't follow her or try to stop her, though.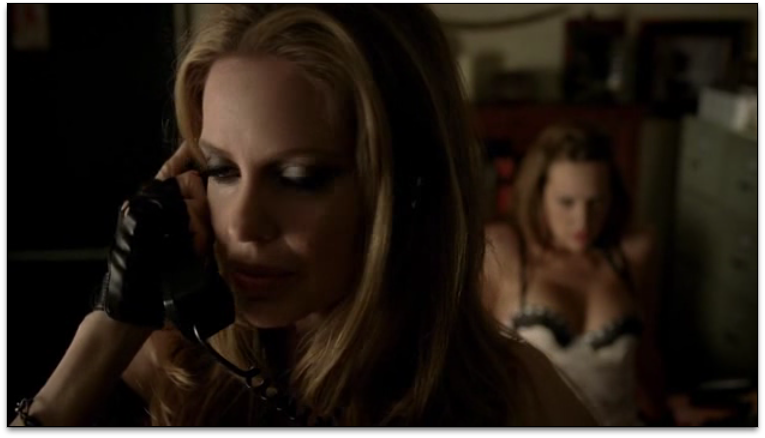 The new Fangtasia dancer is also the new town bicycle! What I loved about this scene (other than Pam being a total BAMF) was that Jessica introduces herself over the phone like Pam wouldn't remember who she is. Uh, didn't she try working at Fangtasia right after she was turned, and Eric and Pam kicked her out because she was annoying? Anyhow, she explains to Pam that the body is no longer in the hidey-hole and Pam doesn't see what the problem is. I think a missing rotting corpse might potentially turn out to be a HUGE problem for someone (whether Franklin did indeed "take care" of him or if he got up and walked himself out).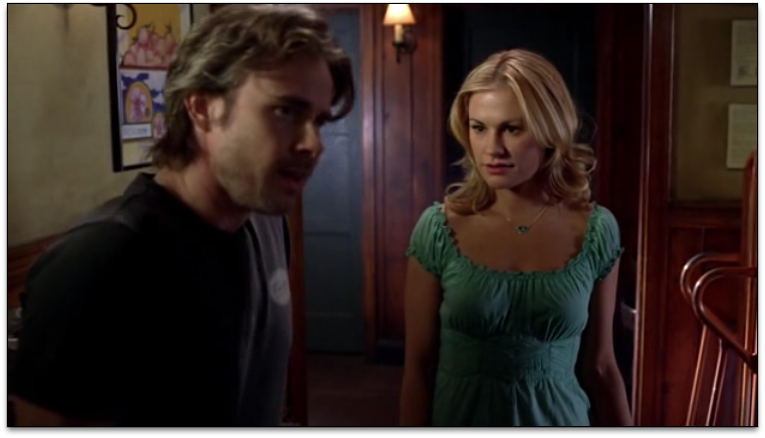 Sam and Sookie catch up. Filler scene. She does ask him to watch out for Jessica while she's adventuring in Mississippi, so that might turn out to be interesting.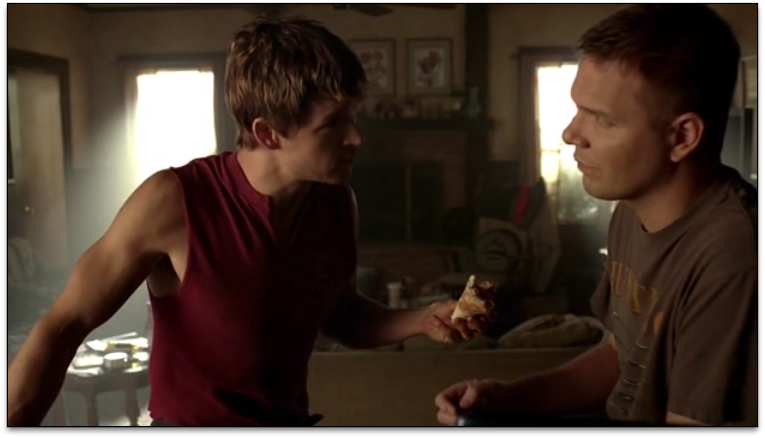 Turns out, there is no way in Hell Jason's going to become a policeman officer at the rate he's going. Hoyt tries to change the subject to something Jason knows more about (dating), and Jason's simple answer to Hoyt's problems with Jessica is that she can't handle Hoyt's "heat." I'm guessing this is the Southern equivalent to "mojo." Hoyt just needs to find someone who can handle it. Then he lists the two kinds of people in the world ("people who got no dreams, people who got dreams and don't do nothing about it, and people who go out and fulfill their dreams") and rounds the conversation back to himself. Because that's what being a friend is all about.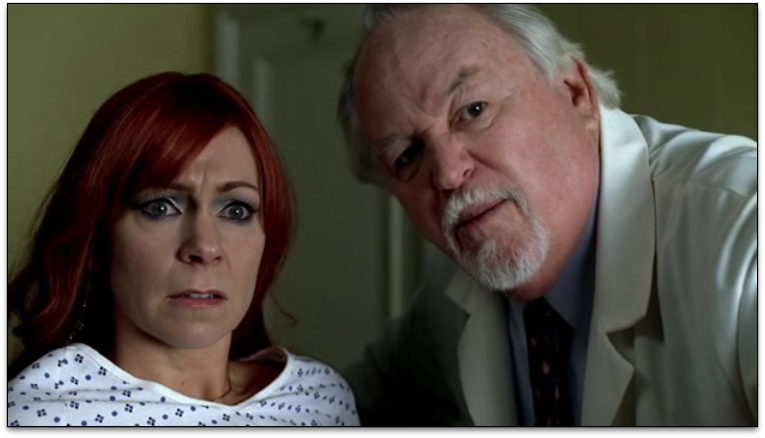 Arlene turns out to be more pregnant than she thought. The fetus is about nine weeks along, and Terry and her have only been having sex for, well, not that long. I don't think. She doesn't think so either, so is this someone else's baby or did the Maryann Blitz Out go on for longer than it seemed (which would be impossible because that felt like an eternity). I'm really liking Arlene's hair color, though!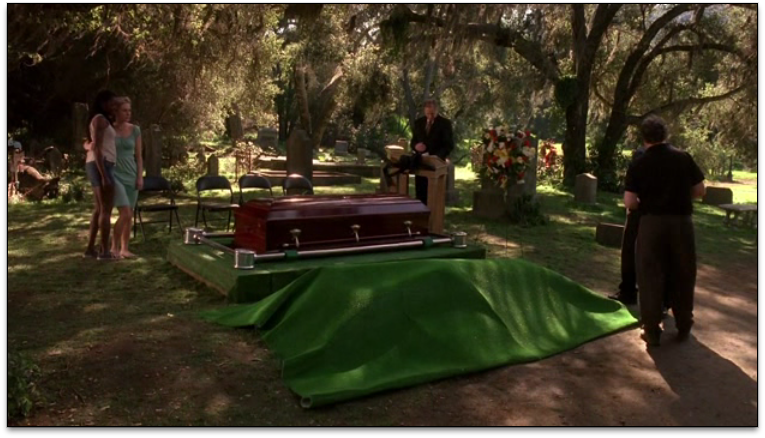 Being throttled in your own home by someone who's been your friend your whole life means you don't carry a grudge. Well, to Sookie at least. I'd have carried that grudge to the grave. Speaking of, Sookie totally does her bestie a solid by paying for Eggs's funeral. The two of them make nice, and Sookie even asks Tara to move back into the house, which she won't actually be in for the next few days. I'm sorry, but I must be the worst person on the planet because there is no way on Earth that I'd let Tara stay in my house by herself ever again. Ever.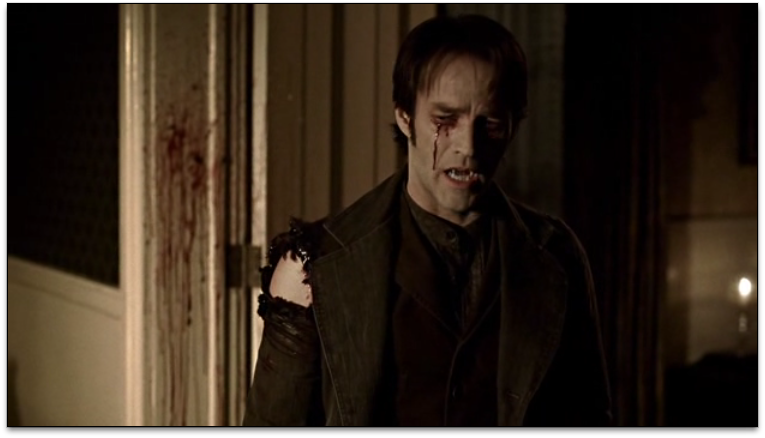 Conveniently for the purposes of a flashback/dream sequence that's about to happen, Bill's son (from when he was human) is buried about ten feet away from Eggs. So the Scooby Doo "dodaleedo-dodaleedo" fade happens and we're transported back to three years after Bill had been turned by Lorena. Bill goes back home to see his wife and kids. In his absence, his wife had sent his daughter away and his son died of the pox. She was going to bury him herself and had been holding out hope that Bill was still alive and would show up before then. Since it's a theme for this season so far, Bill has a cry (and rightly so in this case), but that reveals to his wife that he's not human anymore. Proceed with the Freak Out and the Imma Gonna Shotgun You reactions. Lorena shows up just in time to be even more annoying than usual because now she's in period clothing!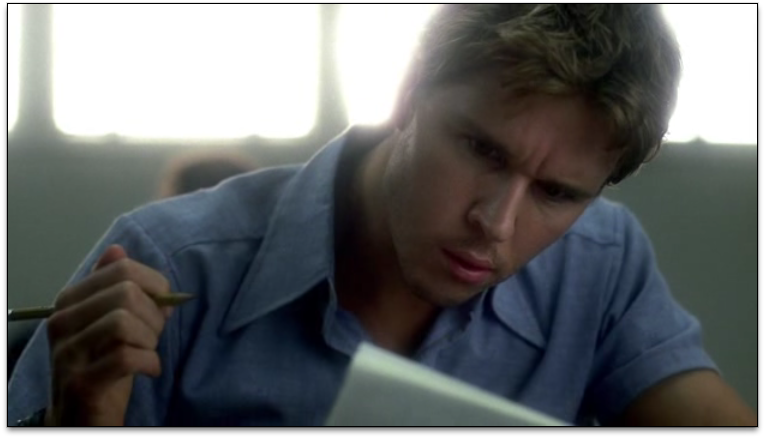 Because one dream sequence isn't enough, we also get Jason having one about the police training test where everything turns to hieroglyphics, all the people have bullet holes in their foreheads, and Jason's not wearing pants (thought I'm not sure why he'd feel uncomfortable with that).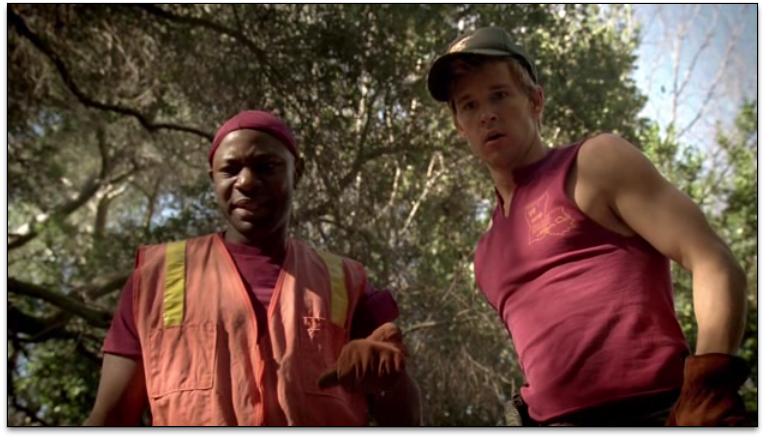 Of course, Jason was sleeping on the job. After Lafayette wakes him up and tells him about taking care of Tara, Hoyt starts yelling for help. He found the Cracker Jack prize in the ditch — Jessica's missing dead guy! Without his head! Somehow, I don't think Hoyt feels lucky about this.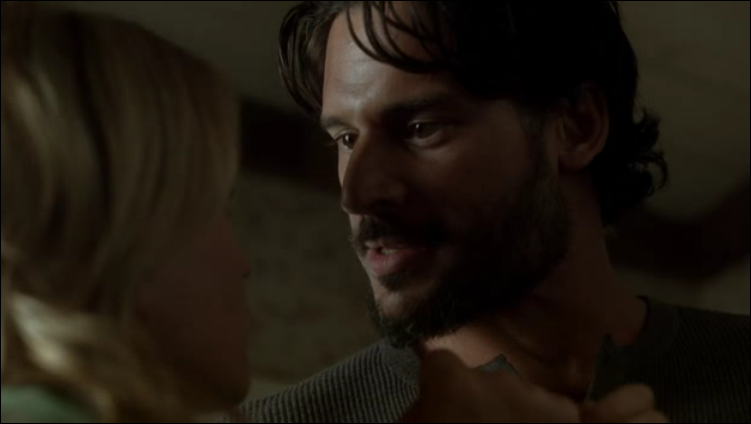 Everyone, this is Alcide Herveaux. I'll be in my bunk. For. The rest. Of. My life. Oh, yeah. Also, Eric sent him to help Sookie in Jackson. So, you know, he's a werewolf.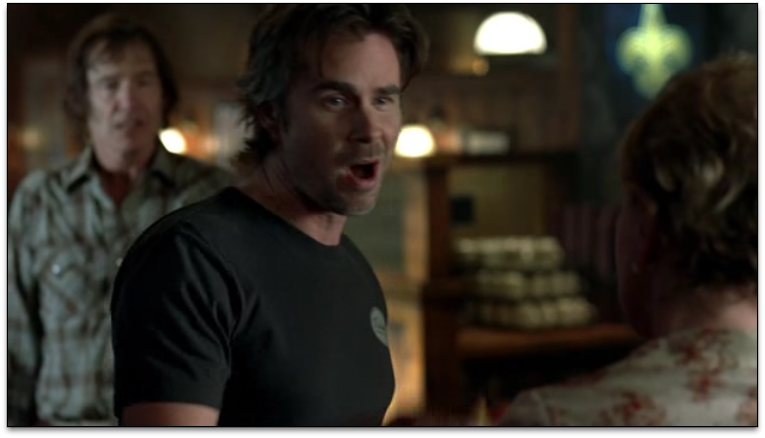 Sam's bio-family try wearing "outside" clothing and drop in on him at the bar for a surprise visit. Who saw this happening a mile away? Oh, that's right. EVERYONE.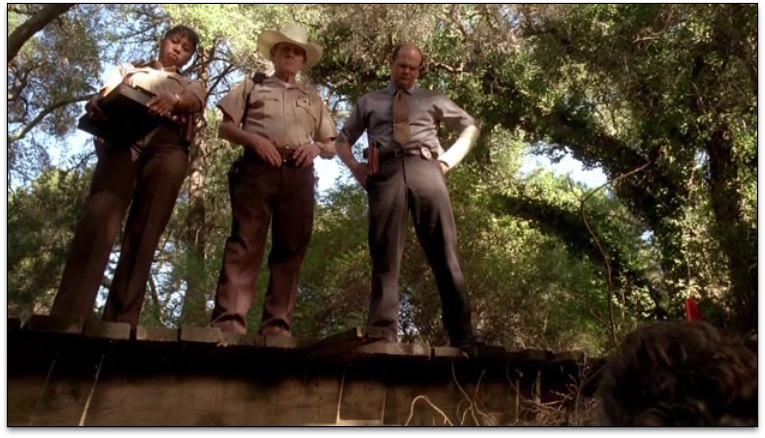 Kenya, Andy, and Dearborne show up at the scene where Hoyt found Jessica's dead guy, and after running through the what probably happened to him Dearborne decides that he's had enough of this crap and quits. That entire scene made me laugh my ass off all three times I watched this episode. Can't say that I blame him, though. Murders in Bon Temps are definitely like crabgrass. But who's taking over as sheriff now?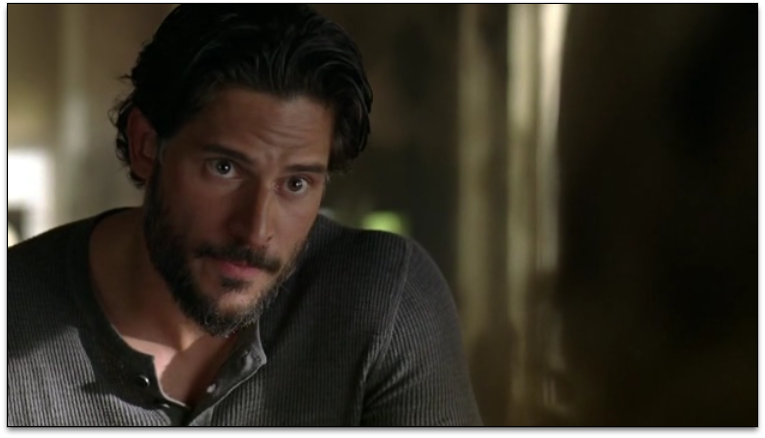 This man. Where has he been my entire life? Look, I don't care what Sookie was saying in ANY of the scenes he was in because he makes my pupils go all saucer like, and I turn into a 'tween crying over who's better, Edward or Jacob. And Sookie is just a bag full of annoying. Long and short, he finds out she really can read minds, the Operation Werwolf pack are not popular among the Jackson werewolves, Alcide's ex is shacking up with Coot, and Sookie's gonna get them both in serious wolf crap.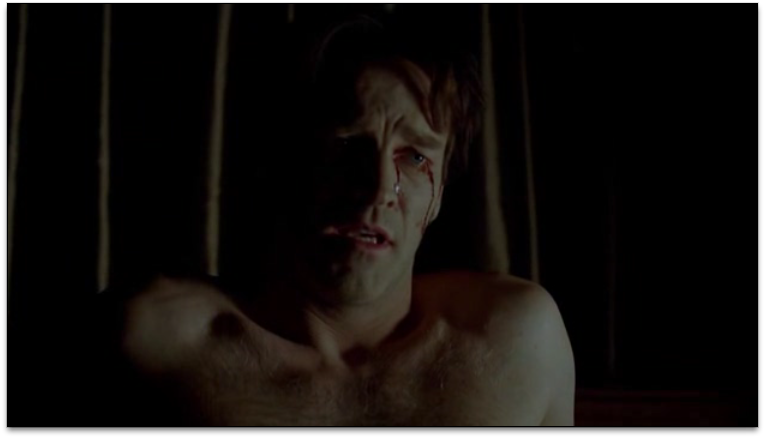 Yea. More Bill flashback. This is where Lorena tries to teach Bill that vampires can't live with humans, that it only leads to suffering. Perhaps if she were more like Yoda and less like a raging lunatic, he'd learn something from her. So he glamours his wife and buries his son. And wakes up crying.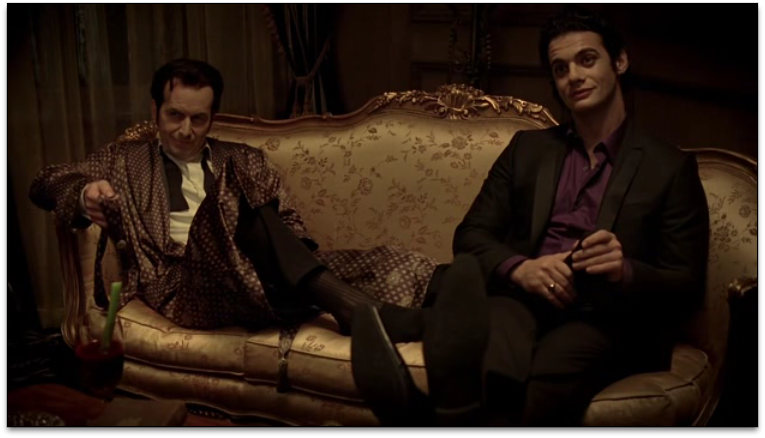 After he cleans himself up, Bill pledges his allegiance to Russell and the Kingdom of Mississippi. Sookie is seemingly safe, at least from Russell (and Lorena looks pissed about that).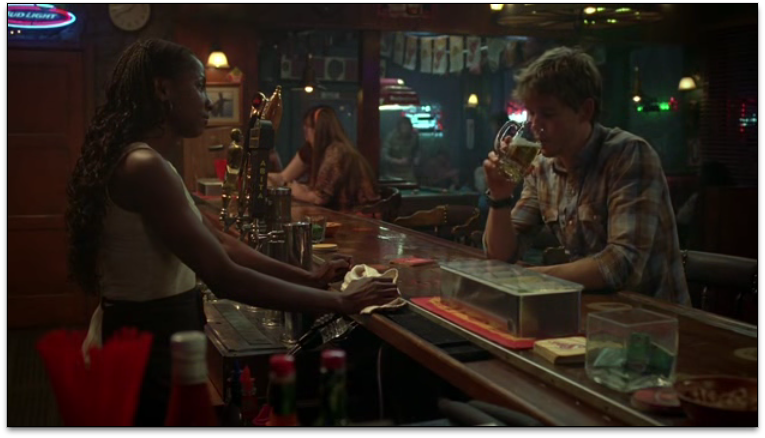 Back at Merlotte's Jason tries to talk to Tara and it doesn't go smoothly. What with him killing her boyfriend and seeing bullet holes in everyone's forehead. There's a whole of flippity-flop going on between characters and nothing's really happening here.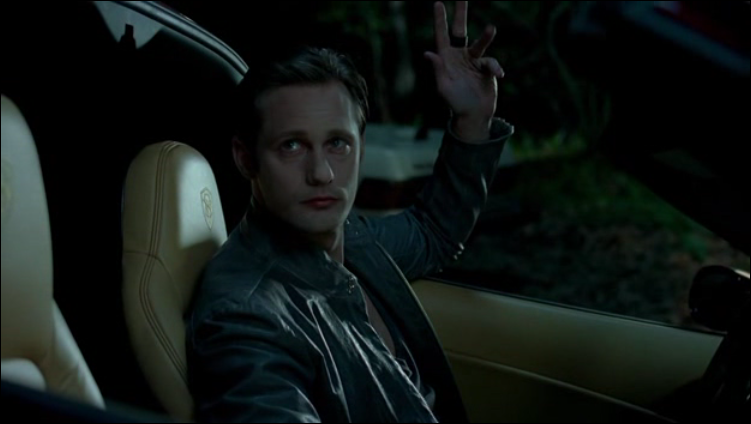 Eric also takes this down time from babysitting Sookie to meet with Lafayette, his most successful pusher. Eric gives Lafayette a sweet car for a dollar (to avoid the gift tax), and subtly tells him that he could be more ambitious and rich with the whole drug selling thing.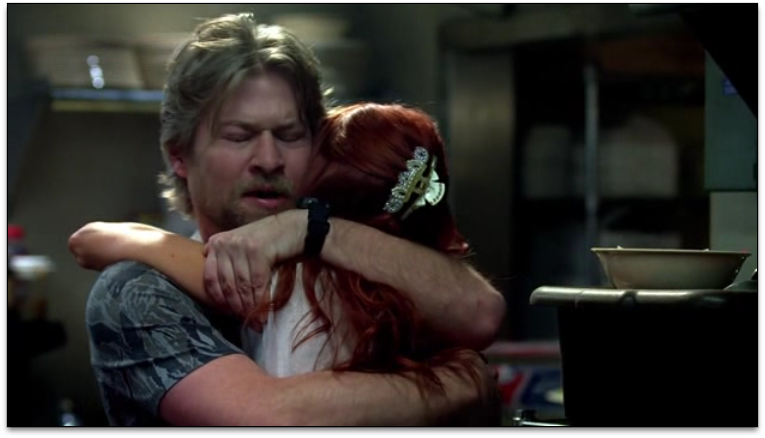 Because the workplace is not only an awesome dating pool, you should also discuss your private matters there in front of everyone! Arlene tells Terry she's preggers, but not that he might not be the father. But he's so happy about it! This will most likely end in… wait for it… tears! Also, the bio-family are still hanging out at the bar, getting all kinds of liquored up. Sam kind of kicks them out since Tommy's underage and Pa wants to rumble, but Ma steps in and ushers everyone out before a full-blown scene takes place. She asks if they'll see Sam soon, and he deflects, but I think they'll show up at least once more before the ep is over.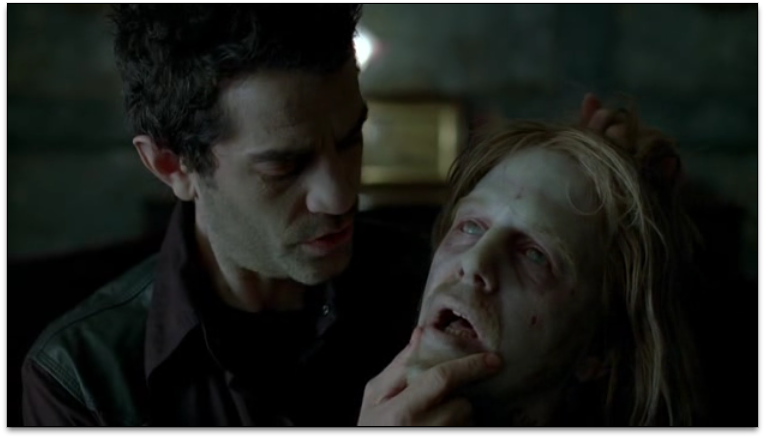 Franklin did take care of Jessica's dead guy! He gets her to spill everything she knows about everything. It was like the Fratellis interrogating Chunk. I think she admitted to pushing her sister down the stairs and blaming it on the dog.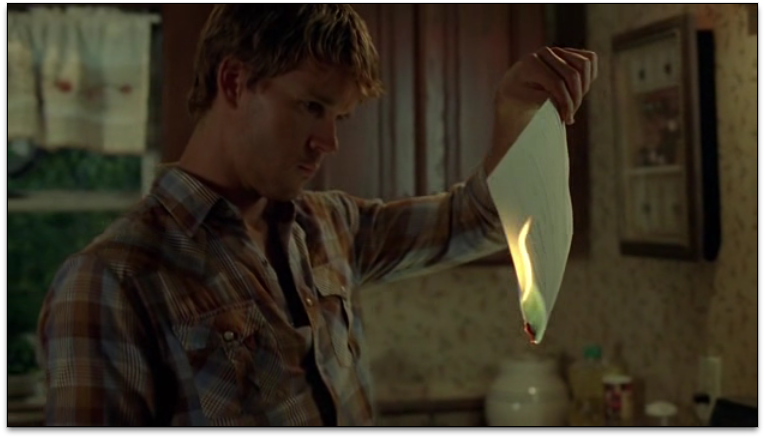 Jason gets home and decides he will not be a policeman officer. Guess he's more the second kind of person than he thought he was. Anyone else notice that like the second half of all this ep is made up entirely of one to two minutes of characters doing nothing? Is it just me?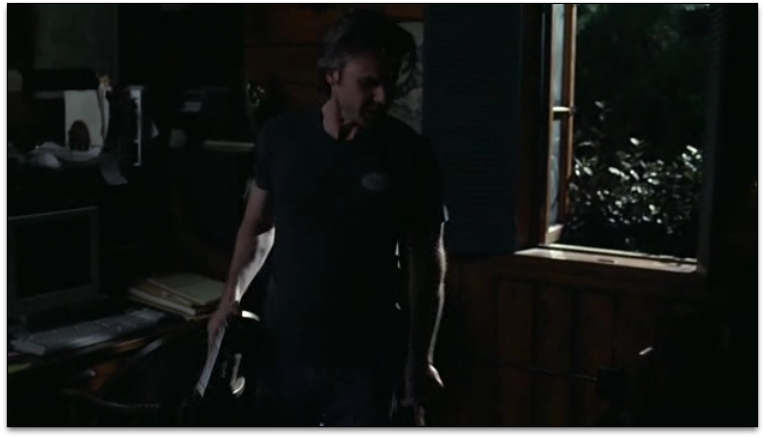 Oh, look. A shifter showed up at Merlotte's and stole that sack of money Sam stole from Maryann when he was a kid. Man. Who saw that one coming? OH, YEAH. EVERYONE.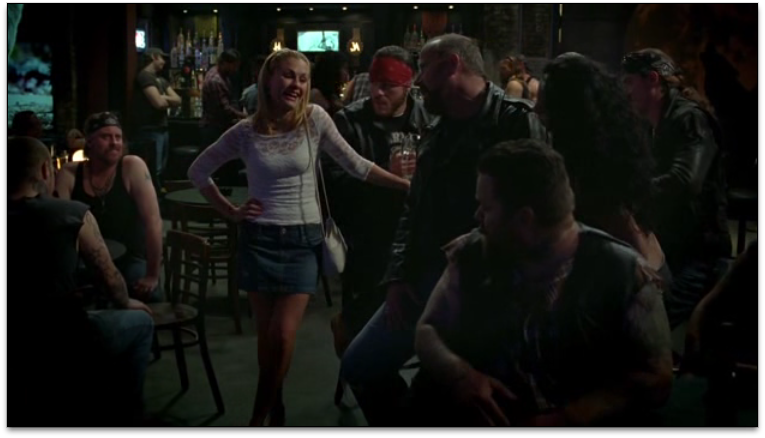 We finally make it to the werewolf bar in Jackson (I want a Lou Pine's shirt, if anyone's feeling generous), and Alcide needed to unbutton a few more on that plaid number he was rocking. Sookie gets herself into trouble with one of the weres that vampnapped Bill. So she screams. God, that's irritating. $20 every male character who's straight falls in love with her because her "specialness" is the ability to harness and direct the Mary Sue power like Cyclops and his optic blasts.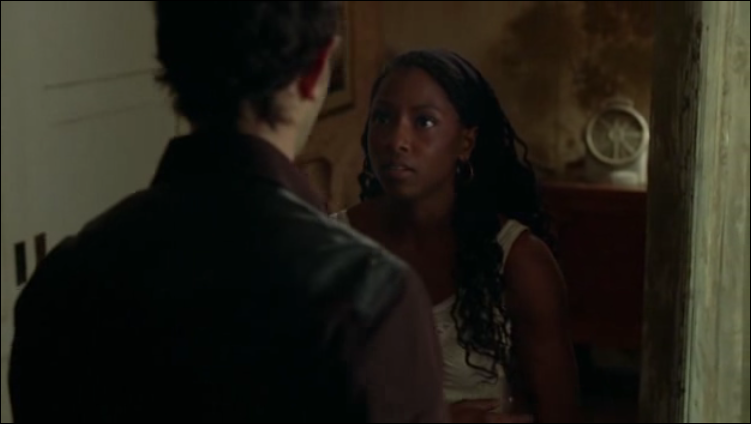 And Tara continues not to have brain one in that pretty skull of hers and invites Franklin in. Seriously.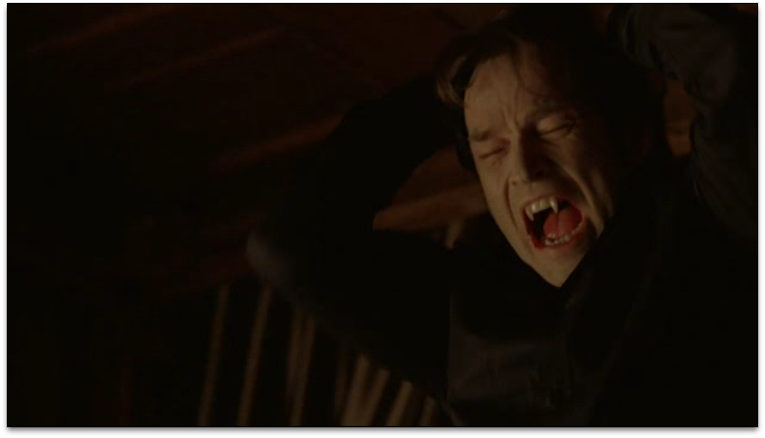 And to finish this one off, we find out that Bill is Caligula. Sometimes, it's just easier to pull a Reagan on the person you're jackhammering instead of stopping to flip them over or paper bag them so you don't have to look at their face. Honestly, I'm not sure what disturbed me more about this scene: the violent thrusting, the head snapping, the fact that Lorena gurgles out "I love you, William" while her head is on backwards, or that anyone is "Team Bill" after that.
Rating: 3 / 5 Stars