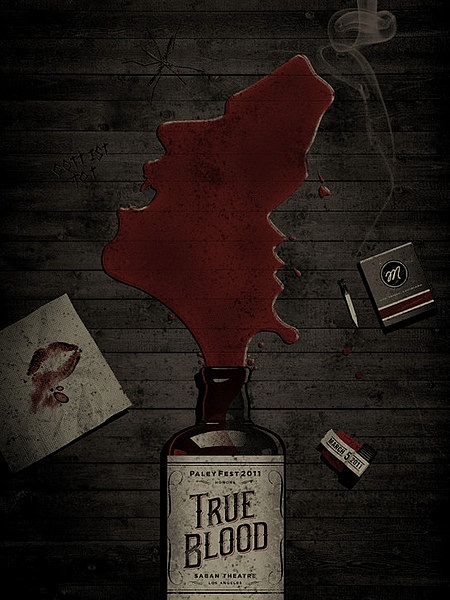 Episode: True Blood 4.01 – "She's Not There"
Original Air Date: June 26, 2011
In the Season 4 opener, Sookie returns to Bon Temps to find things have drastically changed while she was away. Eric and Bill have been pulled into Nan's vampire PF clean up after the Russell Edgington Affair and are left to try and charm the human public. Sam does something he hasn't done up to this point: bonding with other shifters, while there's trouble brewing in paradise for Hoyt and Jessica. At Jesus's urging, Lafayette goes to check out his coven and things get heavy. Terry tries to calm Arlene's fear about baby Mikey's heritage, but isn't very successful.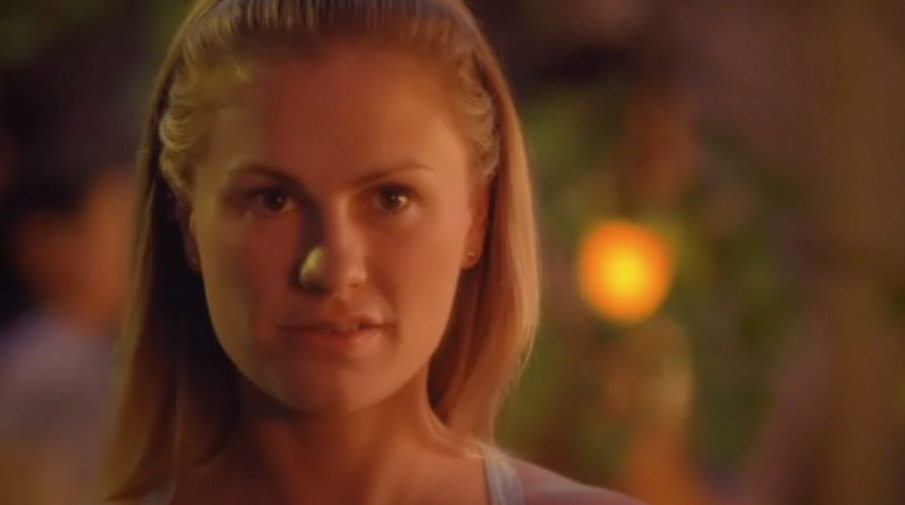 So, we start out with the first three minutes that HBO has been tirelessly pushing on fans for the past twelve hundred years between this season and last. Sookie and Claudine (who turns out to be a fairy godmother) transport to Fairyland! A land full of pastels and that glowy effect from Photoshop! Sookie runs into Barry the Bellboy, who's been missing since she was in Texas with Eric and Godric, yet he claims he had just gotten there with his fairy godmother (which is really a dude, so godfather?). Everyone is going to town on this fruit that's lit up like one of those gaudy glass drop lamps from the '70s. While Barry stuffs his face, Sookie recognizes her grandaddy, Earl, who'd been in Fairyland these past 20 years.
Cue the music.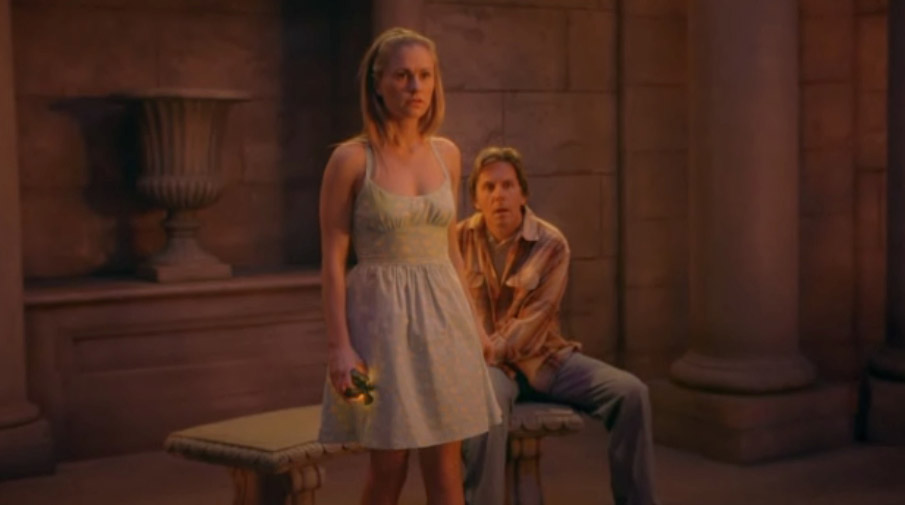 Sookie and Grandaddy Earl do some catching up when Sookie puts things together and realizes the number one rookie mistake that EVERYONE is making here: Fairy Circles are like office potlucks — you never eat the food. She tries to pull a telepathic Admiral Ackbar on Grandaddy, failing to realize that everyone there is exactly like her and totally hears her warning. That's when Queen Mab shows up and tries to force her to eat the fruit because she feels it's time to harvest the human/fairy offspring and close off the bridge between Fairyland and our world.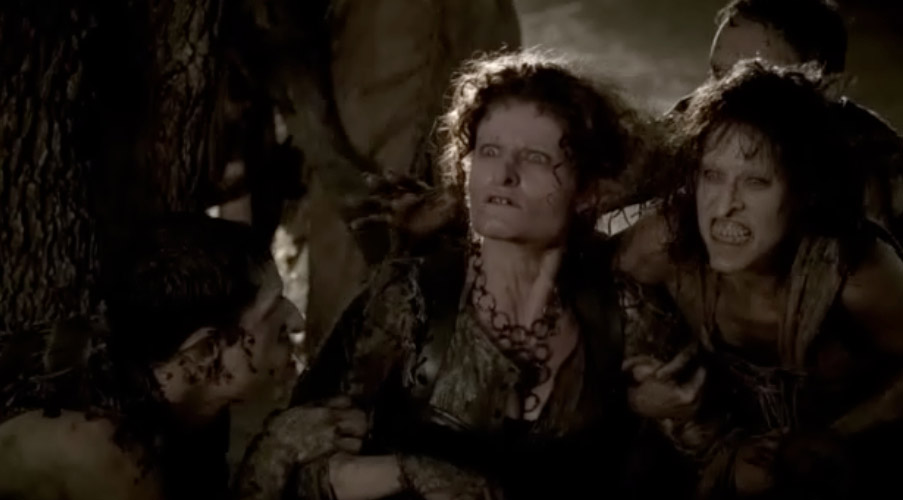 Obviously, they don't know who they're dealing with here. Sookie proves that Mab may be Queen of fairies, but she is Queen of Mary Sues by taking out the queen of fairies and the glamour magic they had been using to make their land look overly sugary. Yeah. The part fairy-mostly human girl took down the actual fairies. Sookie and Grandaddy go on the run while the bad fairies throw … ugh, I can't even believe I'm typing this … glitterbombs. They were literally throwing handfuls of glitter and goo. As is wont to happen when you're on the run from a group of Troll rejects, they run into a rebel faction of fairies that don't want to be closed off from our realm forever like Mab wants. Sookie is told that since she didn't eat the glowy fruit, she can jump through the portal no problem. Grandaddy Earl, on the other hand, isn't supposed to go through it with her. He totally does.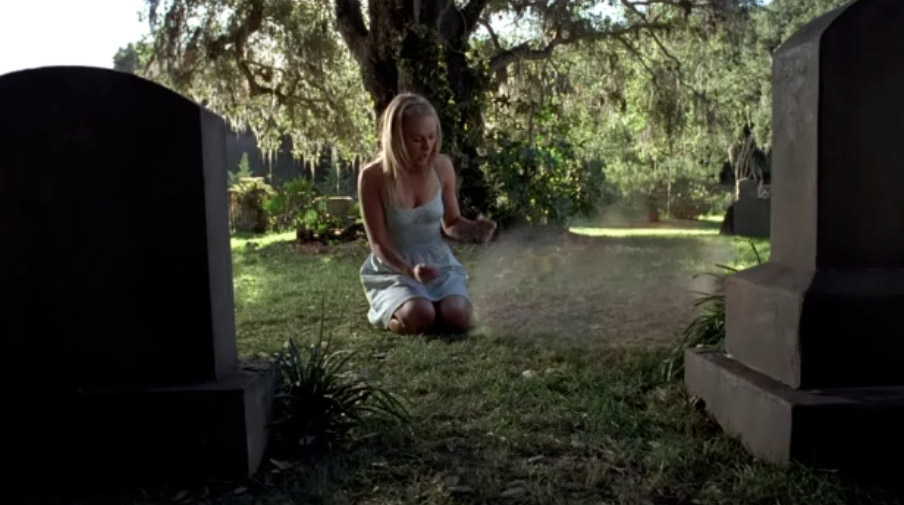 All portals, like roads, lead to Bon Temps, and the minute Sookie and Grandaddy Earl land Eric and Bill both sense her presence. Unfortunately for Grandaddy Earl, that fairy wasn't joking around when he said that he wasn't supposed to go through the portal. So he dies rather abruptly, but not before giving Sookie his pocket watch to pass onto Jason.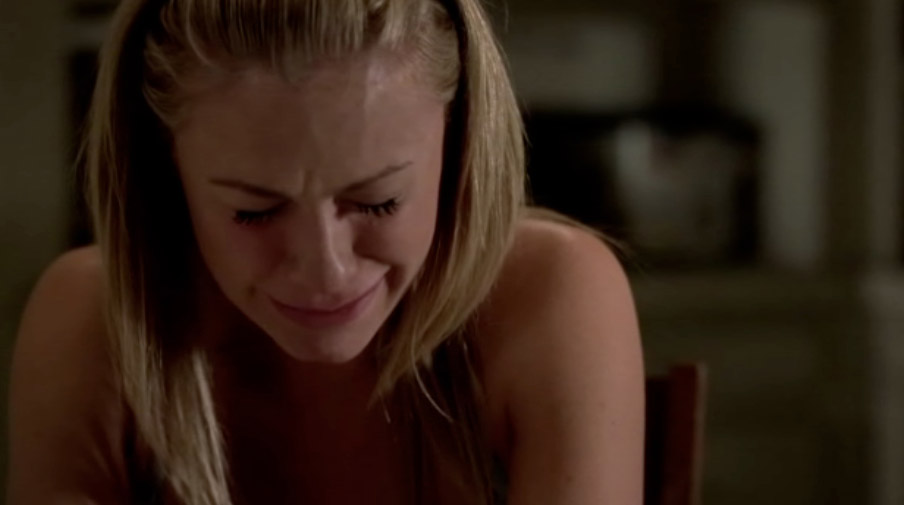 After a good cry, Sookie pulls herself together and heads home (where she'll have another good cry to fill quota), only it's not her house anymore. Turns out Jason sold it and he's 5-0 now. He tells her that they all thought either Bill or Eric had killed her because she'd been missing for 12.5 months. I actually really liked this aspect. It incorporates the lore on fairies, as well as gives the writers room to work in new things. It also means that Sookie wasn't the center of Bon Temps for a whole year and I'll be interested to see how everyone went on without her.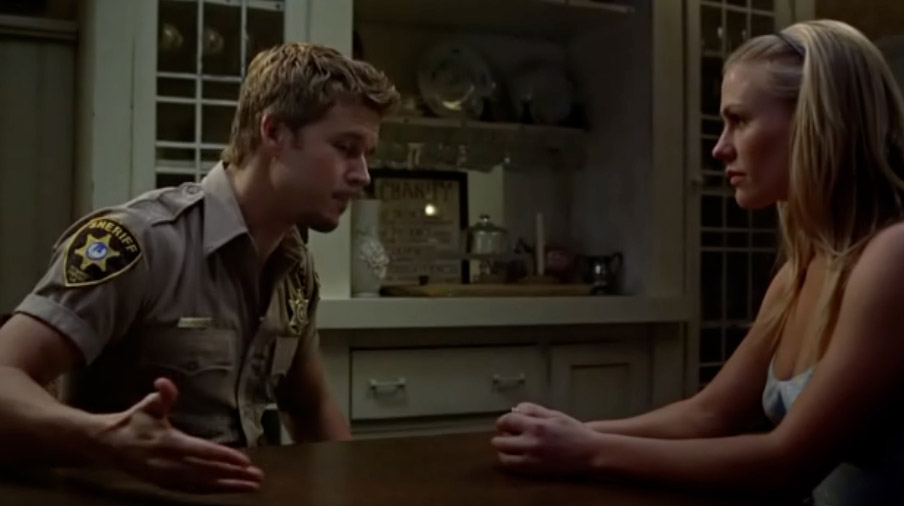 Later, Jason explains he sold the house because it was full of memories of loved ones lost and that they all did everything they could think of to find her (but totally gave up on her eventually). He also doesn't really buy the Fairyland story and tells her they need a different story because they can't be telling people that. Okay. Werewolves. Crackhead werepanthers. Maenads. Vampires. Fairies, though? Too much, too much. Whatever, Jason. Sookie calmly hands over the pocket watch and explains about Grandaddy Earl, and I think pretty much convinces Jason she's not lying about where she was. Although, I don't think it takes a whole lot to change Jason's mind.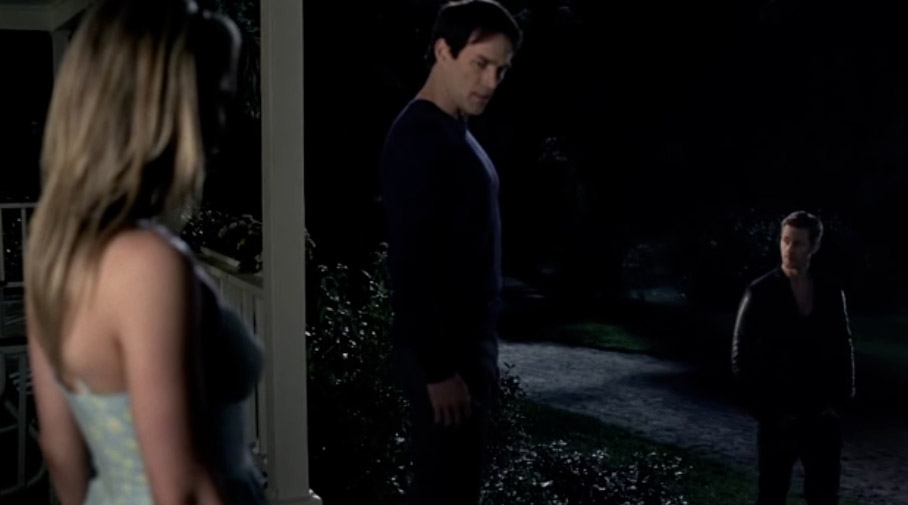 About that time, it gets dark, as it's wont to do after it's been light for so many hours, and both Bill and Eric show up. Bill is still super emo (with better hair) and Eric is still super intense (with better … well, everything was always better with Eric). They start fighting over Sookie almost immediately when Bill pulls rank on Eric. Surprising, but I have an idea why he gets away with this. Eric acquiesces, but not before making it a point to tell Sookie that he's the only one who never gave up on her, and you know I think he may be telling the truth. Just got a feeling about this one.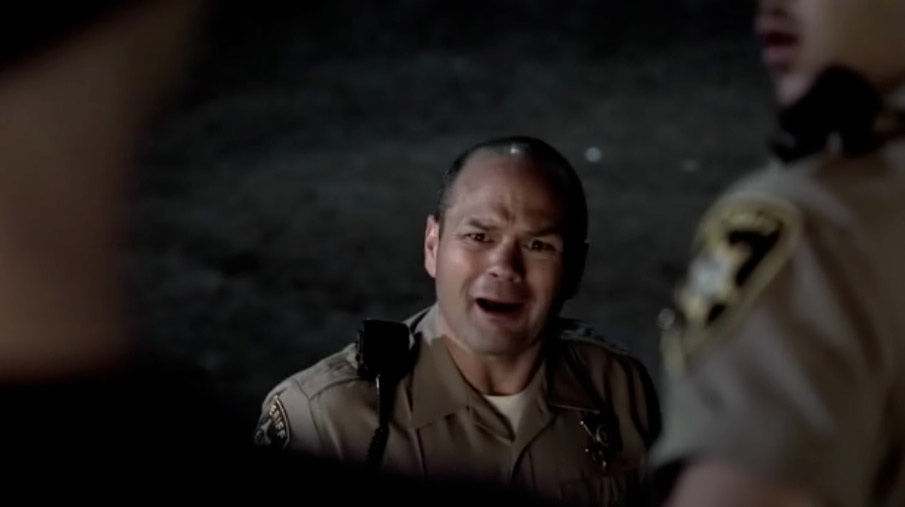 Andy shows up. Andy's still crazy and now angry that he didn't get the Louisiana Safe Street plaque because of Sookie's active missing case. Bill tells Andy that she was doing vampire business for him and it's all very hush-hush. And Andy buys it.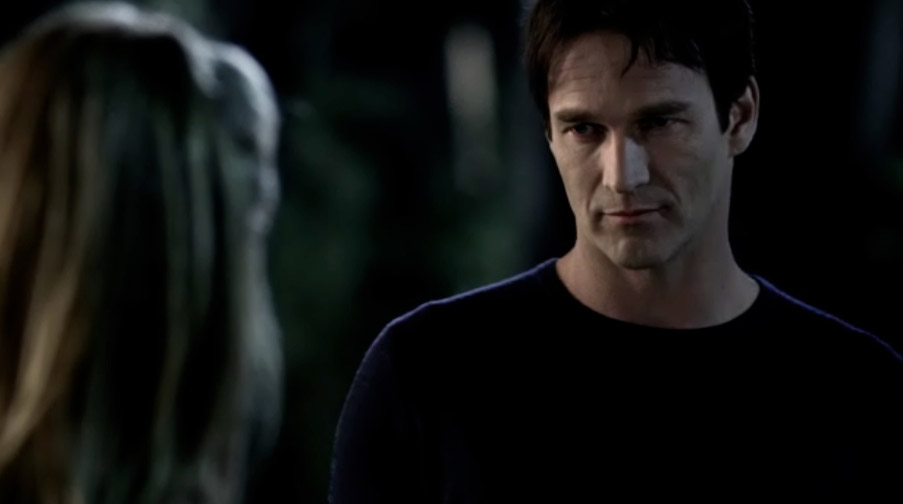 After that, Bill leaves pretty easily and while Sookie is still majorly hurt by what he did to her, it hurts that he just leaves with this kinda fake smile and niceness about him. It is really out of character for him, but maybe it'll make sense later? Or he really did give up on her and now has a new fangbanger?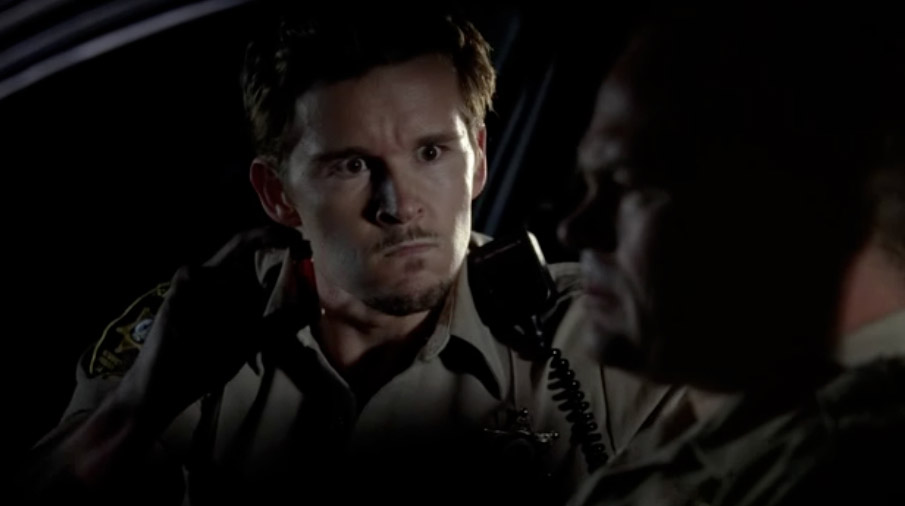 Hey! Andy's still crazy because now he's hooked on V! And Jason does not approve.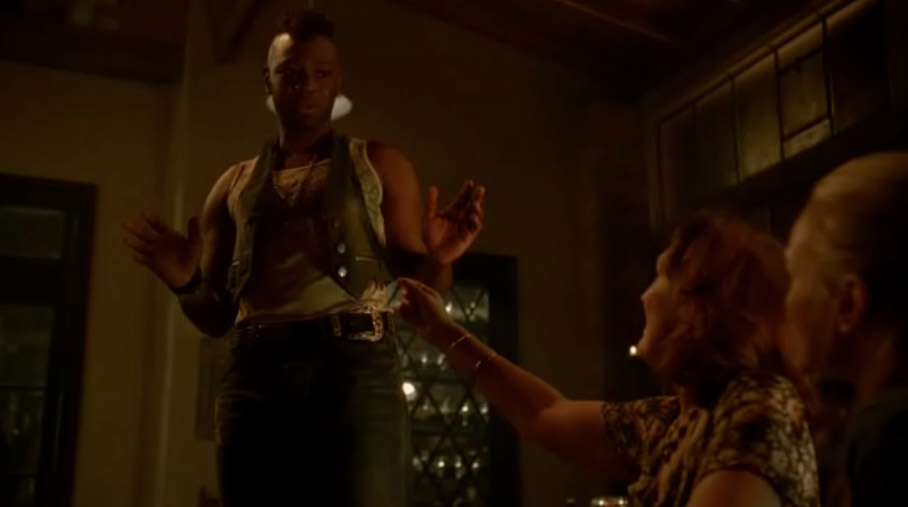 Looks like the magic thing wasn't just a phase for Jesus and Lafayette, as much as Lafayette would probably like it to be. We catch up with them as Jesus is dragging an '80s Ororo Monroe mohawk sporting Lafayette to a coven meeting, and the witch waitress from Merlotte's is there! The head witch, Marnie, is in the middle channeling spirits. The spirit that comes through is Eddie (the vampire that Jason and his then g/f drained and killed and who used to be a client of Lafayette's). This freaks Lafayette right the crap out and he leaves in a hurry. I love that the "big bad" of this season (Marnie) was wearing Dress Barn clothing and sitting on a beanbag barefooted. I always knew hippies were evil.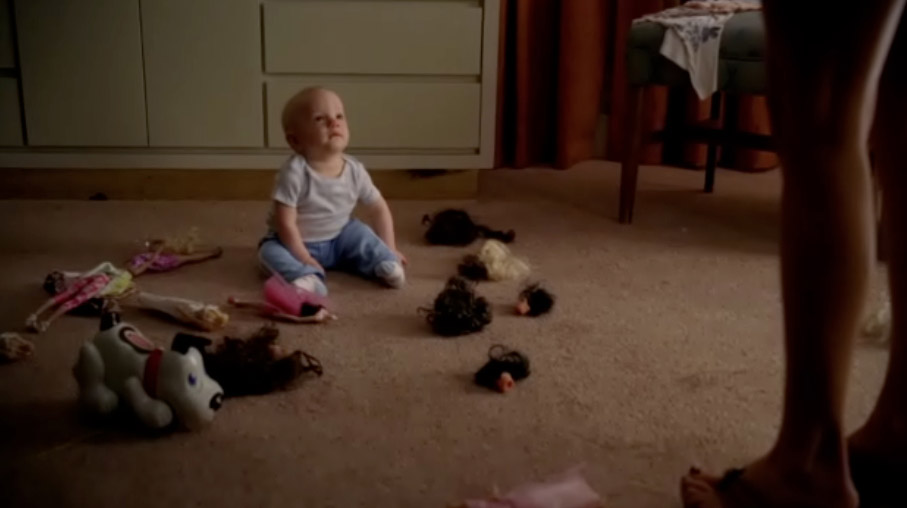 Back in Bon Temps, Arlene and Terry are dealing with the new baby, Mikey. Arlene still thinks he's a toddler-sized crazed killer and Terry is doing his best to keep neurotically positive. You know, the usual.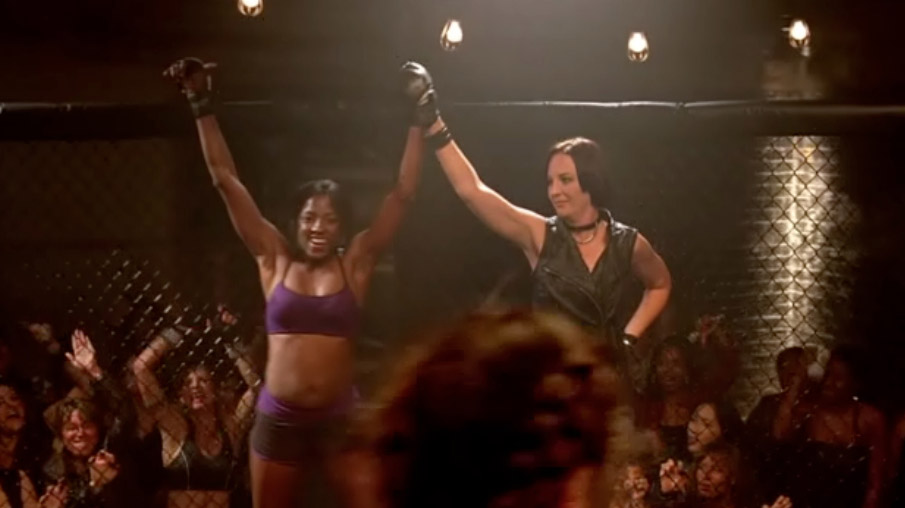 Meanwhile, over in New Orleans, Tara has joined some kind of MMA, chick Fight Club. Looks like she's put all that anger and aggression to good use.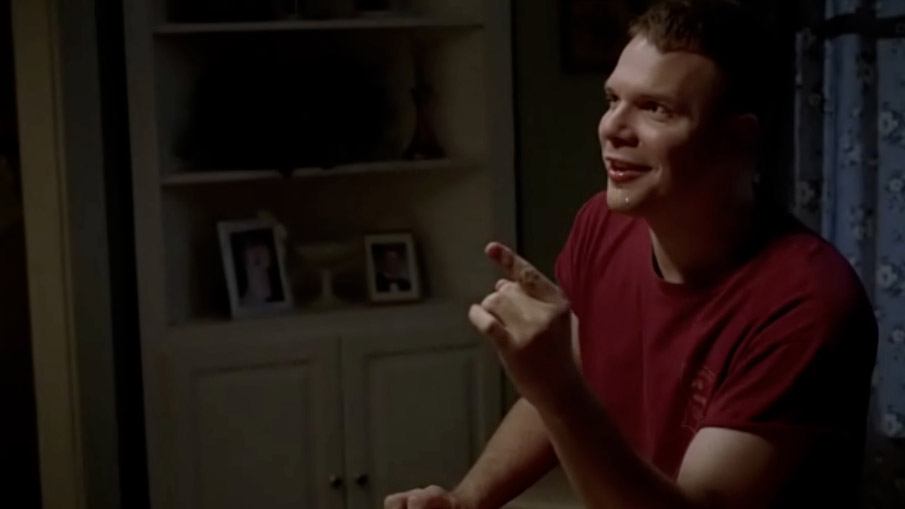 Meanwhile on the previous meanwhile, Hoyt and Jessica are a heartbeat away from imploding. I think it's normal relationship stuff that's exaggerated by the fact she's a vampire and he's a human. The fact that their hours of operation are completely opposite, that he eats and she drinks, and that she's a predator were of course going to make things difficult, but is it too much to ask that these two crazy kids make it through unscathed together?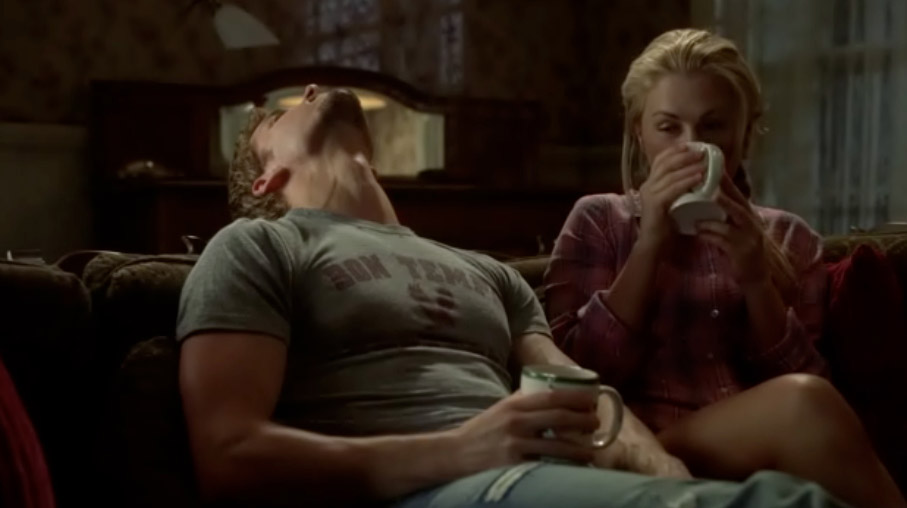 Back to the Stackhouses, Sookie and Jason do the sibling thing they always do. This is something I actually like about these two characters (except where it got a little too Luke and Leia back in Texas), that they are close like this and can hang with each other. She tells him she's going to try and get the house back. I just have a feeling that someone she knows bought it because who else is going to pay way over the asking price and fix it back up the way it was and not really upgrade it?
Over at Fangtasia, my girl crush and HBIC Pam is not giving Nan the kind of vampire PR she's looking for. Eric swoops in and proves again why Sweden needs to be a world treasure up there with the Gaza pyramids and the Mona Lisa. He gives Nan a very charismatic and cheeky spot about how he's a taxpayer and business owner and absolutely no threat to humans (as long as you don't count how your panties totally spontaneously combusted at the end there when he smiled). This is intercut with Bill also doing a bit of PR with the help of Portia Bellefleur (Andy's sister). Those two seemed cozy. Maybe that's why Bill didn't argue much about leaving Sookie.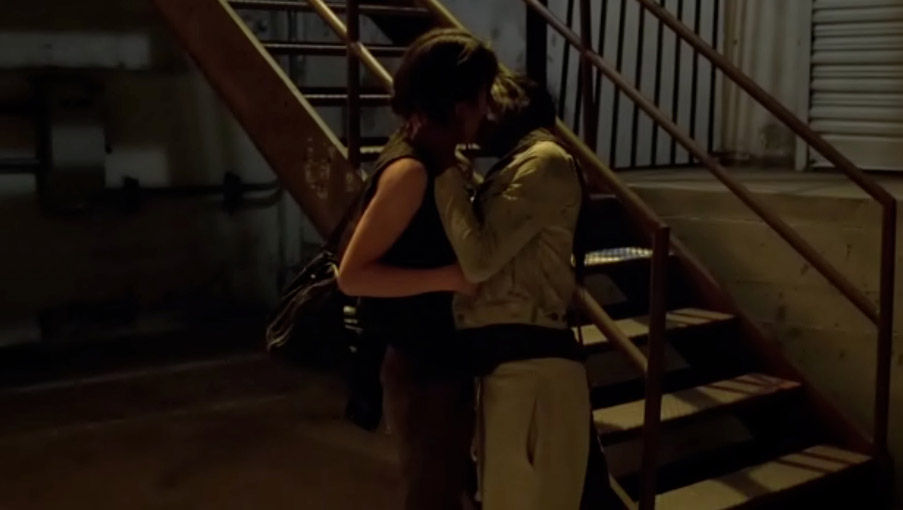 Turns out Tara wasn't joking when she said she wanted to start over — new hair (again), new life, new name (Toni), new girlfriend, new … hey, wait, new girlfriend? That's right. In a move so not shocking to pull on a female television character, the writers have decided that a well established hetero female character is now a lesbian. Boo on that. You know what would really be shocking that they'd NEVER do? Lafayette suddenly goes straight. Despite that old hash, she's much less aggro and chill and she seems happy for once, kinda like she's a completely new character. Sookie being back will totally botch that zen.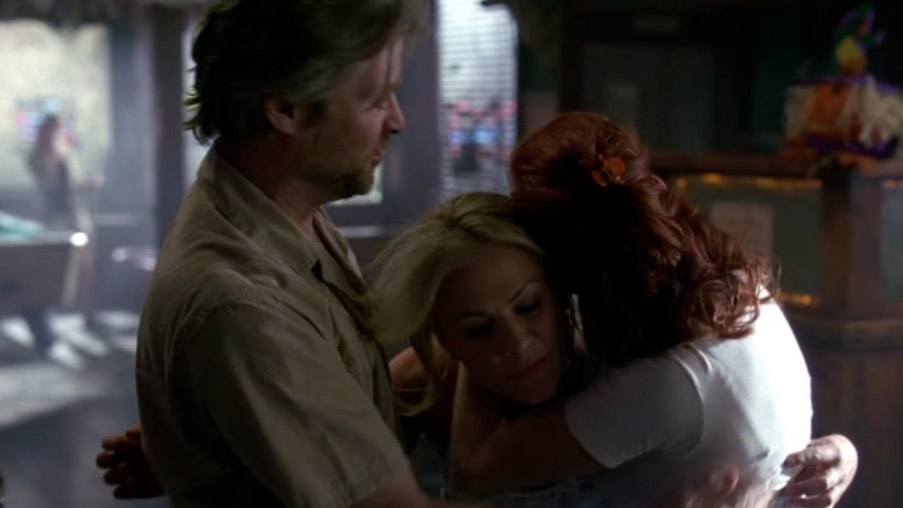 Next day, Sookie finds out that her being gone for a year really had an effect on the people that care about her and that things have changed. Except Sam. Sam's still cranky, but he gives her her job back (at part-time instead of full).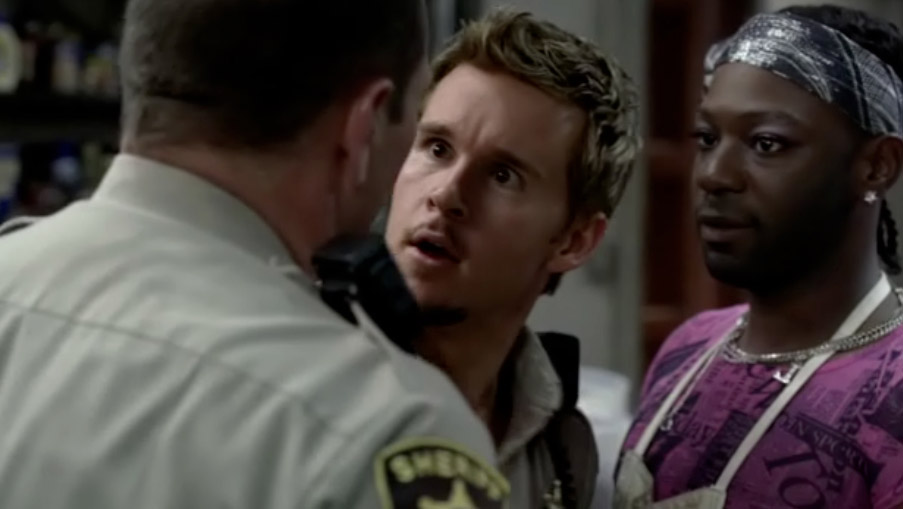 Andy — still crazy AND a junkie!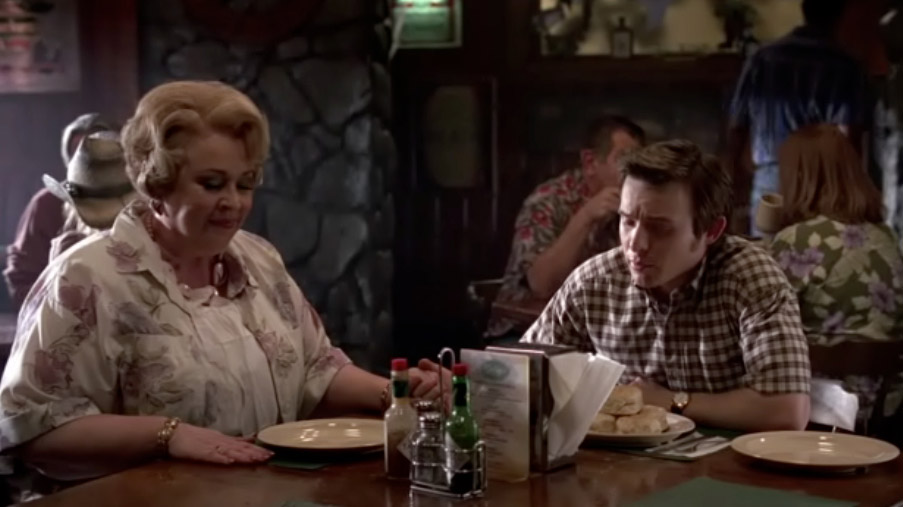 Looks like Sam didn't kill Tommy, just shot him in the leg maybe (his leg is all messed up), but here's the Bizarro World moment: Tommy is hanging with Hoyt's momma. Yeah, I don't know either. That was some wacky tobacky right there.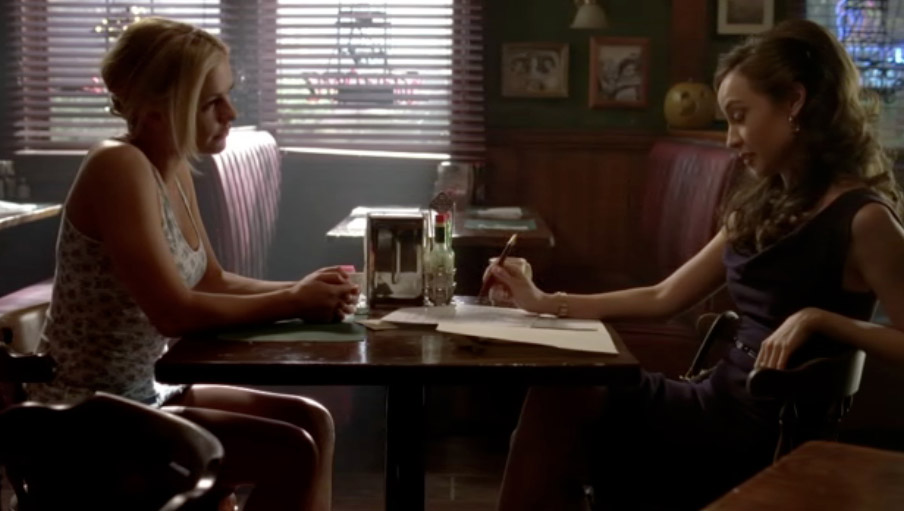 Since I guess Portia's the only lawyer in town, she meets up with Sookie about getting the house back. Sookie snoops in Portia's mind for a second and hears some stuff about Bill she probably could have gone without hearing (i.e., that Portia thinks Bill hardly misses Sookie at all).
That night, Hoyt and Jessica are at Fangtasia and watching Jessica dance around is like watching watching an Angler Fish flash its lure around to draw in its prey. It's really too bad no one could be assed to help Jessica manage her dual nature because that might solve a lot of problems that are so going to pop up with her. Hoyt is oblivious to what Jessica is doing (I don't even think she's doing it on purpose), but Pam notices and tries to give her advice in that totally Pam style she has that I love.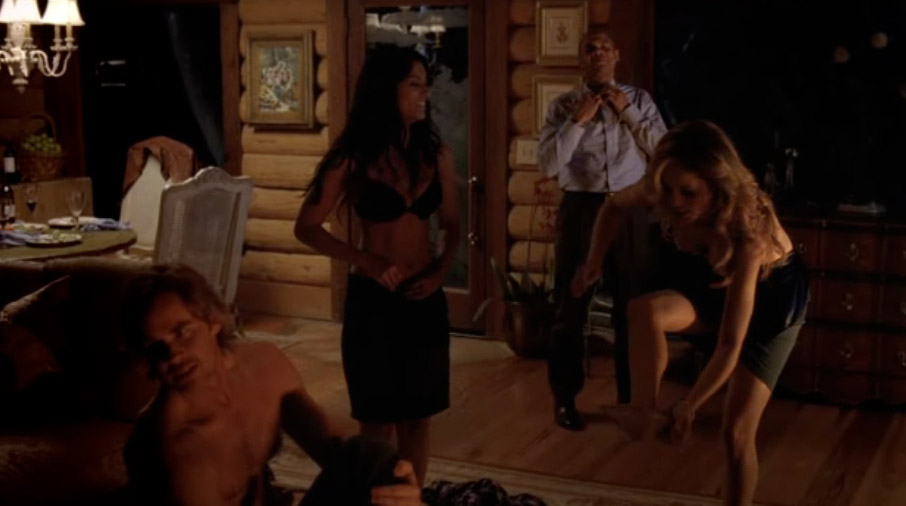 Over the past year, Sam has found a little dinner group where he can talk about his rage issues, get lit up, and then have everyone shapeshift into horses and go for a run. Not gonna lie, I'd go to dinner parties if they went down like this. I think it's good for Sam to have finally found people like him that he can just be himself around. Not to mention, it ends with everyone naked and riding a good buzz!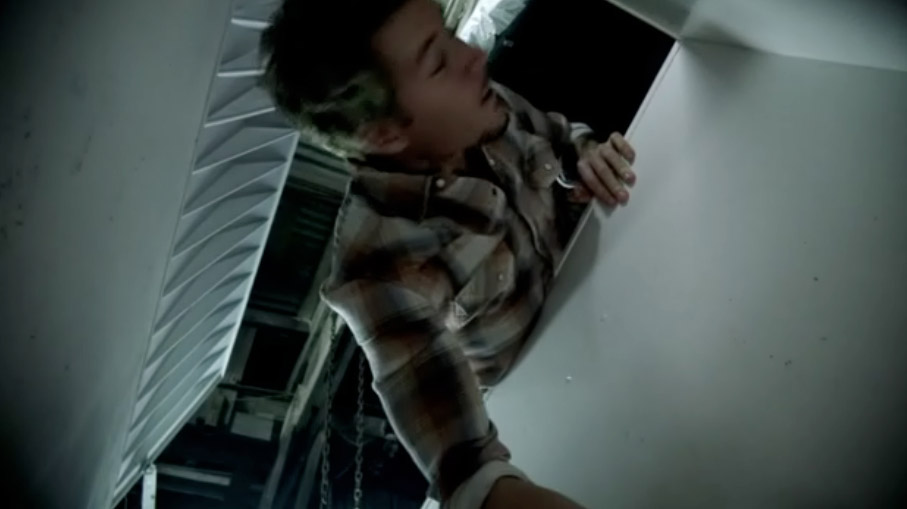 Also this past year, it looks like Jason's been taking care of the residents of Hot Shot as best he can, bringing them food and fixing things for them. Crystals seems to have disappeared, as Jason mentions that he hasn't seen her. Jason also ends up getting locked in the ice box. Kind of makes you wonder, he'd been taking care of them for a year, Sookie comes back, and then they turn on him. Coincidence or is Sookie a magnetar for bad luck?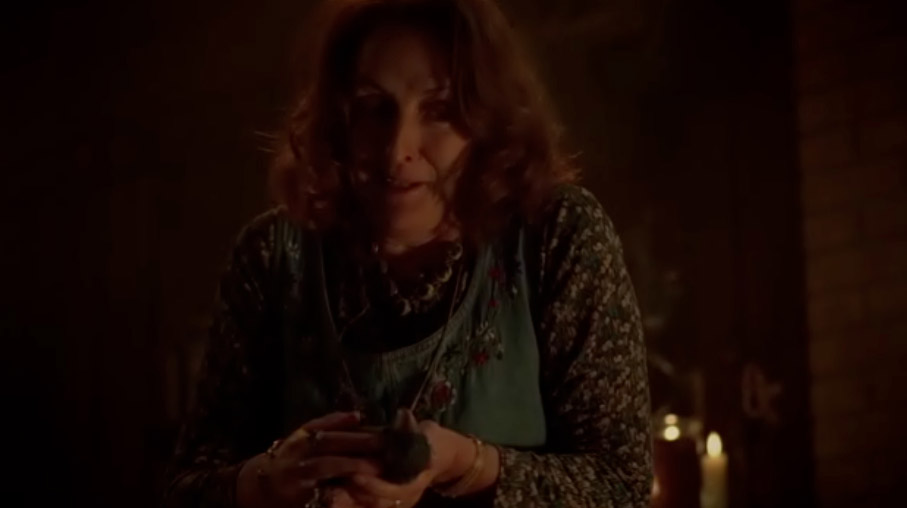 Lafayette goes back to the coven meeting place with Jesus, and Marnie starts this ritual that's supposed to "ease the passing" of her dead bird. Then something happens that anyone familiar with the Winchester Brothers could have spotted happening a mile away: Marnie changes the spell to one that brings the bird back to life. The spell doesn't work until Lafayette joins the circle with the other witches. As soon as he does, that bird starts to fly around like nothing happened to it. It doesn't last very long, but I think it coming to life with Lafayette as some kind of power source was what she was looking for.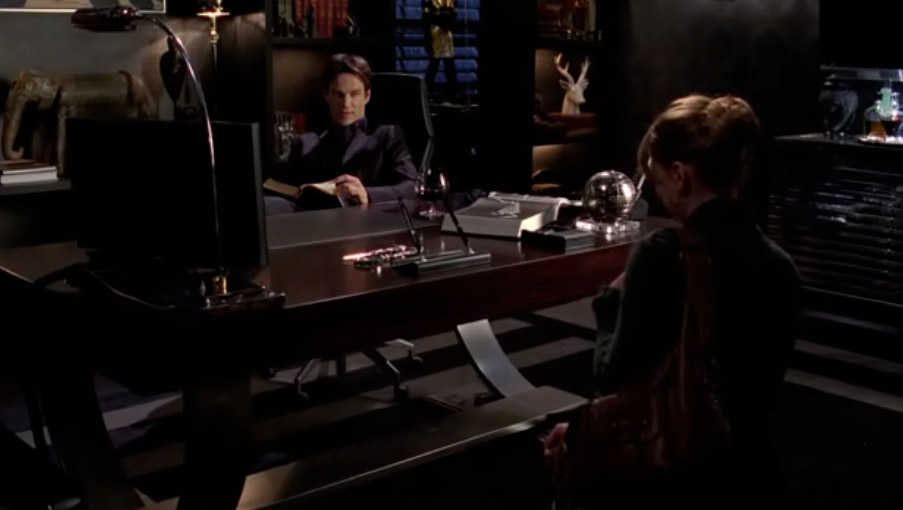 There's always a double agent in groups like those. The nerdy witch seems to be working for Bill, who is now the King of Louisiana. And that explains why he was pulling rank on Eric and Eric was letting him.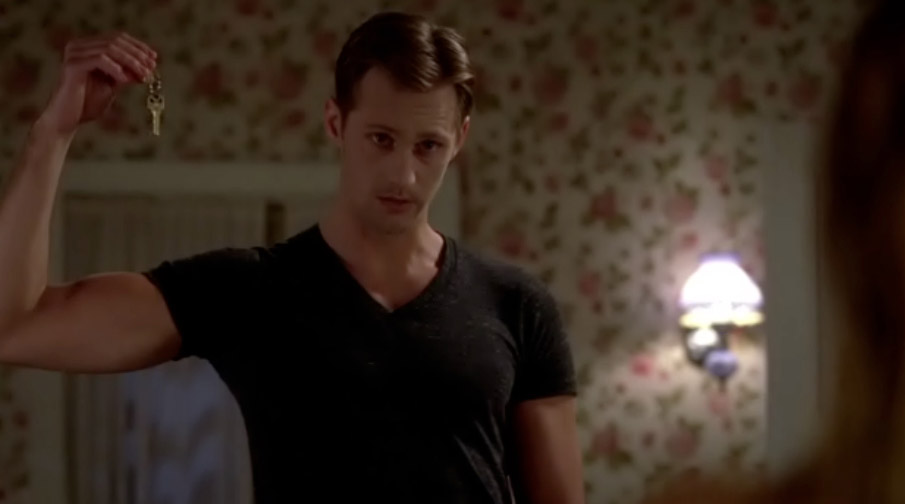 To wrap things up, Eric busts in on Sookie as she's getting changed. Turns out, he bought her house. His reasoning? If he owned the house, he'd own her. ASkar is criminally sexy and I don't get why Sookie is playing hard to get with this one. Just go for it and have fun! You know, the complete opposite of what you had with Bill!
Rating: 3 / 5 Stars