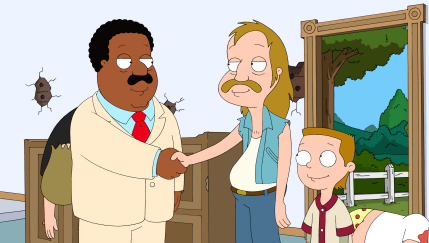 Episode: The Cleveland Show 1.03 – "The One About Friends"
Original Air Date: October 11, 2009
The latest episode of The Cleveland Show aired on Fox this past Sunday and, despite not being quite as abysmal as the previous episode, "Da Doggone Daddy-Daughter Dinner Dance," it was wholly mediocre. Once again, the parts of the episode that featured Cleveland's stepson, Rallo, are the highlights of "The One About Friends." Unfortunately, these segments are few and far between.
Apparently it has taken Cleveland Brown seven seasons of Family Guy and two more episodes of his own show to realize that his kid is a loser with no friends. Compared to his second wife's children, Rallo and Roberta, Cleveland, Jr. is "[L]onelier than a widowed trapeze artist with Alzheimer's" (are you starting to catch my drift here?). With Donna's encouragement, Cleveland and Cleveland, Jr. set off to find the pokey oddball (Cleveland, Jr.) a friend. Personally, I am of the opinion that you should give up on the friend hunt if you're a teenager and need your father to find you a friend, but I guess that's why the whole idea is supposed to be funny… I think. The best part of the episode is a recurring joke involving Cleveland that starts while father and son are searching the area for a lonely kid to play with Cleveland, Jr., but I don't want to ruin it for you if you haven't watched "The One About Friends" yet. Long story short, Cleveland finds his son a friend who is perfectly suited for him, but in the process alienates his redneck neighbor, Lester.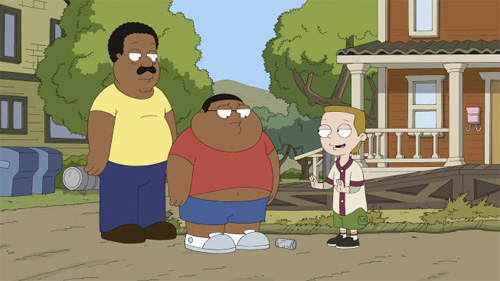 The rest of the episode deals a lot with Lester, and given that he is the creepiest character on the show thus far and every joke he is involved with on the show to date is not even remotely funny, I tuned out a bit after that. I do know that there was a firefight with a bunch of rednecks at one point, that there's an opossum, and that Cleveland dresses up in an off-white 1940s-style suit, but Rallo and the anthropomorphic bear who lives next door to Cleveland weren't really in the rest of the episode so I don't really care, either.
I must say, however, that Cleveland's neighbor Holt is growing on me as the season progresses (granted, this is only the third episode). He lives with his mother, plans semi-spontaneous trips to Vegas, watches Entourage, and likes to play six degrees of separation. In other words, Holt is the vessel through which pop culture flows into The Cleveland Show. And I like pop culture references. Hopefully as the season continues The Cleveland Show will have some episodes that feature Rallo, Holt and Tim (the anthropomorphic bear) more prominently. Rumor has it that a number of celebrity voices — including Fergie and Kanye West — will pop up during the remainder of the season, but until that happens (if it does) I will keep you updated on how miserable The Cleveland Show continues to be.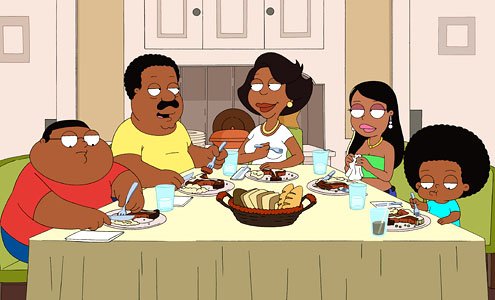 The Cleveland Show is all new Sundays on Fox at 8:30 EST right before Family Guy. Episode 1.04, "Birth of a Salesmen," is scheduled to air this Sunday, Oct. 18th. For more information on The Cleveland Show, visit the Official web site. I won't blame you if you don't, though.
Rating: 3/5 Stars