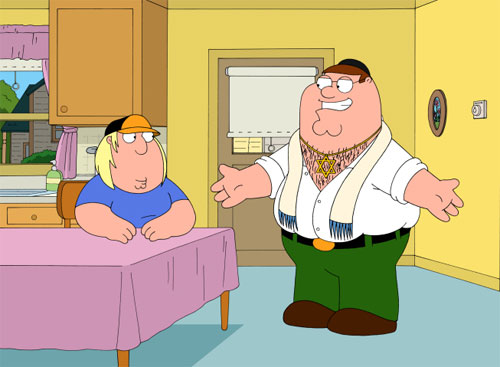 Episode: Family Guy 8.02 – "Family Goy"
Original Air Date: October 4, 2009
Remember the episode of Family Guy in season three in which Peter finds out that one of his ancestors, Nate Griffin, was African American and the whole Griffin family freaks out because they're "black"? And remember that episode in season two when Lois finds a lump in Peter's breast that turns out to be a fatty corpuscle? Okay, good, then I'm probably not the only one who noticed some similarities between Sunday night's new episode of Family Guy and some of the show's earlier episodes. Granted it was Peter who previously found out some startling news about his family's ancestry and whose life was threatened by the possibility of breast cancer, but the similarities between "Family Goy" and some of the show's previous episodes is clear nonetheless.
Long story short, Peter is still as mentally incapacitated as he ever was, the Pewterschmidts are as racist and stuck-up as they ever were, and the opening scene of episode 8.02, "Family Goy," makes absolutely no sense and has nothing to do whatsoever with the rest of the show (although it is kind of cool). Although we know from the season premiere of The Cleveland Show that Cleveland Brown and his son, Cleveland Jr., have moved out of Rhode Island, Peter, Quagmire, and Joe don't appear to feel the same need to replace him that they did when Joe had a leg replacement surgery and ditched the guys for more athletic friends. Not sure what that means, but perhaps we'll be seeing the addition of a new character to Family Guy sometime this season, or maybe one of the more peripheral characters will step into a more pivotal role (I picture something along the lines of the South Park season in which Kenny actually died and Cartman, Stan, and Kyle kept trying to replace him with various members of their class).
Despite the fact that Family Guy has become increasingly hit-or-miss over the past couple seasons, Seth MacFarlane can still spit out a gem now and then (you'll know what I mean when you see the Mark Wahlberg segment, if you haven't already), although even die-hard Family Guy fans have to admit that the show's flashback jokes and borderline offensive subject material don't always work the way they used to. Sometimes I wonder if the age difference between Seth MacFarlane and the show's other major contributors (although the show uses a number of different writers, people like David Zuckerman and Alex Borstein have been involved with almost a hundred episodes each) and the majority of Family Guy viewers is the reason that the show's jokes are so hit-or-miss. For example, last week's reference to Parker Lewis might actually be very funny for people of a certain age group… but I'm not one of those people so that entire scene just seemed stupid to me.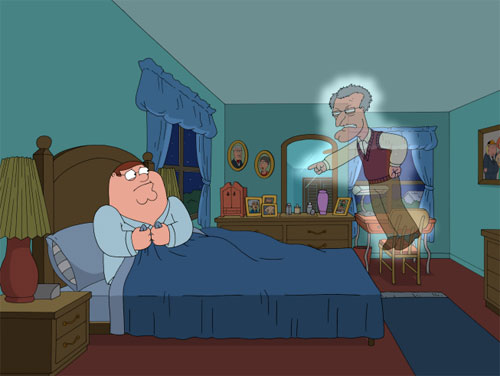 I also wonder why, when viewers have been complaining for at least two seasons that the Family Guy jokes were becoming less funny and more random with each passing episode, Seth MacFarlane would choose to spread himself even thinner by creating another show that requires the same kind of jokes. Even though we are only two weeks into both Family Guy and The Cleveland Show, I predict that one of two things will happen after this season: either The Cleveland Show will not be renewed for a second season (and at the rate we're going, I'm pushing for that option), or it will be announced that Family Guy will not be renewed for a ninth season or that the show's ninth season will be its last.
At any rate, I highly recommend checking out Family Guy 8.02, "Family Goy." For more information, check out Fox's official Family Guy web site. Episode 8.03, "Spies Reminiscent of Us", airs this Sunday night at 9/8c on Fox.
Rating: 3 / 5 Stars