Episode: The Cleveland Show 1.01 – "Pilot"
Original Air Date: September 27, 2009
Season one of Seth MacFarlane's Family Guy spin-off, The Cleveland Show, premiered on Fox last night. The impetus for the show involves Cleveland (voiced by Mike Henry) losing his house during his divorce from his wife, Loretta (Alex Borstein). Despite years of friendship, none of the Family Guy characters will put up Cleveland and his son, Cleveland Jr., so the two decide to head off to California to start a new life. Unbeknownst to, well, anyone, Cleveland's old batting coach is former Yankees manager Joe Torre and Cleveland has solicited his help in becoming a talent scout in California.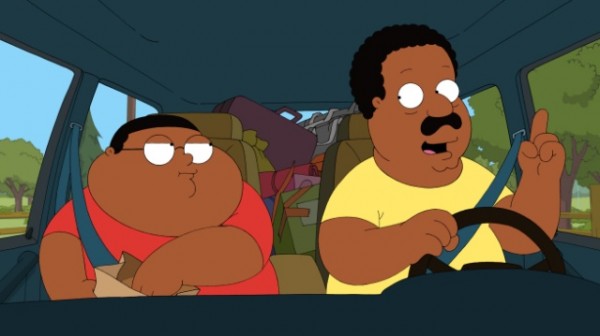 Cleveland Brown and his son, Cleveland Jr., on their way to California.
On the way to California, however, Cleveland decides to take his son to visit the fictional town of Stoolbend, Virginia where Cleveland grew up and ends up reuniting with his high school love: Donna Tubbs (voiced by Sanaa Lathan). Long story short, Cleveland scraps the trip to California in favor of staying in Virginia with Donna and her two children, thus creating the main cast of The Cleveland Show. Although I was never a fan of Cleveland's character on Family Guy and was really surprised when the spin-off was first announced, based on the first episode The Cleveland Show seems to have some potential. I particularly like Donna's smartass son, Rallo, who appears to be the Stewie stand-in for The Cleveland Show. Rallo is entertaining mainly due to his premature hyper-sexuality and the way that it manifests in his interactions, especially at school. I also really like Tim, the rather large bear that lives next door to Donna and Cleveland in their Virginia neighborhood. Although Tim has limited screen time in episode 1.1, I have a good feeling about him and look forward to seeing what his role turns out to be as the season progresses.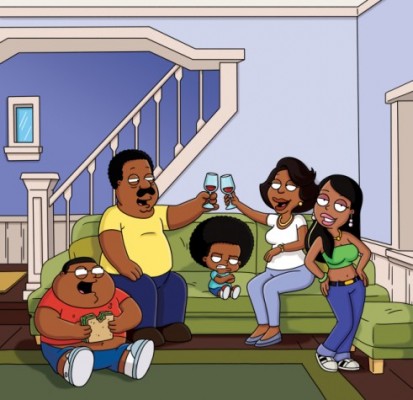 Left to right: Cleveland Jr., Cleveland, Rallo, Donna Tubbs, Roberta
Given that only one episode of the show has aired, I'm going to withhold making any definitive decisions about the future of The Cleveland Show and instead provide you with an overview of the show's main characters. You can watch The Cleveland Show on Fox Sunday nights at 8:30 EST. For more information on The Cleveland Show, head over to the show's official web site.
Meet the Characters:
Cleveland Brown (Mike Henry): One of the peripheral characters from Family Guy, Cleveland is fed up with the way he is treated by his friends in Quahog, RI and decides to take his son and move to California. During a pit stop in Virginia, Cleveland reunites with his high school love, Donna, now divorced from the jerk she dated throughout high school.
Cleveland Brown, Jr. (Kevin Michael Richardson): During the transition from Family Guy to The Cleveland Show, Cleveland Jr. inexplicably morphs from a skinny, hyper young athlete to a balloon-like fourteen-year-old with the IQ of a cardboard box. In episode 1.1, "Pilot," Cleveland is awarded sole custody of Cleveland Jr.
Donna Tubbs (Sanaa Lathan): The woman that Cleveland was in love with in high school, Donna dated and subsequently married a jerk named Robert. Donna and Cleveland are reunited in the season pilot.
Roberta Tubbs (Reagan Gomez-Preston): Donna's rebellious daughter, Roberta, is an attractive and irresponsible high school girl who is obsessed with her boyfriend, Federline Jones.
Rallo Tubbs (Mike Henry): Donna's troublesome son; during our introduction to Rallo, Donna reveals that he was kicked out of school for lifting up the teacher's skirt. Similarly to Stewie on Family Guy, Rallo is hilariously obsessed with girls and the opposite sex. He will most likely prove to be one of the most interesting characters on the show.
Tim (Seth MacFarlane): An anthropomorphic bear that lives next door to Donna and Cleveland with his wife, Arianna. Both Tim and his wife have unexplained heavy Eastern European accents.