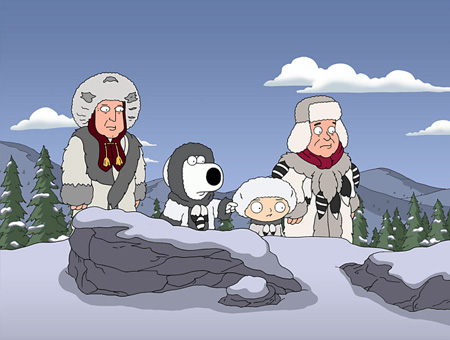 Episode: Family Guy 8.03 – "Spies Reminiscent of Us"
Original Air Date: October 4, 2009
When I found out that two great actor/comedians would be lending their voices to the latest episode of Family Guy, I couldn't wait to see what would happen. After all, Chevy Chase and Dan Akroyd are industry icons.
In hindsight, I'm pretty sure that I died a little bit inside while watching episode 8.03, "Spies Reminiscent of Us," this past Sunday. Anyone who knows me will tell you that I tend to give Family Guy a little bit of leeway because I'm such a big fan of the show, but when it comes to episodes involving Chevy Chase and Dan Akroyd I feel it necessary to be a great deal less lenient, and on that basis I have to say that last week's episode of Family Guy was terrible.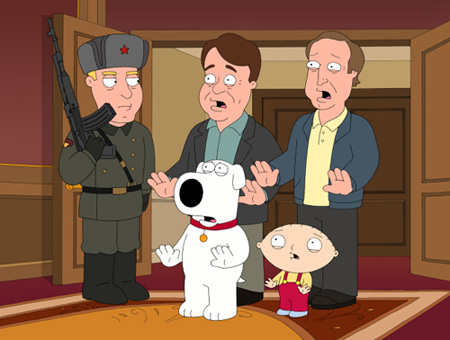 I don't know what the production team was thinking when they put this episode of Family Guy together, but unless it was caused by some kind of drug-induced haze — and perhaps even if it was — I'm still severely disappointed. From the show's seven previous seasons I can list on one hand the episodes that I find just plain terrible, but 8.03, "Spies Reminiscent of Us," is now at the top of that list.
Yes, I will admit that some viewers will watch this episode and not understand why I dislike it so strongly; there are moments here and there that are actually somewhat funny and I did like some of the references that were made (the Spy vs. Spy comic strip from Mad magazine, for example), but I cannot in good conscience hold an episode that had so much potential to be, as Peter Griffin would say, "un-freakin-believable," to the same standards as other episodes. Say whatever you want about that, but Seth MacFarlane — arguably a genius when it comes to animated television series — somehow managed to muck up an episode involving Dan Akroyd and Chevy Chase. How do you even do that?!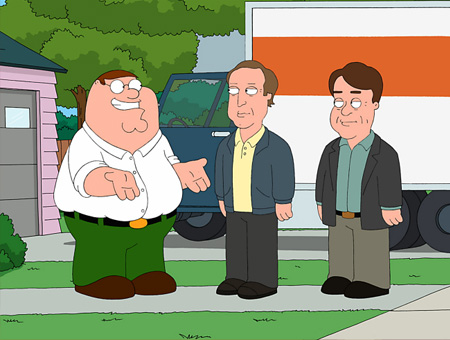 Episode 8.03, "Spies Reminiscent of Us," takes toilet humor to a whole new level when Peter starts using Cleveland's old house as his personal bathroom. When Chevy Chase and Dan Akroyd rent Cleveland's house, Peter is left using the Griffin family bathroom while Brian and Stewie investigate why two famous individuals like Chevy Chase and Dan Akroyd would move to Quahog, RI of all places. The investigation takes Brian, Stewie, Dan and Chevy to Russia, where only the guards are human and everyone else is apparently a bear on a ball.
My only hope is that I can somehow delete the memory of watching Family Guy 8.03, "Spies Reminiscent of Us," from my mind in preparation for this Sunday's episode. Family Guy 8.04, "Brian's Got a Brand New Bag" is set to air on Fox on Sunday, Oct. 11th at 9/8c. For more information on Family Guy, head over to the show's official web site.
Rating: 2/5 Stars