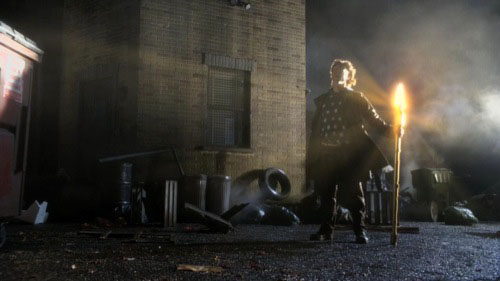 Episode: Smallville 9.11 – "Absolute Justice, Part 1"
Original Air Date: February 5, 2010
Screencaps by Home of the Nutty.
Hold on to your seat, because this week's episode of Smallville was the much anticipated two-hour extravaganza "Absolute Justice." If you are one of the many readers who follows these reviews because you want to follow the ongoing story, but you can't deal with the hit or miss nature of the individual episodes, let me assure you: This is a hit. Feel free to catch a replay before you read this review. I'll wait. It's worth it. But if you have already seen it, or you don't mind spoilers, then read on.
We start our adventure with Chloe walking down a dark alley (Metropolis seems to have a lot of those), leaving the fifty millionth message for Clark, explaining that she wants to set up a meeting with "the gang" because everyone is playing too fast and loose.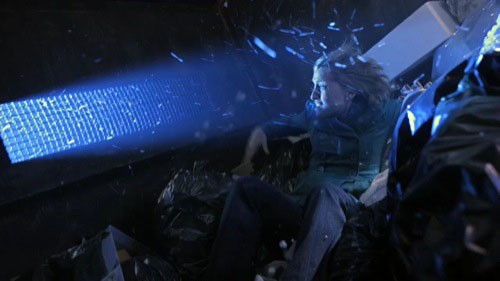 Suddenly, a bright light flashes (in the dark alley? Didn't see that coming), and a stranger appears out of nowhere. "My name is Sylvester Pemberton," he explains. "You and I share something in common: we are both trying to put a team together." This guy is wearing a blue shirt with stars; he's holding a mysterious time-bending staff. But Chloe's not impressed. She's about to demand an explanation when the temperature drops by about 20 degrees. Sylvester throws Chloe into a dumpster, and tells her to stay out of sight. He then turns to face whoever is after them. From Chloe's perspective, we know some kind of massive battle is happening. Her dumpster gets thrown around, and ice and gold lights are flashing everywhere. Shrapnel flies through Chloe's hiding place, barely missing her.
When it's all over, Chloe jumps into the alley. The whole place is frozen over. And Sylvester has been mortally wounded.
"They'll come after all of you," says Sylvester. "Check… check…" but he can't finish his sentence. He's dead.
Bang! That's the opening scene. Already I'm hooked. It looks like all that corner cutting to save on budgeting paid off. This is gonna be a good one.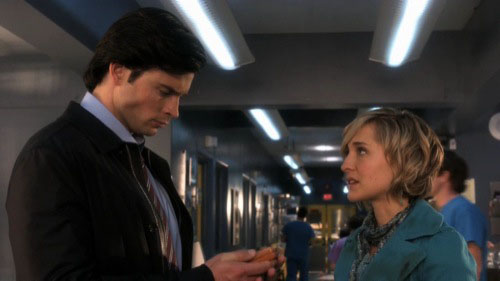 At the hospital, Clark and Chloe are discussing this mysterious guy. Chloe uses her expert hacking skills to download Sylvester's cell phone information without the police ever knowing. Meanwhile, since this is Smallville, some super hot blonde girl shows up. She knew Sylvester, but she doesn't feel like talking. Chloe grabs Clark before he can chase after the new mystery girl. She's already checked the information on Sylvester's phone. She sends Clark after the latest person who was called.
But Clark will be too late. Some old man is dreaming about a guy who can control ice. He wakes up and dons a gas mask. But the ice guy is already there.
"You dreamed about me, didn't you?" He asks, "well, it's time for the Sand Man to get some permanent sleep."
Meanwhile, at the watchtower, Oliver has gotten Chloe's call for help. She complains that the "team" needs more structure, and an organized way to call the team together. She then shows Oliver what she found regarding the mysterious new hot chick. Her name is Courtney Whitmore, a sophomore at Blue Valley High School who hasn't been to school in weeks. Chloe thinks Oliver should change into his tights so Green Arrow can get Sylvester's glowing gold staff from the police's evidence locker.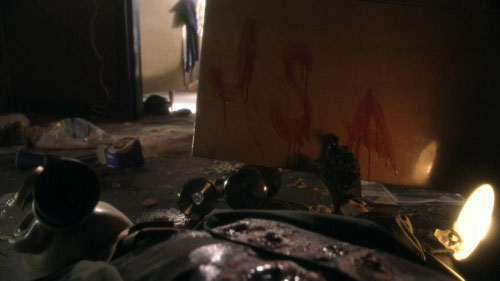 Clark by now has made it to the Sand Man's apartment, but he's too late. The only information Clark is able to glean is the letters "JSA" scribbled on the wall. Presumably, the Sand Man wrote it with his own blood before dying.
But the mystery gets deeper. Back at the hospital, Dr. Emile has been conducting tests on the victims, and finds DNA embedded in the ice that killed them. As Chloe heads off to research "JSA," we cut to a mysterious room with a checker (or chess board?) floor. Actually, aside from the checker floor and the giant chess knight emblem on the wall, it looks a lot like a room in an insane asylum. The kid sitting in the middle of the room, drawing X's on the photos of the people he's killed, looks like he belongs in an asylum. But it's not an asylum. It's more like a really trendy-looking police cell.
Now that our introduction to this episode's villiain is over, we return to Chloe, whose search has lead her and Clark to the Daily Planet archives, where they stumble upon dusty old folders and a news reel. Playing the reel and reading the file, they discover that the JSA refers to a team of people who worked together as criminals. Clark reads off the list of crimes that the people in this team were accused of (I'll include their superhero identities too, just for clarity): Wesley Dodds (Sand Man), Al Pratt (the Atom), Ted Grant (Wildcat), Jay Garrick (the Flash), Alan Scott (Green Lantern), Abigail Hunkel (Ma Hunkel), and Carter Hall (Hawk Man). As far as Clark and Chloe can figure, they had no connection to each other (except the arrests), and no criminal history.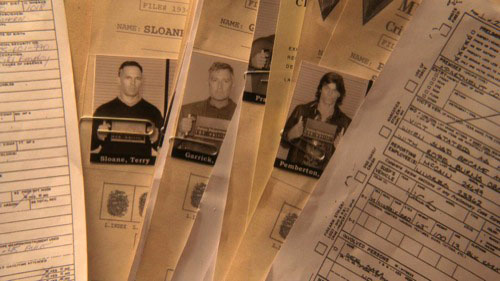 We as the audience realize that they were actually heroes, not criminals, and the government decided to put them out of commission. But Chloe and Clark aren't that perceptive, so they assume they are dealing with villains, even after Clark concludes that each one was arrested for trumped-up charges. They all tried to take the fall for each other. Chloe asks Clark why he seems to admire these criminals. "I admire their loyalty," he explains. Carter Hall seemed to be the ringleader. Clark heads to the museum that is listed as his last known address.
Hall is not happy to see Clark, and he's even less happy when Clark explains that Pemberton and Dodds have been murdered. Hall, since he's so burned out and cynical, tries to make Clark leave, but Clark isn't going anywhere. At least, not until he spots some other crazy guy sitting in the corner. This guy is clutching a bowling ball bag, mumbling nonsense gibberish about fate and destiny. Clark uses his X-ray vision to see what' inside the bag, and gets the Kryptonian crap scared out of him. It's a helmet. And it's staring at him. Freaked out, Clark leaves.
Meanwhile, Oliver is too late on his mission. The mysterious blonde high school sophomore has already stolen it. Oliver tries to talk her into giving it to him, or at least explaining what the hell his going on. But the crazy guy with the helmet shows up, and activates the time-bending gold rod she has stolen. They disappear from the alley and reappear at Carter Hall's museum (the one that Clark just ran away from).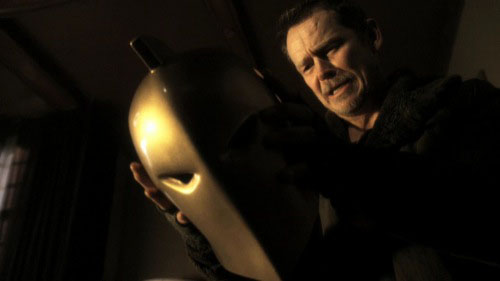 The crazy guy and the high school thief try to convince Hall to get back into action and start leading the JSA again. Hall finds all kinds of ways to show he is cynical and angry and doesn't care if everyone wants to kill his old friends. He's not about to let a high school kid and a crazy old man convince him to start fighting crime again. But they knows how to get to him. She asks what his dead wife would have done.
Apparently, she wouldn't have been a burned out cynical jerk who turns his back on society when it needs him the most. So, he gets his spine back: "We're going to need him, Nelson," exclaims Hall. By "him," Hall means that his crazy little friend needs to don the Helmet of Nabu and become Dr. Fate. Of course, this is the helmet that drove Nelson so bonkers he's been wandering the streets for the past 30 years, searching trash cans for the secret to life, the universe, and everything.* But there's no denying it. They need Dr. Fate.
Let me interrupt at this point to give some background. As a show about one of the most iconic figures in American culture, one thing Smallville has done very well is its treatment of the comic book mythos of the D.C. universe. Most episodes will make subtle reference to various elements of the Superman lore and legend, so that even the most mundane plot will still bring a chuckle or two to those who are familiar with D.C. comic book characters.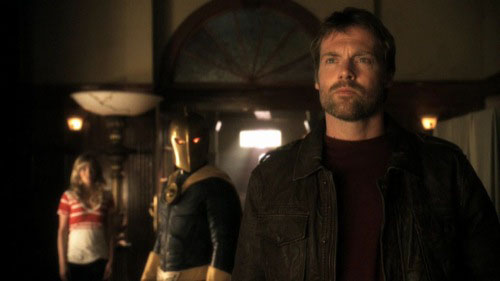 This episode takes that concept to a whole new level. We are being introduced to the Justice Society of America. This is the Golden Age of comics (1930s and 1940s) super hero team that was the forerunner to the Justice League of America of the Silver Age (1960s and 1970s). Up until this point in the episode we have been getting hints and innuendo. Those familiar with the D.C. Universe were probably either saying to themselves, "This is so cool. When do I get to see Dr. Fate and Hawkman?" Or they were saying, "Okay, I get it. That guy is Doctor Fate. Put on the helmet and let's get this over with."
This was the make or break moment of this episode. Nelson spends a few regretful moments lamenting the fact that the helmet of Nabu drove him so crazy that he can't remember whether he used to have a family, or whether he drove them away with his craziness or what the hell happened to the last 60 years.** This really ratchets up the dramatic effect when Nelson finally opens the bowling ball bag and pulls out the helmet.
Gold light shines forth. "Please Nabu, don't show me what could be or not be" begs Nelson as he dons the helmet. The dramatic music plays as the helmet morphs Nelson into Dr. Fate. I have to admit that, for a TV show, Dr. Fate's costume looks pretty cool. And menacing. Dr. Fate turns to Carter Hall.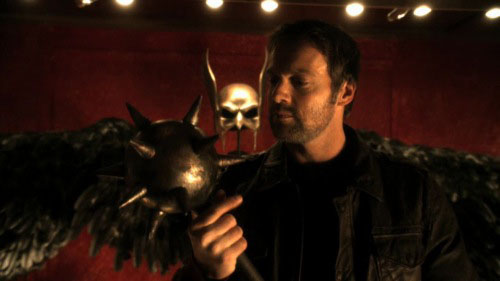 "Greetings, Hawkman," he states in cool modulated voice that makes Dr. Fate sound all eerie and powefull and stuff (because he totally is). Hall doesn't answer. Instead he pushes a secret button, and the wall opens, revealing his Hawkman armor.
"It's been a long while since I made someone bleed," he declares, "time to go hunting."
That's the end of part one. From here on out, it's basically one long ass whoopin', which is why I'm not ashamed to admit that I jumped up from my seat and screamed like a little girl getting a pony for Christmas (Well, maybe a little ashamed).
* It's 42.
** The ep doesn't go into it, but these guys have extended life spans. Hopefully the producers will explore that in a future episode.
Rating: 4.5 / 5 Stars