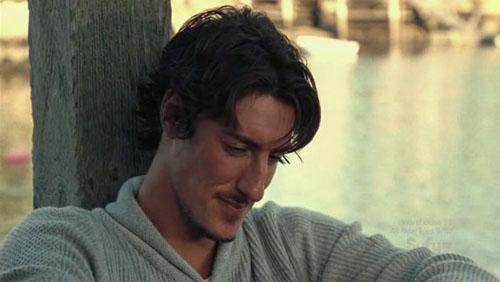 Episode: Haven 1.04 – "Consumed"
Original Air Date: July 30, 2010
Screencaps by puchre.
I'm not sure why it feels wrong to admit that Haven is growing on me, but nevertheless the show has become part of my regular television regimen rather than something I watch solely for the purpose of review. Episode 1.04, "Consumed," aired on Syfy this past Friday, and I was surprised to find myself thinking about the season thus far quite a bit over the weekend.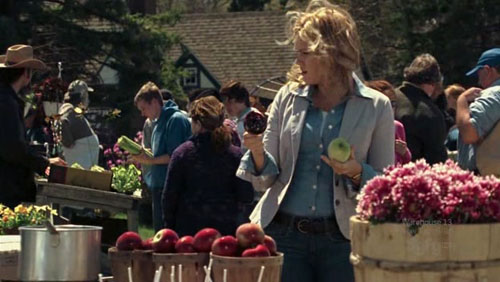 When Duke (Eric Balfour) suggests that Audrey (Emily Rose) check out the Haven farmers' market, the former F.B.I. agent takes him up on his advice and goes to sample some of the local produce. In a fortuitous turn of events, it just so happens that Audrey is on site to witness the sudden, inexplicable putrefaction of all of the fresh apples, ears of corn, and eggs on display. For Audrey, the epidemic is a welcome diversion from the everyday small town police investigations that she and Nathan have been handling.
Nathan, on the other hand, continues to withdraw from the people around him, including his new partner. It seems that the violent, crazed outburst that Nathan experienced in episode 1.03, "Harmony," has caused the local police officer to retreat from those around him and has made him even more melancholy and moody than he was previously. The shift in Nathan's attitude drives an invisible wedge between him and Audrey, and although the two still have moments where they laugh and joke with one another, it seems that the only true resolution will come when Nathan finally reveals his mysterious past. Fortunately, Audrey isn't one to give up easily, and I have no doubt that we will find out Nathan's unnatural "power" or dark past before the season ends.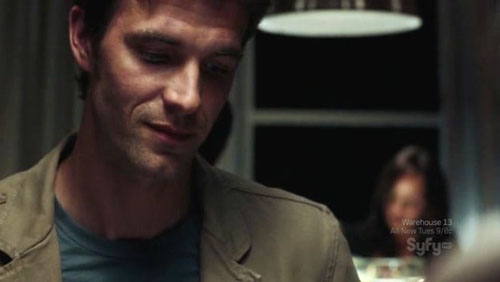 "Consumed" is an episode that is all about character development. While we see more of Nathan's melancholy side and conflicted nature, viewers are also witness to the development of several other main characters, including both Audrey and Duke. The trail of rotten food leads Haven's newest police duo to two long-time friends of Duke's who happen to own a very chi-chi local restaurant. The restaurant's impending opening offers Audrey an opportunity to open up with some of the locals when she goes dress shopping for the event, and as a result Duke's interest in Audrey appears to be piqued even more as she relaxes into her new surroundings.
The restaurant opening is by far the best element of episode 1.04, and I have to give credit to the episode's writer, Ann Hamilton, and director, Rachel Talalay, for coming up with such a great way to facilitate some of the season's best moments thus far. Actress Emily Rose is beyond adorable, and the scene in which Audrey tries to find a dress (with fashion advice from the local newspaper owners) makes her even more endearing.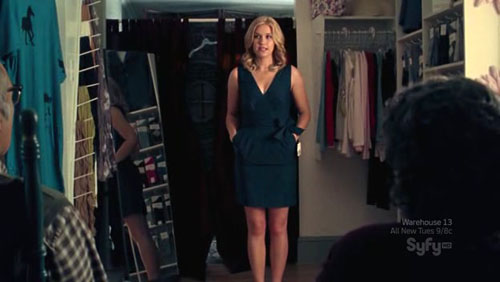 Up until this moment, Audrey has exuded a quick wit, strong sense of humor, a great deal of intelligence and self confidence, and to watch her — an F.B.I. agent who always looks so fashionable in her pantsuits and button-down shirts — fail so miserably at finding a dress that she needs the help of a couple of old men makes her that much cuter. Similarly, the awkward way that Audrey and Nathan handle Duke's "interruption" during the restaurant opening and Audrey's surprising ignorance of the way that Haven men view her (an attractive young woman from out of town) indicate that she is a far more complex person that she previously seemed.
Whether Haven's writers have any intention of developing a romantic relationship between Audrey and either Duke or Nathan is unclear, but I will admit that in the case of a romantic coupling on Haven I am on "team Duke." After all, Duke is extremely attractive, has a great sense of humor, and as we see in episode 1.04, "Consumed," he is a devoted friend and a genuinely good man, despite the somewhat questionable activities in which he is involved.
Rating: 4 / 5 Stars