Episode: Haven 1.02 – "Butterfly" and 1.03 – "Harmony"
Original Air Date: July 16, 2010 and July 23, 2010
Screencaps by puchre.
In the second episode of Haven, Audrey (Emily Rose) starts to delve into her tenuous connection to the small Maine town, but instead ends up unofficially investigating the destruction of a local bar and a series of unexplainable incidents that threaten the lives of several of the town's residents. During the course of Audrey and Nathan's (Lucas Bryant) investigation, viewers are introduced to several more "Havenites," including the local Reverend, his daughter (an old flame of Nathan's from high school), and her foster son.
Episode 1.02, "Butterfly," is also the first in which locals like Nathan begin to hint at Haven's dark past and insinuate that the type of unbelievable events that Audrey has witnessed may not be that unusual in the small Maine town. And it's a good thing that Haven residents are starting to come clean with Audrey (and thus, with the viewers), because that is the show's saving grace right now. Even after watching only two episodes of Syfy's new series, Haven is formulaic to a fault, and as a result the fact that characters are hinting at a larger, overarching theme underlying the events of each episode makes continuing on with the series worthwhile.
That, and Haven's cast. In my opinion, Lucas Bryant's portrayal of Nathan Wournos leaves much to be desired. Of course, I'm comparing his performance to that of David Duchovny on the X-Files, and perhaps that's a little unfair. But Emily Rose as Audrey Parker and Eric Balfour as Duke Crocker — and the natural chemistry that exists between them on camera — are a delight to watch, even when an episode's plot is formulaic.
The more I watch Haven, the more it reminds me of The X-Files. Granted, it's not a perfect comparison and there are far more differences between the two series than similarities, but the fact that this new series evokes memories of one of my favorite television shows gives me a good feeling about the future of this new Syfy series. Audrey Parker evokes characteristics of Agent Fox Mulder — his desire to know the truth, regardless of how impossible it may seem, how open-minded he always was, his sense of humor. Although Audrey's unofficial partner, Nathan, doesn't display the same scientific mind and lack of imagination as Mulder's partner, Agent Dana Scully (Gillian Anderson) did, Haven does appear to be laying the foundation for the type of unspoken romance that existed between Mulder and Scully. The difference, however, is that it looks like it may be between Audrey and Duke, rather than Audrey and Nathan — although it's still a bit of a toss up at this point.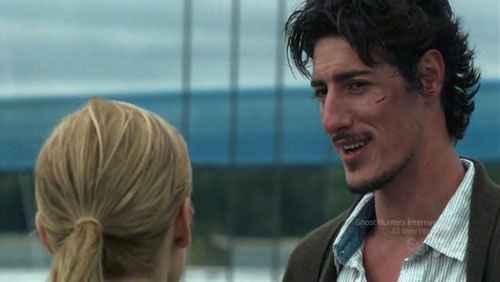 In the third episode of the season, Audrey officially joins the Haven police force after receiving a job offer from a somewhat chagrined Chief of Police, who also happens to be Nathan's father. Almost immediately Audrey and Nathan are called upon to investigate some very strange events at the local mental institution (yes, a small town in Maine where unexplainable things take place also has its own mental institution). Somehow, catatonic patients that haven't spoken or moved in years are walking and talking like average citizens while the doctor that treats them becomes a raving, violent lunatic. Although I really enjoyed the plot of episode 1.03, "Harmony," it does seem a bit heavy-handed of the episode's writer, Matt McGuinness, to put a mental institution in the town of Haven. At the same time, however, the more you watch Haven, the more you realize how much a mental institution is needed in a place where people routinely are forced to confront things that shouldn't be possible.
After three episodes, Haven is still formulaic, but the show also seems to be shaping up into a compelling series with interesting characters and believable special effects (unlike other Syfy series and made-for-television movies). As the season progresses, viewers are introduced to more of Haven's residents and the existing characters are fleshed out to become even more intriguing. In addition, the ongoing search for information on the woman who may or may not be Audrey's mother also holds viewers attention, although if we don't see some developments on that front soon, people may lose interest.
Rating: 3.5 / 5 Stars